Top 10 procurement technology companies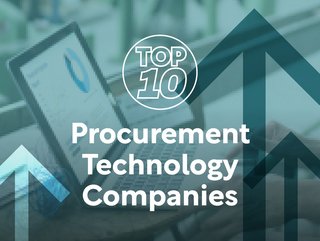 Top 10 Procurement Technology Companies
Procurement Magazine takes a look at 10 of the top global procurement technology companies
With the explosion of AI influenced solutions in procurement technology, the market for the best the sector has to offer has never been more competitive.
From established global giants, to exciting and innovative start-ups, there are dozens of technology companies pushing to get their share of the market.
In this top 10, Procurement Magazine takes a look at ten of the very best procurement technology companies helping streamline operations, find savings, surface valuable data and provide a competitive advantage.
10 Amazon Business
CEO: Andy Jassy
Helping millions of customers worldwide, Amazon Business works with small businesses, schools, hospitals, nonprofits, governments, and large enterprises to reshape their procurement.
Amazon Business helps its customers to generate cost and time savings, increase productivity, and drive insightful purchasing analytics. Customers of Amazon Business benefit from convenient shipping options on millions of supplies across categories like office, IT, janitorial, food service, and professional medical supplies, as well as have access to a variety of business-tailored features and benefits.
9 Zycus
CEO Aatish Dedhia
Founded in 1998, Zycus is a pioneer in cognitive procurement software. A trusted partner for large global enterprises for two decades, Zycus is continuously recognised by Gartner, Forrester and other analysts for its Source-to-Pay (S2P) integrated suite.
Helping its customers to do more with less with its cognitive S2P solutions, Zycus powers its solutions with the revolutionary Merlin AI Suite and prides itself on being the only organically built and seamlessly integrated solution. Merlin AI builds on the company's legacy experience in AI, to provide leaders in procurement with the ability to work first-hand with game-changing innovations as part of the suite.
8 Oracle Procurement Cloud
CEO: Safra Catz
Founded in 1997, Oracle is a multinational technology company. For those in the procurement industry, Oracle offers its customers 'Oracle Fusion Cloud Procurement' – an integrated source-to-settle suite.
The solution helps customers to automate their processes, create strategic sourcing capabilities, improve supplier relationships, and simplify the buying experience. In doing so, the procurement function can benefit from lower risks, improved savings and greater profitability and productivity.
Oracle's range of services include: spend management, direct materials management, relationship management, strategic sourcing, contract lifecycle, compliance, and supplier collaboration.
7 IBM Watson
CEO: Arvind Krishna
For more than 100 years, IBM has been innovating in the technology space. In terms of procurement, the company helps those in the function accelerate their transformation with access to powerful data, insights and emerging technologies to enhance processes and generate greater value.
IBM's services include: source-to-pay (S2P), digital procurement, invoice to pay and analytics.
6 Basware
CEO: Jason Kurtz
Founded in 1985, Basware is an enterprise software company that offers a wide range of solutions for the procurement function, including P2P, AP automation, e-invoicing and eProcurement.
By automating the P2P process with Baware, procurement can drive cost savings, boost efficiencies and gain 100% visibility across its suppliers and spend. Basware helps organisations to future proof their operations, removing the need for traditional, manual processes.
5 JAGGAER
CEO: Andy Hovancik
Founded in 1995, JAGGAER is a cloud-based business automation technology company. For those in the procurement industry JAGGER offers its customers JAGGAER ONE – a complete procurement platform for intelligent and flexible spend management.
JAGGAER offers its customers best-in-class solutions that provide consistent visibility across all spend activities, and next generation analytics and insights for greater value.
4 GEP
CEO: Subhash Makhija
Founded in 1999, GEP is a leading provider of strategy consulting, software, and managed services solutions for those in the procurement and supply chain industry.
Part of GEP's offerings to those in procurement is GEP Smart, a world leading S2P platform for both direct and indirect procurement that is utilised by organisations such as Walgreens Boots Alliance's procurement function. With the help of AI and cloud technologies, GEP helps its customers to digitally transform their end-to-end procurement operations.
GEP's services include: spend analysis, savings tracking, sourcing, contract management, supplier management, and procure-to-pay (P2P).
3 Ivalua
CEO: David Khuat-Duy
Headquartered in Paris, Ivalua is a French cloud-based spend management software provider that believes in the digital transformation revolution for supply chain sustainability and resiliency to unlock the power of collaboration.
For almost 25 years, the company has been offering those in procurement and supply chain management a unified platform to empower effective management of spend and suppliers.
Ivalua's holistic cloud platform helps businesses to increase profitability, improve ESG performance, lower risk, and improve employee productivity.
2 Coupa
CEO: Charles Goodman
Founded in 2006, Coupa Software is a leading business spend management solution provider. For those that harness Coupa Software's capabilities, the company offers a comprehensive platform for managing an organisation's entire spend.
With its single platform, organisations can benefit from ease-of-use while having the flexibility to be successful in their spend management. Also contributes towards making unprecedented savings and insights to drive measurable results.
Coupa Software's range of services include: eProcurement, invoicing, strategic sourcing, payments, supplier management, spend analysis, and supply chain planning.
1 SAP Ariba
CEO: Christian Klein
Established in 1996, SAP Ariba is a global leader in the world of procurement and supply chain solutions and software. The company takes procurement beyond the basic processes, applying its innovations to remove obstacles, link all spend categories in a single place, and create deeper, dynamic, and end-to-end collaboration.
"Remove barriers between your teams and trading partners to securely share data, get insights, and manage workflow over SAP Business Network for a more efficient procurement process and greater cost control" - SAP.
SAP offers its customers a wide range of solutions for the procurement function including: strategic sourcing, procurement, supplier management, direct spend, financial supply chain, spend management and buyers.
*************************************************
For more insights into Procurement & Supply Chain - check out the latest edition of Procurement Magazine and be sure to follow us on LinkedIn & Twitter
Other magazines that may be of interest - Supply Chain Magazine | Sustainability Magazine
Please also check out our upcoming event - Procurement & Supply Chain LIVE in London at the BDC on Sept 26/27th 2023
*********************************************
BizClik is a global provider of B2B digital media platforms that cover 'Executive Communities' for CEOs, CFOs, CMOs, Sustainability Leaders, Procurement & Supply Chain Leaders, Technology & AI Leaders, Cyber Leaders, FinTech & InsurTech Leaders as well as covering industries such as Manufacturing, Mining, Energy, EV, Construction, Healthcare + Food & Drink.
BizClik, based in London, Dubai & New York offers services such as Content Creation, Advertising & Sponsorship Solutions, Webinars & Events.