Top 10: Generative AI platforms in procurement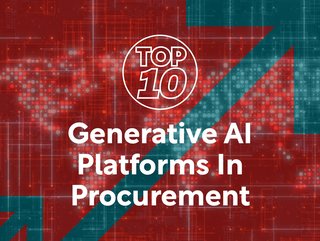 Top 19 generative AI platforms in procurement
Procurement Magazine takes a look at 10 of the leading technology players in procurement and how they are innovating with generative AI
Generative AI platforms can play a significant role in enhancing various aspects of procurement processes. These platforms leverage artificial intelligence (AI) and machine learning (ML) techniques to generate, analyse, and optimise procurement-related data, leading to more efficient and effective procurement strategies.

Procurement Magazine takes a look at some of the ways 'Generative AI platforms' can be used in procurement:
Demand forecasting: Analysing historical data, market trends, and other relevant factors to generate accurate demand forecasts, procurement professionals can forecast and plan their purchasing activities, as well as optimise inventory levels, reducing the risk of stockouts or excess inventory.
Supplier selection: Assisting in supplier selection by analysing supplier data, performance metrics, and external factors to identify the most suitable suppliers, procurement professionals can generate supplier rankings and recommendations based on predefined criteria such as price, quality, reliability, and delivery performance.
Price optimisation: Analysing market data, historical pricing trends, and supplier information to optimise pricing strategies, these platforms consider factors such as market demand, supplier quotes, and cost structures, to generate optimal pricing recommendations to maximise cost savings while maintaining quality.
Contract analysis: By automatically analyse contracts, extracting key information and identifying potential risks and opportunities, AI can assist in contract management by flagging non-compliance, suggesting improvements, and highlighting important clauses or deadlines.
Fraud detection: Analysing procurement data to identify potential fraudulent activities - such as bid-rigging, price manipulation, or unauthorised purchases - ML algorithms can detect patterns and anomalies that might indicate fraudulent behaviour, helping organisations mitigate risks and ensure transparency.
Supplier relationship management (SRM): By analysing communication data, performance metrics, and feedback, these platforms can generate insights and recommendations to improve collaboration, identify areas for improvement, and strengthen long-term partnerships.
Market intelligence: By monitoring and analysing vast amounts of market data, industry trends, and competitor information, procurement professionals can generate real-time insights and actionable recommendations, as well as make informed decisions about sourcing strategies, new suppliers, and market opportunities.
It's worth noting that while Generative AI platforms can offer valuable support in procurement processes, human expertise and judgement remain crucial. The technology should be seen as a tool to augment human decision-making and streamline processes, rather than a substitute for human involvement.
So here we go with a deep dive into our Top 10 AI platforms in procurement:
10. Basware
Basware, the go to provider for financial leaders to automate their complex and labour intensive invoice processes to achieve a new level of efficiency.
When it comes to AI and ML, Basware offers many capability benefits across the P2P cycle. From invoice capture and data extraction, to coding and matching, Basware's innovative AL and ML technologies adds value for procurement and finance professionals to accelerate processing times, reduce the need for manual effort, and eliminate errors.
Acting as Interim CEO and Executive Chairman, Jason Kurtz's career spans more than 30 years. In that time, he has worked for the likes of Accel-KKR Consulting Group; Ariba, Inc; SAP; Arthur Andersen's Business Consulting; and ESPN. Currently, Kurtz serves on the Board of Directors of iSolved, Unimarket, Pegaso Technologies, and Basware.
Kurtz also holds an M.B.A. from the Darden Graduate School of Management at the University of Virginia in Marketing and Finance, and received a Bachelor of Journalism and Bachelor of Business Administration from the University of Texas at Austin.
Website: basware.com
Founded: 1985
HQ: Espoo, Finland
No. of locations: 19
No. of Employees: 1,347
Revenue: US£166.8mn
Major Clients: Carlsberg, DHL, Heineken, ABB, Daimler, McDonald's, Toshiba and Toyota
9. JAGGAER
Dedicated to creating solutions that provide the most intelligent, transparent, frictionless commerce in the markets it serves, JAGGAER has been operating in the procurement industry for more than 25 years.
When it comes to procurement contract management, JAGGAER has just the tool. Powered by AI, ML and optical character recognition (OCR) technology, 'JAGGAER Contracts AI' can support procurement professional thought the entire journey.
The benefits of JAGGAER Contract AI include reduced project cost; risk management and understanding risk and obligations; reduced revenue leakage; and increased speed and efficiency when it comes to contract review and deal velocity.
A seasoned executive with proven success in leading international, rapid-growth SaaS solutions providers, Andy Hovancik was apponited CEO of JAGGAER on June 6, 2023. In his new role Hovancik will lead JAGGAER into the next phase of its growth, advance its vision and leadership position, and equip the company to continue to deliver exceptional customer success. Prior to joining JAGGAER, Hovancik was CEO at Sovos Compliance for more than 10 years.
Website: jaggaer.com
Founded: 1995
HQ: Morrisville, North Carolina
No. of locations: 15
No. of Employees: 1,000
Revenue: US$276.3mn
Major Clients: Merck, Unilever, Balfour Betty, and DHL
8. Globality
Globality, a leader in autonomous procurement. Using sophisticated AI, enables leading global companies to optimise how they spend their money to improve their profits, advance their purpose, and extend their impact.
In particular 'Glo' - Globality's innovative AI-based technology - is designed for autonomous sourcing, provdiing 'delightful user experience', 'intelligence', and 'data driven insights'. With Glo as an AI partner, procurement professionals can be guided through each step of the sourcing journey by precisely scoping requirements, instantly providing best-fit suppliers, giving insights to help assess supplier proposals, and enabling users to make the right decisions.
"Companies can't cut costs meaningfully while keeping their outdated buying processes. How a company spends is crucial to remaining competitive, driving growth, and fostering innovation. None of this is possible if the archaic purchasing process consumes everyone's energy with minimal impact. GLO not only captures the hearts and minds of its users but also plays a strategic role in enabling intelligent buying decisions, reducing costs, and assuring optimal utilization of funds to drive growth and innovation," commented Joel Hyatt, Co-Founder, Chairman, and CEO.
See Glo in action, here.
Described as a serial entrepreneur, Joel Hyatt is Co-Founder, Chairman, and CEO of Globality. He has broad experience in successfully launching and scaling disruptive service companies. Prior to Globality, Hyatt was the Co-Founder and CEO of Hyatt Legal Services, Hyatt Legal Plans (acquired by MetLife) and Current TV (acquired by Al Jazeera).
Website: globality.com
Founded: 2015
HQ: Palo Alto, California
No. of locations: 2
No. of Employees: 200+
Revenue: US$285.7mn
Major Clients: BT Sourced, Santander, Tesco, Fidelity Investments, Ligitech
7. Zycus
As a pioneer in Cognitive Procurement software and a trusted partner of choice for large global enterprises, Zycus powers its S2P software with the revolutionary Merlin AI Suite. Merlin AI takes over the tactical tasks for procurement professionals and empowers procurement and AP officers to focus on more strategic projects.
Specifically Merlin AP automation AI procurement software is a self-learning aterficially intelligent solution with two unique products - AP Smart Desk and Invoice Reader. The two combined offer enhanced productivity, reduced turnaround time, maximised savings, and minimised payment related risks for its users.
CEO: Aatish Dedhia
As the Founder and CEO, Aatish Dedhia defines the vision and roadmap of all technology and innovation at Zycus. In 1998, Dedhia founded Zycus with a vision to leverage technology to solve business problems. By harnessing te power of AI for practical business purporses, Zycus created a powerful suite of solutions for the procurement and finance industry.
Prior to Zycus, Dedhia has worked for Intel Corporation, and gained a Bachelor of Technology (B.Tech) in Electrical Engineering from the Indian Institute of Technology, Mumbai, India and a Master of Science (MS) in Electrical Engineering from Cornell University, U.S.
Website: zycus.com
Founded: 1998
HQ: Princeton, New Jersey
No. of locations: 10
No. of Employees: 400
Revenue: US$285.7mn
Major Clients: Woolworths, AGM Group, IMI plc, and Switzerland Swissport International Ltd.
6. Oracle Fusion Cloud Procurement
Offering procurement professionals with an integrated source-to-settle suite that automates business processes, enables strategic sourcing, improves SRM and simplifies buying.
Key features of Oracle Fusion Cloud Procurement to improve operational efficiency include:
Streamlined shopping and spend management
Manage direct materials, services, and complex procurement
Increase agility with SRM
Deliver greater value through strategic sourcing
Manage supplier contract lifecycle and compliance
Increase business value through analytic insights
Improve supplier collaboration and productivity
Taking on the role of CEO in 2014, Safra Catz has been at the helm of Oracle for almost a decade. Prior to her role as CEO, Catz served as president of Oracle and as the company's Chief Financial Officer. She joined Oracle in 1999.
Outside of Oracle, Catz serves as a director of The Walt Disney Compny and previously served as the director of HSBC Holdings plc.
Website: oracle.com
Founded: 1977
HQ: Austin, Texas
No. of locations: 89
No. of Employees: 143,000
Revenue: US$42.44bn
Major Clients: University of Wyoming, FedEx, MTN Group, and HSBC
5. Ivalua
Believing in revolutionary abilities of digital transformation for supply chain sustainability and resiliency to unlock the power of supplier collaboration, Ivalua is a leading provider of spend management solutions.
The company's single and unified platform helps customers to efficiently manage all supplier relationships and spend, by providing insights to make better and faster decisions, automation to free capacity for strategic objectives, and collaboration tools to effectively engage suppliers.
Founding Ivalue more than 20 years ago, David Khuat-Duy brought together a strong executive team to develop best-in class software design, continuous sales growth, and rigorous operations management.
Khuat-Duy is a graduate of the Ecole Polytechnique with a Ph.D. in Mathematics. He began his career in the industry as an SAP consultant at PricewaterhouseCoopers (PwC), working on the architecture, design, and implementation of ERP for international accounts.
Website: ivalua.com
Founded: 2000
HQ: Paris, France
No. of locations: 15
No. of Employees: 800
Revenue: US$130mn
Major Clients: T-Mobile, Ikea, Axa, Coca-Cola, Desjardins, Capgemini, and the City of New York
4. GEP
A leading provider of innovative procurement and supply chain software. A global supply chain and operations consulting powerhouse. A best-of-breed provider of managed procurement and supply chain services, GEP is all of the above.
GEP's unified approach to solutions delivery integrating strategy, software and managed services helps their clients achieve strategic, operational and financial objectives. GEP has built a unified framework of integrated sourcing, procurement, spend management and end-to-end supply chain capabilities, supporting their customers needs.
Named Entrepreneur of the year by EY, Subhash Makhija is the current CEO of GEP.
With a career spanning more than 20 years, Makhija has led GEP's transformation to become a leading provider of supply chain solutions to global enterprises worldwide, and one of the fastest-grwoning firms in the industry.
Makhija envisions a data and technology driven supply chain that will improve performance for organisations and quality of life for billions of people around the world. In line with this belief Makhija works with various humanitarian organisations to help bring an end to child and slave labour, and supports the education of disadvantaged children to end the cycle of poverty.
Being an active member of the World Economic Forum and the CNBC CEO Council, Makhija is focused on the intersection of digital innovation, such as artificial intelligence and machine learning, and sustainability in procurement and global supply chains.
Website: GEP.com
Founded: 1999
HQ: Clark, New Jersey
No. of locations: 21 global offices
No. of Employees: 5,240
Revenue: US$5.08bn
Major Clients: Oryx Energies, Liberty Global, Costa Coffee
3. IBM Watson Orchestrate
Business priorities are shifting faster than ever. To respond to new customer preferences or new deliverables, you need a flexible workforce. Contingent labour helps, but sourcing and staffing those workers is a full-time job.
With Watson, you can spend less time staffing and more time delivering. Watson can automate manual procurement tasks, saving your team valuable time for planning strategic initiatives and meeting client needs.
By using advanced AI skills, Watson can compile requirements from key stakeholders, and then work within your vendor management system (VMS) to open a request with suppliers to find qualified candidates and schedule interviews with hiring managers. Watson helps you move quickly, so you can meet your client's skill needs on time.
Taking on the role of CEO in 2020, Krishna's career at IBM spans more than 30 years. Being a business leader and technologist, Krishna has led the company in its building and expansion of new markets for IBM in AI, cloud, quantum computing, and blockchain. Krishna has also played a significant role in the development of IBM's innovative prodycs and solutions for these emerging technologies.
Krishna's most recent achievement has been the successful acquisition of Red Hat for US$34bn (the largest software acquisition. Together Red Hat and IBM help clients to build mission-critical applications once and run them anywhere.
Website: ibm.com
Founded: 1911
HQ: Armonk, New York
No. of locations: 79 (US)
No. of Employees: 288,300
Revenue: US$60.53bn
Major Clients: Boeing, General Electric, Esso, Shell, and the US Airforce
2. SAP Ariba
SAP Ariba is a cloud-based procurement platform and business network developed by SAP, a leading enterprise software company. It provides a range of procurement solutions and services that help organisations manage their procurement processes, collaborate with suppliers, and optimise their supply chains.
SAP Ariba aims to help organisations improve procurement efficiency, reduce costs, increase transparency, and enhance supplier relationships. It provides a scalable and flexible solution that can be tailored to meet the specific needs of different industries and organisations.
Christian Klein is CEO and member of the Executive Board of SAP SE. In his role, Klein holds the overall responsibility for the corporate strategic direction, management, and performance of SAP.
Klein joined the SAP Executive Board in 2018 as the head of the Intelligent Enterprise Group, combining global responsibility for the development and delivery of SAP's core applications with the cross-board area mandate for SAP's global business operations.
Klein started his career at SAP in 1999 as a student. After holding various positions across the company, including Chief Financial Officer of SAP SuccessFactors and SAP's Chief Controlling Officer, he was appointed Chief Operating Officer of SAP in 2016, a role in which he continued until 2021. On October 11, 2019, he was named Co-CEO of SAP SE together with Jennifer Morgan, before being appointed the sole CEO on April 20, 2020.
Klein holds a diploma in International Business Administration from the University of Cooperative Education in Mannheim, Germany.
Website: SAP.com
Founded: 1972 (SAP Ariba - 1996)
HQ: Walldorf, Germany (SAP Ariba - Palo Alto, California)
No. of locations: 78+ countries
No. of Employees: 108,000 (3,000 - SAP Ariba)
Revenue: US$33.5bn
Major Clients: Walmart, Shell, Exxon Mobil, CVS, United Healthcare
1. Coupa
Coupa is a cloud-based spend management platform and software company. It provides a comprehensive suite of solutions designed to help organisations streamline and automate their procurement, invoicing, and expense management processes. Coupa's platform offers functionalities for procurement, expenses, invoicing, sourcing, contract management, supplier management, and analytics, among others.
Coupa AI Spend Classification cuts out manual classification drudgery with Machine Learning and Artificial Intelligence to standardise, classify, and enrich spend across spend and ERP systems.
Charles Goodman is the Chairman of the Board and interim CEO at Coupa, taking on the role in May 2023. Charles has more than 30 years of experience building successful enterprise software businesses. He joined the Coupa board in February 2023.
Before joining Coupa, Charles served as interim CEO of Anaplan, which was acquired by Thoma Bravo in June 2022. Before Anaplan, he was CEO of PowerPlan, another Thoma Bravo portfolio company. Prior to joining PowerPlan in 2015, Charles was CEO of P2 Energy Solutions. In addition to helping companies expand, Charles has a passion for transforming organisations by focusing on employee culture and the customer experience. Charles graduated from Texas Tech University with a B.S. degree in Engineering.
Website: Coupa.com
Founded: 2006
HQ: San Matteo, California
No. of Locations: 40
No. of Employees: 3,500
Revenue: US$725mn
Major Clients: Maersk, Nestle, Telenor, Sanofi, Engie
As you can see, AI is being used in a variety of ways to enhance the procurement process by key players in the industry. With a global adoption rate of 35% (2022) - a four point increase compared to 2021 - it is clear that in today's technology-driven world that AI is here to stay and is on the rise.
Links to other noted Vendors to check out: