Top 10 Chief Procurement Officers in the United Kingdom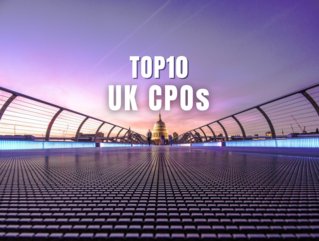 Top 10 Chief Procurement Officers in the United Kingdom
The role of the Chief Procurement Officer is gaining momentum. Here's Procurement Magazine's list of the Top 10 CPOs in the United Kingdom
10. Cyril Pourrat
Company: BT
Industry: Telecommunications
Bringing 20 years of experience in Fortune 500 companies, Cyril Pourrat is perfectly positioned to be Chief Procurement Officer for BT, a role he had held for three years.

Pourrat is an award-winning procurement and supply chain executive with expertise in multicultural management in a fast-changing environment and large-scale project negotiations with world-class suppliers.
9. Clive Rees
Company: Fujitsu
Industry: IT Service & IT Consulting
Fujitsu's Vice President, International Chief Procurement Officer, Clive Rees is a procurement professional with 34 years of experience in the public and private sectors.

He previously worked in financial services for 14 years undertaking a variety of senior procurement roles in HR, Property and IT.

Rees has shaped and developed teams, devised and implemented strategies, and led major commercial negotiations.
8. Julie Brettell
Company: UK Ministry of Defence
Industry: Defence
Julie Brettell has an established professional history as Chief Procurement Officer for Thales Group; a French multinational company that designs, develops and manufactures electrical systems as well as devices and equipment for the aerospace, defence, transportation and security sectors.
Joining Thales in August 2018, prior to which she was Procurement Director for BAE Systems Applied Intelligence, Brettell is described by industry professionals as 'a strategic thinker that demonstrates a solid understanding of what it takes to drive transformational and organisational change within supply chain'.

Since January 2023, Brettell has been working as Commercial Director for the UK Ministry of Defence, where she provides strategic leadership across the full range of Ministry of Defence (MOD) acquisition, procurement and commercial activities.
7. Warrick Matthews
Company: Rolls Royce
Industry: Automotive
Warrick Matthews works at Rolls-Royce as EVP of Procurement in Civil Aerospace.

His career at Rolls-Royce includes a series of leadership roles in Operations and Customer Business.

Matthews leads LGBT inclusion at Rolls-Royce and is the co-sponsor of their network Prism.

He joined Rolls-Royce as a commercial graduate in 1998, which would mean that he has been part of Rolls-Royce for almost 25 years.

Matthews has been a Director of Sinfonia Viva since 2015 and also Chairs the Finance and General Purpose Committee.
6. Janelle Orozco
Company: The Kraft Heinz Company
Industry: Food & Beverage
Janelle Orozco has a 14+ year professional procurement history at Diageo, where, until very recently she was Chief Procurement Officer.

She is well known for spotting and developing diverse talent, building high performing teams and driving positive change.

Orozco's distinctive strengths are curiosity: staying connected to what is happening internally and externally, empathy: driving collaboration and ability to see new perspectives, and decisiveness: providing clarity and direction in service of speed and simplification.

She is passionate about diversity and inclusion, creating an environment where people can contribute fully and feel empowered to be their best selves.

Orozco joined The Kraft Heinz Company in January 2023 where she continues to make waves as their Chief Procurement Officer.
5. Alisa Bornstein
Company: Visa Europe
Industry: Financial Services
Chief Procurement Officer at Visa Europe since January 2021, Alisa Bornstein is a Business focused Procurement leader.

She has 25+ years of experience in leading and transforming global and regional procurement in mature and emerging markets across various industries including technology, telecoms, the semiconductor industry, fintech and finance.

Bornstein is a recognised industry leader, listed among the top 15 of the Top 100 Global Leaders in Supply Chain.
4. Jane Liang
Company: British American Tobacco (BAT)
Industry: Tobacco
Jane Liang is Global Head of Procurement and Chief Procurement Officer of British American Tobacco (BAT), a position she has held since June 2018.

As Group Head of Procurement at BAT, she leads a team located in more than 60 countries and serving 180 end markets.

Liang led the development and deployment of a new 5-year procurement strategy which incorporates driving supplier base loss analysis, optimising international trade, enhancing spend proficiency and upgrading the digital landscape.
3. Alf Noto
Company: Deutsche Bank
Industry: Financial Services
Alf Noto is Chief Procurement Officer at Deutsche Bank. Noto is a top performing and internationally experienced business leader with an impressive record of achievement in world-class, B2C and manufacturing supply chain environments, leading major change programmes.

He has broad experience across supply chain functions with and in leading Customer Support and Sourcing transformations.
2. John Dickson
Company: Astra Zeneca
Industry: Pharmaceuticals
John Dickson is Chief Procurement Officer of AstraZeneca and has held that position since June 2018.

His career was in many ways stimulated by the Covid fall-out that saw an incredible effort for AstraZeneca to adapt to the historical change in procurement processes, and as a company they were highly successful.
1. Florence Tinsley-Roy
Company: PwC
Industry: Consulting
Global Chief Procurement Officer since February 2022, Florence Tinsley-Roy has expertise in transformation of procurement teams and developing local and global strategies and multinational teams.
She joined PwC in 2018 as Global Technology Procurement Leader, before moving on to Global Procurement Leader where she led a team which negotiated global agreements for the benefit of the PwC network firms, in the areas of technology, data/knowledge, travel and marketing, while co-leading the supply chain workstream for PwC's net zero Program.
Tinsley-Roy joined PwC from EY, where she held a number of roles: most recently as Director of Global Procurement, where she led a global procurement team of 150 professionals, responsible for the management of a US$2bn spend portfolio of indirect spend categories, as well as the deployment and management of source to pay processes and platforms.
Prior to EY, she also held roles at AstraZeneca, where she led the global procurement team for IT Infrastructure spend, and at Barclays.
Tinsley-Roy has an MBA in Business Strategy and Procurement from the University of Birmingham, and has expertise in strategic sourcing and change management, offshoring, outsourcing, negotiations and vendor management.