Space-age procurement transformation for LANL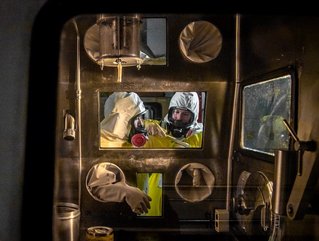 The Los Alamos National Laboratory (LANL) is one of 16 R&D laboratories run under contract by the US Department of Energy. As part of the Manhattan Project in World War II, LANL was instrumental in developing the first ever atomic bomb, and it retains a strong nuclear function, having stewardship of the US nuclear weapons programme. When it transformed its procurement function, it turned to SAP Ariba.
Why the Los Alamos National Laboratory -- home of atom bomb research during WWII -- turned to SAP Ariba for its recent procurement transformation
In one of the most secluded places on Earth, in the high desert near Santa Fe in New Mexico, 10,000 people work in one of the most cutting-edge facilities in the world – one that, as part of the Manhattan Project in World War II, was instrumental in developing the first ever atomic bomb.

The Los Alamos National Laboratory (LANL) is one of 16 R&D laboratories run under contract by the US Department of Energy.

"We're known as the birthplace of the atomic bomb," says Christine Hipp, Acquisition Services Management Center of Excellence Leader at LANL. "A lot of people don't realise we still exist."

Today, LANL undertakes R&D on everything from the COVID-19 vaccine to genome sequencing, but retains a strong nuclear function, too, having stewardship of the US nuclear weapons programme.

LANL procurement 'quite unlike other organisations'
The super-sensitive nature of its work means procurement processes at LANL are, to say the least, quite unlike those of most businesses.

I interviewed Hipp in Dallas at SAP Spend Connect Live – a conference and expo where SAP unveiled updated versions of its spend management solutions to highly-regulated US industries such as defence, medicine, government and space exploration. At present, this functionality is available to these sectors only in the US, but SAP has plans to also serve regulated industries outside of the United States.

LANL's procurement transformation kickstarted in 2019, when it began its move from Oracle e-Business Suite to SAP Ariba.

"We were seeing significant growth in our procurement demand and needed to modernise our tool set," explains Hipp. "We chose Ariba as our source-to-pay solution and implemented it between January 2020 and June 2021."

A key reason for the switch was because Ariba, in Hipp's words, "allowed us to address our compliance requirements".

"We have very heavily regulated procurement procedures; had we not switched many of the requirements we have to follow, they might have prevented us from streamlining and automating procurement processes."

SAP Ariba configurability 'was key'

Ariba's configurability, she says, "gave us the opportunity to do exactly this, thanks to its best-in-class solutions around automation".

Hipp says LANL its procurement transformation has delivered "new tools and capabilities", and that these have helped it manage the $1bn uptick in procurement spend over the past two years. The doubling of its spend in this time "is an interesting problem to have as a government contractor".

She adds: "The Federal government needs us to expand, and so we're acquiring things to facilitate that. Our revenue has grown from $2bn to more than $4bn, and half of that goes into more procurement. We're also modernising our facilities in Atlanta, so that has also led to a lot of large procurement spend."

The huge increase in spend has seen LANL's more agile procurement transformation come into its own. Expansion has meant more staff are required, and with a burgeoning payroll comes an increase in indirect procurement, such as office supplies – another reason LANL needed a more agile procurement solution.

And, as with so many organisations, the pandemic also sent Hipp and her procurement team into overdrive. "With working from home, everybody needed a new laptop, so there was a lot of investment in IT infrastructure, and many of those people have remained working from home."

'Breadth of our procurement brings challenges'
Hipp also says that the breadth and variety of work LANL does brings its own procurement challenges: "We procure across space exploration, geophysics, medicine and sustainable energy, and each of these present their own challenges.
"We probably have one of the most unusual procurement functions anywhere. One of the nice things about SAP Ariba is it gives us visibility into each of these areas, which allows us to optimise our processes and address needs quickly.
Needs like that of a ship-based research team in the Arctic Circle, who were frozen in an ice floe for 13 months as they measured climate change.
"Somebody in our organisation had to figure out how to buy the supplies they needed for those 13 months," says Hipp. "They had to work out what they needed, where to source it and how to get it to them."
But on a more conventional note, LANL's procurement team is – like everyone else – battling to help their organisations recover from the supply chain disruptions of the past few years.
"SAP Ariba helped us learn how to pivot from being an organisation that was very reactive in its sourcing, to being proactive. It wasn't enough any more to source something only after somebody had asked for it. Now, we are far more focused on supplier management. We have established far more relationships with key strategic suppliers than we did before.
"We used the SAP Ariba Network to source more suppliers. Now, we see suppliers more as business partners, who we need to have procurement planning conversations with."
Key to LANL's procurement transformation, says Hipp, was Chief Procurement Officer Drew Fuller, who joined the organisation at the outset of the project.
"I've been an IT manager and have implemented a lot of systems, but I've never had a partnership with someone like Drew before, who himself was embedded into the project and determined we were going to stick with it. His commitment got me more excited about the project and this built my commitment to it, which was very inspiring.
"The entire project was delivered over Zoom calls, which I never thought would be possible. With things like the work we had to do to implement SAP Ariba, it's important to keep an open mind, and to not have preconceived notions. This definitely allowed me to achieve more than I otherwise would."