How are smart procurement teams fighting inflation?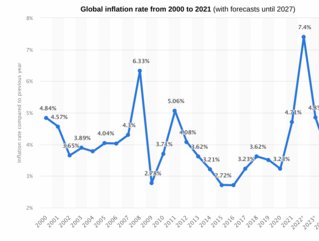 Global inflation rate
With inflationary pressures impacting procurement and trimming value off contracts, what are smart procurement managers doing to counter-act it?
Research from the Hackett Group indicates that procurement operating costs have gone up for the first time in more than a decade and they are attributing the increase to unprecedented uncertainty, including supply disruptions, inflationary pressures, and environmental, social, and governance initiatives.
Research into inflation pressure on procurement
Responses to their research indicated that factors like supply disruption and inflation have caused unprecedented challenges over the last 12 months, and have driven up costs for all procurement organisations.
"Inflation has not been this high in the United Kingdom for over 30 years – long enough that the collective corporate memory of how to operate in inflationary times is almost gone," explains Vicky Kavan a Senior Procurement Advisor with The Hackett Group. "During that time, most procurement professionals would likely have simply ignored the 1%-2% average cost increases each year. The current situation brings with it a complex combination of other moving parts."
Despite that complicated situation, companies that Hackett Group identify at 'Digital World Class' in procurement are still able to perform.
"These top functions are still operating at 21% lower cost than their peers," explains Kavan. "They drive nearly two times the savings due to spend cost reductions and earn a 2.4X higher return on investment."
What exactly are they doing right to fight the impact of inflation?
Vicky Kavan, Senior Procurement Advisor with The Hackett Group explains to Procurement Magazine the actions these companies are taking to fight off the headwinds of inflation and future-proof their operations.
How is data-driven procurement helping these high performing companies?
Digital World Class procurement organisations are collecting the data they need to understand what is behind their cost base. Most Digital World Class procurement organisations have adopted spend analytics (93%) and e-procurement tools (77%), and, coupled with high-quality market intelligence inputs, they are able to develop a clear model of the underlying drivers of their cost increases.
Is fact-based negotiation a strong method to optimise value?
Right now, most procurement practitioners we talk to say that pushing back on suppliers using their data insights is the single most effective way to mitigate inflation and optimise value. However, such negotiations are not just about beating up the vendor: they consider developing collaborative solutions with suppliers nearly as important.
How much scenario planning should procurement teams do?
To be ready for further disruption and other near-term challenges, Digital World Class procurement organisations are building models that give them visibility of how their costs might change should their vendors' key commodity prices move. Inflation seldom moves in lockstep across all sectors, making it extremely useful to have a model that considers different impacts, see where new risks and opportunities are likely to emerge, and agree on a course of action with key stakeholders ahead of time. Procurement should steer clear of trying to make predictions about the future, yet be ready to react to conditions that are outside of their control.
With prices changing quickly, do procurement operations need to change traditional management cycles?
These days, the world is moving too quickly to stick to an annual category management cycle or rely on the traditional months long strategic procurement process. Once they analyse the underlying cost drivers, procurement practitioners are benchmarking suppliers' proposed price increases against market commodity prices, and acting quickly to negotiate discounts and rebates against current and future volume. With prices moving rapidly, some market-leading companies are finding that it pays to call vendors out of the blue and ask for better terms.
How important is the quality of training and talent within the procurement function, and what are the high performers doing well?
The competition for quality staff in procurement is greater than ever. At the same time, demand for procurement professionals with specific skill sets has continued to rise, as companies look for people to build capabilities in areas ranging from environmental, social and governance (ESG), to data analytics and economic forecasting. To overcome the challenge of recruiting, Digital World Class procurement organisations also invest more in training (with 2.6X more external training hours) than ordinary companies and are 3.4X more likely to have a formal retention plan for high-potential employees.
How will the current set of challenging circumstances prepare us for the future?
Shipping costs and freight costs are falling. Labour markets remain tight, but some signs of softening are beginning to appear. These and other leading economic indicators lead some analysts to believe that inflation has peaked and will continue to fall.
However, that is no reason to stop making better data collection, cost modelling and analytics a priority. Between economic cycles, geopolitical turmoil and climate change, most analysts expect the new normal will be anything but. If the experience of the last few years has taught Digital World Class procurement organisations anything, it is that knowledge and agility come in handy whatever the macroeconomic environment.
Executives at these leading companies understand that whatever the future economic climate, it won't hurt to have an organisation that has a granular understanding of its cost structure and agility in how it responds to fluctuations in supply or demand.
Read more strategies to help 'blunt the impact' of inflation.
*************************************************
For more insights into Procurement & Supply Chain - check out the latest edition of Procurement Magazine and be sure to follow us on LinkedIn & Twitter
Other magazines that may be of interest - Supply Chain Magazine | Sustainability Magazine
Please also check out our upcoming event - Procurement & Supply Chain LIVE in London at the BDC on Sept 26/27th 2023
*********************************************
BizClik is a global provider of B2B digital media platforms that cover 'Executive Communities' for CEOs, CFOs, CMOs, Sustainability Leaders, Procurement & Supply Chain Leaders, Technology & AI Leaders, Cyber Leaders, FinTech & InsurTech Leaders as well as covering industries such as Manufacturing, Mining, Energy, EV, Construction, Healthcare + Food & Drink.
BizClik, based in London, Dubai & New York offers services such as Content Creation, Advertising & Sponsorship Solutions, Webinars & Events.