Top 10: Companies supporting women leaders in procurement
By Charlie Steer-Stephenson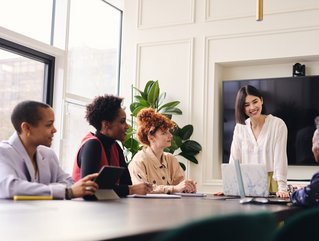 As DEI continues to be a key part of businesses' ESG strategies, we examine the top 10 companies providing opportunities for women in procurement roles
In a world where diversity, equity and inclusion (DEI) are at the forefront of consumers' minds and businesses' environmental, social and governance (ESG) goals, it's crucial that women are able to play a primary role in procurement strategies across a range of industries.
A resilient and sustainable supply chain involves investing in women-owned businesses; but it also means providing opportunities for women to take on leadership and management roles in procurement. We've already looked at the top 10 leading and influential women in global companies, but today we're considering the companies behind these inspiring women, to see who offers the best DEI initiatives and opportunities to help women get involved.
10. International Finance Corporation (IFC)
As well as undertaking research on the 'gender gap' in the global financial sector, the IFC openly supports women-owned small and medium enterprises (WSMEs). Since large corporations are estimated to spend 1% of their budgets on WSMEs, the IFC's Sourcing2Equal Global Program helps women entrepreneurs overcome structural barriers within procurement.
The IFC also ensures that women are included as employees, consumers, stakeholders and leaders in procurement. Hala Sherif, for example, uses her skills and expertise to support IFC as Procurement Executive.
9. Toyota
Toyota is not only committed to improving the automobile industry, but also to creating an inclusive work environment based on diverse talent and potential. The company understands the importance of its contributions to society, and therefore makes sure to develop, recognise and utilise women's skills in manufacturing.
The company includes and celebrates many inspirational women in leadership roles, including its Vice President (VP) and Chief Procurement Officer (CPO) Bonnie Clinton. Clinton has held her automotive leadership position for over 20 years.
8. Novartis
Pharmaceutical company Novartis aims to reimagine medicine and improve healthcare worldwide. Novartis recognises that DEI is central to this, and therefore endeavours to create an inclusive work culture that fosters the potential of all employees and stakeholders.
Novartis has publicly announced its commitment to achieving gender balance in management and pay equity by 2023. CPO Paula Davila Martinez has already played a key role in this as the company's strategic and transformational leader of supply chain management.
7. Walmart
Since 2011 Walmart has supported DEI initiatives empowering women in the global supply chain. This includes their [email protected] Collaborative and Walmart Foundation Market Access programmes. In 2021 the company reported spending over US$39bn with women-owned businesses since 2012.
Walmart also integrates gender equity into the business's internal operations. One example is Walmart's Executive VP of Sourcing, Andrea Albright, who has been supported to develop her skills and expertise, and climb the ranks in the company's Procurement team, since 2005.
6. Capgemini
Strategic business partner Capgemini works with clients to create equal opportunities within the global supply chain. Additionally, the company recognises the value of fostering a diverse workforce and inclusive workplace culture.
Capgemini's CPO, Sapna Alva Tariyal, has had an impressive career furthering procurement in the Asia-Pacific (APAC) region. Tariyal is an example of how Capgemini is acting on its goal to have 40% of women in its teams, and 30% of women in leadership positions, by 2025.
5. Cisco
World-leading IT solutions company Cisco understands the value of having women on board in the tech industry. Cisco's Women Rock-IT programme is an educational platform that helps women connect and flourish in their technology career. As well as free informative videos, the platform offers event management for schools and companies to raise awareness of career opportunities for women in tech.
Cisco's Senior VP and CPO, Alexandra Lopez, is an ideal role model for young people interested in procurement.
4. PepsiCo
Global beverage company PepsiCo claims that building a 'positive value chain' is central to its ESG commitments and business intentions. By working with diverse suppliers and building an inclusive workplace culture through training and employment opportunities, PepsiCo shows its dedication to DEI.
One of PepsiCo's leading role models is Melani Wilson Smith, CPO – a 'thoughtful procurement professional with a great capacity for developing her people'.
3. Oracle
Oracle claims that its innovation in technology is powered by DEI. With over 60 employee communities, including Women Leadership, the company shows how much it values diverse perspectives and new ideas.
Women succeed at Oracle because of the company's wide-ranging support and inclusive policies. Gillian Butler (now retired), Director of Global Procurement, is just one example of Oracle's commitment to providing women with leadership opportunities that help them take control over their professional development and join a strong community of women leaders.
2. Deloitte
Global consulting provider Deloitte understands the power of creating an inclusive workplace culture. The company's DEI strategies focus on designing specific diversity goals to which all internal and external stakeholders can be held accountable, including achieving gender balance in recruitment and partnerships.
With over 345,000 employees, Deloitte's Global Gender Impact Report promotes ways that leaders can take care in offering equal recruitment, promotion and succession opportunities. The success of this is evident with the company's Global CPO, Rhonda England, a strong leader who now serves as a role model to other women.
In 2021 and 2022 Deloitte's Women @ Work survey aimed to better understand women's workplace experiences. Responses from 5,000 women across 10 countries revealed high stress levels and mental health challenges. By raising awareness of this and promoting its own DEI initiatives, Deloitte hopes to positively impact the lives of women around the world.
1. Microsoft
World-leading technology corporation Microsoft believes in the transformative power of diversity and inclusion. As well as ensuring all employees are committed to an inclusive working environment, Microsoft aims to take their DEI goals out into communities so that people of all backgrounds can thrive professionally and personally.
Since 2017 Microsoft's workforce has increased by 41.6%; within this, women employees increased by 64.9%. Women still only make up 29.7% of the company overall, but clearly rapid progress has taken place in recent years as the company strives to enhance women's professional development. One example is the Women in Microsoft Teams Community group, created in 2021 as an online platform for women to share ideas and learn together.
Grace Lao joined Microsoft in 1998 in accounting and financial analysis. 23 years later, she is the VP of Finance and Procurement and is renowned for her commitment to traversing cultural boundaries and bringing diverse teams together.