Top 10 uses for artificial intelligence (AI) in procurement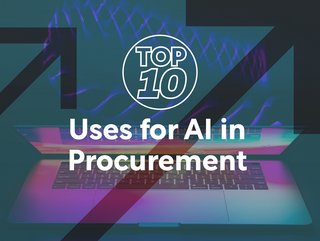 Top 10 uses for AI in procurement
Procurement Magazine takes a look at 10 of the top use cases for artificial intelligence (AI) in procurement including
Being a fast-paced and highly competitive market, procurement faces extreme pressure to deliver cost savings, manage risk, and ensure that they meet ESG standards. To ensure the function is agile in order to keep up with changing dynamics, artificial intelligence (AI) can transition the function from reactive to proactive and push data-driven insights.
With the emergence of Generative AI, the solution has sparked a surge in investment for the technology that is expected to value at US$2 trillion by 2030.
Discover the Top 10 generative AI platforms in procurement
In this top 10, Procurement Magazine takes a look at 10 use cases for AI in the procurement function.
Spend classification
In procurement, the need to understand internal spend; for more robust processes, and to manage compliance, accurate spend data is foundational for effective spend management strategies.
Based on several AI techniques, spend classification algorithms dynamically search through line item details and flag keywords to tie to spend categories. Those that use AI spend classification have typically achieved 97% accuracy in classification data, increasing precision and driving value.
Global sourcing
When it comes to global sourcing, CPOs run into a large web of data. New tools are enabling businesses to harness AI to explore high-level sourcing strategies. AI can identify shifts in global supply trends, gain insights into future trends, and help inform the sourcing strategy for product categories.
With the use of AI, organisations can critically evaluate souring opportunities through data-driven product and supplier insights.
Invoice data
A more established use of AI in procurement is for the extraction of invoice data to automate the process, control the workflow, and verify data capture. For those without a source-to-pay (S2P) system, this is a valuable solution.
Typically this technology can be integrated into existing systems and uses a combination of computer vision and natural language processing (NLP).
Automated compliance
For those that haven't adopted a source-to-pay (S2P) system, compliance can be a manual and time-consuming process, AI can be used to help structure the contract, invoice, and PO data to identify and highlight non-compliance. Applying AI in this way allows procurement teams to automatically compare payment terms, determine non-compliance, or identify duplications.
Contract data extraction
Similar to invoice data extraction, contract data extraction allows organisations to upload large volumes of contracts in varying electronic forms and extract key information. For those without structured contract databases, using NLP to extract key information and terms can help in compliance and accelerate the transition to systems such as Ariba or Coupa. Advanced solutions can help with risk management and highlight areas for review.
Contract lifecycle management (CLM)
While Contract lifecycle management (CLM) has been around for decades, AI is now making waves in the area. CLM tools using AI can support contract generation, contract negotiation, and the identification of risks in contract language. Successful solutions reduce cycle times and streamline the contract management process by standardising templates, automating first drafts, and managing workflows.
Anomaly detection
When it comes to anomalies, new opportunities, and recommendations, AI is being trialled for its ability to process large amounts of data to provide procurement teams with updates on the latest developments and changes in the operating environment directly into the dashboard. This will allow for instant notification of changes with improved accuracy.
Strategic sourcing
Another way AI can be used is to manage and automate sourcing events. By harnessing machine learning for the recognition of bid sheets, organisations can develop specialised category-specific eSourcing bots for raw materials, maintenance and repairs.
Accounts payable (AP) automation
Harnessing AI and machine learning, accounts payable (AP) automation makes the processing and approvals for invoices faster and more efficient. By eliminating the manual stages of the processes AP automation reduces the number of human touches per invoice, it also improves efficiency and accuracy; reduces costs; and provides built-in compliance.
Supplier risk management
By adopting big data methodologies, AI can help to navigate supplier risk management. The methodologies are used to screen millions of different data sources and provide alerts on potential risk positions across the supply chain.
******
For more insights into the world of procurement read the latest edition of Procurement Magazine and be sure to follow us on LinkedIn & Twitter.
Other magazines that may be of interest: Supply Chain Digital, Manufacturing Digital
******
BizClik is a global provider of B2B digital media platforms, for leaders across: Sustainability; Procurement & Supply Chain; Technology & AI; Cyber; FinTech & InsurTech; Manufacturing; Mining; Energy; EV, Construction; Healthcare; and Food. Based in London, Dubai, and New York, Bizclik offers services including content creation, advertising & sponsorship solutions, webinars & events.