PwC: Mixed results for procurement & supply tech investments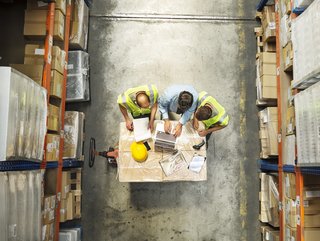 Latest report 'Digital Trends in Supply Chain Survey 2022' from PwC reveals mixed results for procurement and supply chain investments in technology
With many organisations racing to update and upgrade their supply chains to navigate the growing complexities and disruption, leaders are turning to technology to fulfil critical needs.

However, whilst many agree that investment in technology is important, PwC's latest report 'Digital Trends in Supply Chain Survey 2022', there has been a shift in where and how technologies are being adopted, leading to uneven returns on investment (ROI). Only 20% of leaders in this industry report that their investments in technology have fully delivered the expected results.

"Without a clear business case and dedicated change management — including actions such as leadership communications and adequate training — full technology adoption and execution can suffer, and the anticipated value from the investment may not be achieved," commented PwC.
Cloud sits at the top of the investment list
When it comes to technology adoption and investment, PwC's report concluded that cloud technology far outpaces others, with 52% of organisations reporting full or moderate adoption of such capabilities, with 72% planning to invest.

This included 35% planning to spend at least US$1mn over the next two years into the technology.

While many have started using emerging technologies across the supply chain and procurement, PwC reports that no single technology was cited by more than 33% in any area. Planning is seeing the most investment in technology with 77% of respondents identifying at least one technology that has been adopted to automate and enhance.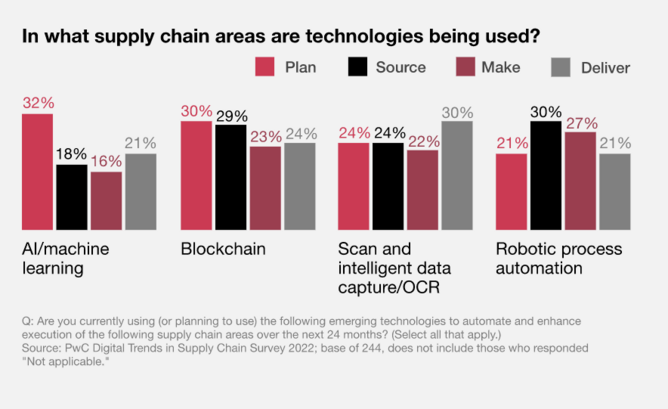 What has been the return on investment for technology in procurement and supply chains?
While it is agreed that investment in technology is worthwhile, PwC reports that in many cases investments haven't been 100% successful.
The report indicated that cost efficiencies were the greatest benefit, with 66% reporting positive outcomes. However, when it comes to investments setting them apart from competitors, organisations were less impressed.
"This may be because in some cases tech investments for cost efficiencies may have been for isolated solutions instead of being part of a transformation initiative, which is more likely to distinguish a company from its competition," commented PwC.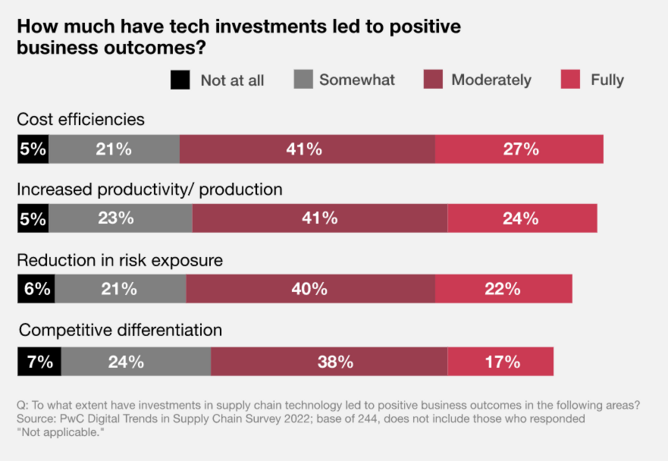 Opportunities for better deployment of technology
Within the report, PwC outlines five steps for organisations to consider when deploying technology to build resilience, boost efficiency, and drive business growth:
Evaluate and confirm how each technology investment aligns with the overall strategic priorities of the organisation, ensuring that the people and processes are in place to effectively execute such strategies.
Determine which technologies will be beneficial to increase transparency and visibility, as well as which successes can be scaled and replicated elsewhere.
Consider how short-term investments in automation can reduce recurring costs long-term.
Evaluate each stage of the supply chain and procurement processes, and determine if and how AI, intelligent data capture, and other technologies could improve speed, efficiency, and/or resilience.
Don't limit investments to only dealing with current disruptions and day-to-day battles, consider how investments can better position an organisation for recognising and mitigating future risks.
To read the full PwC report, click here