Google's Surpiya Iyer on value chain 'perfect storm'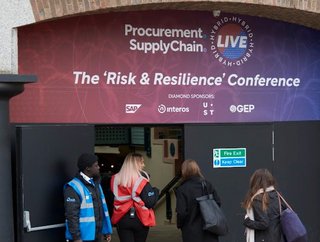 Supriya Iyer, Google's Director of Supply Chain and Commercial Operations, told Procurement & Supply Chain LIVE of the difficulties facing her team today
In April 2022, Procurement Magazine, Supply Chain Digital and Bizclik Media Group returned to London's Tobacco Dock to host our second Procurement & Supply Chain LIVE.
Dubbed 'The Risk & Resilience Conference' the two-day hybrid event featured keynotes, roundtables, Q&As, and networking opportunities with inspirational and knowledgeable leaders in the procurement and supply chain space.
Director of Supply Chain and Commercial Operations at Google, Supriya Iyer, delivered a virtual keynote on the nature of Google's supply chain, and how it covers twin networks: production and enterprise.

Iyer said the Google networking supply chain and commercial operations team "is structured to effectively manage procurement and supply of networking equipment to sites and oversees significant investment in assets/services across the business".

Pandemic changed nature of supply chain - Supriya Iyer
She added: "The shift over the past 40 years to just-in-time inventory and global manufacturing has helped to optimise costs. However, the pandemic added a new set of unforeseen challenges, and juggling supply to meet growing demand has posed new challenges."
Hiring supply chain and project management talent globally in a labour constrained environment has been more of a challenge, she says.
"As a leader, supporting team members to take care of their health and overall wellbeing during the pandemic was critical, but not always easy to do. The past two years have been a marathon and it isn't over by any stretch of imagination."
Supriya Iyer was born in India and completed her schooling there. After completing a double masters in mathematics and information systems she moved to Australia, where she worked in global supply chain and operations roles across sectors including automotive and high tech.
To watch this keynote - or any of our other speakers from Procurement & Supply Chain LIVE: The Risk and Resilience Conference - click here.
PROCUREMENT & SUPPLY CHAIN LIVE LONDON 2022

This October, Supply Chain Digital and Procurement Magazine return to London for an all-new event - PROCUREMENT & SUPPLY CHAIN LIVE LONDON 2022. Click here, to find out how you can attend.
Held at the QEII Centre from 12-13 October, BMG's all-new hybrid event incorporates two zones - SupplyChain LIVE and Procurement LIVE - to create a single EXPO style experience.
The event will give those attending the chance to showcase their values, products and services to partners and customers.
To find out more about PROCUREMENT & SUPPLY CHAIN LIVE LONDON 2022, click here.