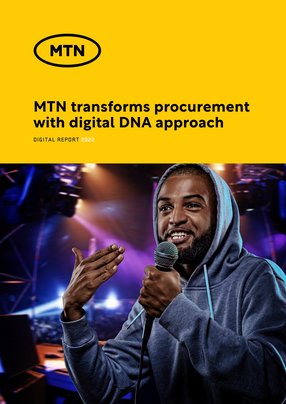 MTN transforms procurement with digital DNA approach
Leading MTN Group's procurement transformation, Dirk Karl, Group Executive and CPO, discusses benefits, smart data-driven decision making, and ESG
Driven by its strong belief that everyone deserves the benefit of a connected modern life – particularly on the African continent – MTN Group is committed to bridging the digital divide, bringing connectivity and financial inclusion to its operating markets.
"We are building the largest and most valuable business platform, with a clear focus on bringing Africa and its enterprises forward," says Dirk Karl, Group Executive and CPO at MTN.
Procurement transformation: leading the charge
Being a successful and perceptive procurement leader with an international career spanning 25 years, Karl has been CPO at MTN since 2017. As part of his role, Karl leads the group's procurement transformation strategy. "Our strategy is built on three key pillars," he explains. "The first is ESG, which is not only key to our procurement transformation, but central to our core strategy as a business. Next, we have the 'digital DNA' to push data driven decision making, advanced analytics and agility into procurement, and finally, we are focused on driving supply chain resilience."
As an early adopter of procurement transformation, integrating its supply chain and strategic sourcing into one integral part of its operations, MTN is already reaping the benefits of such a strategy. "This approach has already provided us with a vital return on investment (ROI). As an earlier adopter, we were able to navigate the perfect storm of semiconductor shortages alongside the friction caused throughout the supply chain over the last couple of years," explains Karl.
A core part of the group transformation involved MTN introducing new, agile, and iterative sourcing models in the procurement function. "Across the function, everyone is scrum master certified; we have cross functional teams operating in agile squads and pods in order to drive agility. Everything that we have learned from IT software development, we are translating into the procurement organisation," says Karl.
Adopting this approach drastically changed MTN's operating model. "This also transforms our throughput times in terms of how long it takes us to meet supply chain demands and complete sourcing transactions. This is why 'digital DNA' is a critical part of our transformation."
It was important for MTN to onboard and restructure the people within its organisation due to the new skill set required. "It was a real transformational undertaking, bringing data science expertise into the organisation as well as catering for such change, and developing the systems and tools to transform sourcing and supply chain," adds Karl.
Making smart procurement decisions in the face of uncertainty
One thing for certain in modern procurement and supply chains is uncertainty and disruption. "We have had no choice but to become smarter," says Karl, "Uncertainty is a part of daily life. We still have to make decisions in the face of uncertainty, we can't take it away, but we can better harness huge volumes of information to make data-driven decisions, which has become an integral part of our procurement and sourcing operation."
MTN is using data analytics and automation to enhance its throughput time, cut down on manual, time consuming activities and drive greater efficiency.
Karl explains: "We have developed our own in-house tools that support our sourcing function to adopt data-driven decision-making platforms and supply chain risk management frameworks using advanced technologies such as machine learning and artificial intelligence. Our expert sourcing teams are guided by price curves within each category, and our scenario analysis tool is used to analyse millions of possible sourcing award scenarios and select the optimum scenario for negotiation. We even have our own artificial intelligence-enabled virtual assistant, GeSSiCa, who scans our entire procurement ecosystem searching for bundling opportunities.
"We have further developed our artificial intelligence and machine learning capabilities to assist in eAuctions, providing data-driven vendor evaluations that allow our category managers to optimise the potential tender outcome."
Along its transformation journey, MTN has had agility in mind. "We have organised ourselves in the transformation journey to be agile, moving away from the typical category structure that is mimicked in the procurement function. Instead, our procurement operations are very much aligned with the MTN Group Ambition 2025 business strategy. We are catering for the same change across the company in order to be future fit."
Incorporating ESG into procurement transformation
With ESG core to its business strategy, MTN is not only supporting ESG initiatives in the form of its net-zero roadmap for 2040 and its innovations to reduce emissions across Scope 1 to Scope 3, but the group is also introducing elements of a circular economy into its operations.
"With this approach, we are much more focused on the end-to-end sustainability of our business," says Karl. "We are also focused on reusing and extending the lifetime of our assets and supplies with refurbishment and repairs, instead of producing and buying new. This sub-pillar of our ESG strategy coincides with our drive for agility."
Expanding on MTN's sustainability strategy, Karl explains the group's shared value of developing a responsible environment through social and governance practices that are supported by procurement and supply chains. "Only healthy societies can prosper; we have an obligation to support societies to stay healthy or become healthy."
One way that MTN achieves this is through its localisation policy. "Through technology innovation and onboarding of local suppliers, we can help societies to prosper and suppliers develop. We do this with sustainability governance oversight by our social and ethics committee to ensure that we are meeting our pledges and supplier code of conduct."
What does the future hold for MTN Group?
Over the next 12 to 18 months, MTN Group will continue to drive its procurement transformation, focusing on agility and its new operating model. "The next 18 months are going to be a very bumpy journey," says Karl.
"With the introduction and completion of our transformation, it will be important to focus on change management within the group to ensure that our human workforce doesn't fall back onto old methods. The next 18 months will be very much about adapting. We will be looking at the metrics of adapting, the usage of tools, adapting machine learning and adapting data."
In addition to its internal ambitions for the next 12 to 18 months, MTN will also be working on its collaboration with startups and universities – specifically, with the University of Johannesburg.
"With the university, we will be continuing to work on advanced digital procurement solutions and supply chain tools. We want to advance our control tower and nerve centre here at MTN, which combines sourcing transactions, inventories, and supply chain disruptions. We also want to ensure that our markets are getting the supplies they need on time, with early alert systems in place to further improve our intervention and prevention if disruptions occur," explains Karl.
"Finally, we want to focus on our people, investing in their skills and training over the next 12 to 18 months. We are providing agile coaching, agile training, and scrum certifications, along with upskilling our teams in areas such as intelligent automation to be future ready, which we hope to translate into valuable business outcomes," concludes Karl.