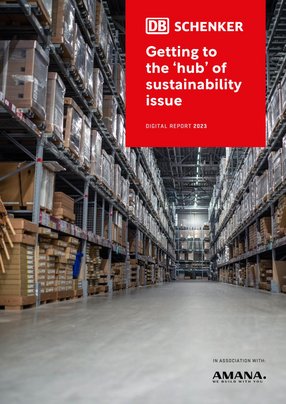 DB Schenker: Getting to the 'hub' of sustainability issue
DB Schenker's brand new sustainable logistics' hub in Dubai is a marker of the company's net-zero commitments
No one can deny the ineffective nature of UN COP conferences in the global quest for net-zero carbon emissions by 2050. The goal of the recent COP27 event in Egypt was to build on the progress of previous conferences – of which there's very little – and move the planet forward on the challenge of tackling climate change.
Yet the fact remains that words and talk are not enough. The planet is growing hotter by the day; the warmest 20 years on record have been the past 22 years, according to the World Meteorological Organisation, and it's causing utter destruction in some of the poorest countries already.
Good intentions will do nothing to stabilise erratic weather patterns. Heatwaves, floods, severe storms, and rising sea levels due to the melting polar ice will continue unabated if talk isn't translated into action – not only soon, but on a global scale, too. Parts of Fiji threatened already by rising sea levels have started strategising the moving of villages to alleviate flooding concerns, and it's not long before other countries will have to follow suit.
In the wake of annual COP events, too many businesses sit on their hands, adopting a 'wait-and-see' approach to what will be required of them, legally, in terms of tackling carbon emissions. Others blanche at the costs associated with such action; they instead choose incremental progress.
The trouble with this approach is that it creates inertia at a time when the clock is ticking ever-louder on net-zero targets. Before long, we'll be at a point of no return.
Schenker is delivering on net-zero targets
DB Schenker is, in this respect, unique: one of the world's leading logistics service providers, it is a multinational company that understands the time for talking about sustainability is long past. Anyone who has seen – or read about – its logistics hubs' development programme in Dubai will know that this is a company that prefers to be judged by its deeds on helping safeguard the future of our planet, not its words.
The company's latest renewable-powered mega logistics' hub in Dubai is known as DLC 3 and is the third in a series of such hubs, following the completion of DLC 1 in 2016 and DLC 2 in 2019. This third hub completes the company's expansion phase in the UAE.
The 35,000sq/m DLC 3 is a warehouse that's fully powered by solar energy. It's also temperature controlled and offers total space for 90,000 standard European pallets.
"The solar systems installed at the facility provide the full energy demands for a vast expanse of warehouse and office space, saving a further 4,000 tonnes of CO2 emissions annually," explains Ako Djaf, VP Contract Logistics SCM & Distribution, ME&A, for DB Schenker. "This is equivalent to planting over 400,000 trees."
Djaf adds that, prior to construction, the company made a conscious choice to adopt environmentally-friendly technologies and to use sustainable building materials. This, he says, meant a CO2 emissions' saving of an estimated five tonnes.
It means that Schenker has become a frontrunner in the region regarding sustainability and innovative technologies, and that it is supporting the UAE's Net Zero 2050 initiative.
Scenker committed to being net-zero by 2040
"Sustainability is a key mandate at DB Schenker," says Djaf. "This is driven by our ambitious goal to become a carbon-neutral company by 2040. This is why, in the Middle East & Africa regions in recent years, we have invested so heavily in new facilities that make our operations sustainable."
But the construction of this "expansive green logistics' centre" also increases the capacity and scale of DB Schenker's global network.
The company serves its multinational customers, who are global leaders in the FMCG, Fashion, Electronics and Automotive industries..
Its growing footprint in the Middle East and Africa regions is helping international companies expand their global reach, by providing access to a high-potential region that is the gateway to Africa.
This makes the company one of the fastest-growing logistics service providers in the region, expanding the total area of its operating logistics centres by more than 350,000m/sq in the past seven years.
Schenker's Dubai warehouse and logistics hub facilities are located in the Logistics' District in Dubai South. This is a 18km/sq district designed to facilitate the rapid movement of goods through a busy logistics' corridor, allowing cargo to be moved from port to airport in just 20 minutes, for example.
Advanced infrastructure eases flow of goods and services
Its advanced infrastructure is perfect for companies like Schenker, as it helps support a seamless flow of goods, products, and services.
"DLC 3 leverages connectivity to land, sea, and air freight transportation modes," says Djaf. "As with the first mega green warehouse DLC 2, the new centre further cements our sustainability commitment and agenda, not just in the region, but globally."
"The three-phase growth plan we established in 2015, totalling 84.000 sqm of warehouse space, was an important strategic decision. All three facilities are close to Al Maktoum International Airport and Jabel Ali Port, one of the most important transportation hubs globally.
"Global and regional players benefit from the seamless, multimodal connectivity between road, air and sea transportation. This makes us the first choice for top-tier customers."
The Dubai hub means the company can provide customers with warehousing solutions across a variety of industries, including consumer, automotive, industrial, and luxury products such as fashion items and accessories.
It provides a wide array of warehousing solutions, ranging from storage options for industries who work with dangerous goods to B2C ecommerce delivery services.
New Schenker Dubai logistics' hub is state-of-the-art
DLC 3 for example boasts a 5,000m/sq mezzanine floor, designed for various value-added service activities, and features state-of-the-art warehouse management technology, including AI, robotics and automation.
"In the Dubai South Free Zone, there is a lot of paperwork to be completed for the Dubai Customs Authority and other bodies," says Djaf. "And we have automated much of this to improve efficiency."
DLC 2 and 3 employ around 300 employees each, with staff working around the clock in three shifts, seven days a week.
"We offer different types of warehouse services, including picking-packing, but also value-added services," says Djaf, who has drawn on his long experience with DB Schenker to keep its Dubai expansion on track.
Djaf – who studied industrial engineering with business administration in logistics and production – has been working in the logistics industry for 20 years, holding leadership roles in central and east Europe, as well as in the Middle East and Africa, throughout his career.
Currently, he is responsible for the development and results of all contract logistics and distribution activities in the ME&A region.
One of his first leadership roles with DB Schenker was in Russia, where he spent seven years being responsible for country development.
"It was an exciting time in Russia back then, and we were able to achieve many milestones in terms of development," he says.
But nothing could prepare him or his team for the COVID-19 pandemic. Although, thankfully, the world is now largely in post-pandemic mode, the shadow of COVID does still linger over Schenker's Dubai operations, as managing the threat of further outbreaks is an ongoing issue.
Schenker works hard to keep COVID-19 outbreaks at bay
"Logistics is, by its very nature, a people-intense business," says Djaf. "This presents operational challenges across warehousing and contract logistics, particularly with regard to preventing COVID-19 infections."
He says Schenker has installed strict regulations regarding pandemic environments within its Dubai facilities: "We avoid infections by breaking teams down into groups that never mix. So if there's an outbreak, it will not compromise the business. There are enough disruptions happening in the supply chain as it is, without that."
In terms of delivering the DLC 3 project, Djaf says that, as with any major project, having the right partners on board is crucial, both in terms of delivery and ongoing success.
"We needed companies who share the same ambitions as us," explains Djaf. "We wouldn't have reached these milestones without our strategic partners."
One key partner was the Amana Group, a conglomerate of companies that services the construction sector in the region, specialising in sustainable construction methods and green building solutions.
Another was design engineer specialist DCM International, which designed and project-managed DLC 3.
DCM designed and project managed the DLC 2 and DLC 3 complexes, which includes DB Schenker's regional headquarters. The HQ is constructed of precast concrete, while the distribution centre is a steel-frame building that is serviced by 36 loading docks. The warehouse is fitted with roof-mounted solar power generation, which produces 95% of DB Schenker's power requirements.
"The concept designs with which DCM presented us are exactly what they delivered in the end result, on time and on budget," says Djaf. "This is a rare thing in the industry, and makes DCM stand out in the region as a reliable guarantor for well-executed design and construction project management."
Djaf says that the new Dubai developments will help drive innovation for its customers, as well as helping it increase the efficiency of its operations.
As for the ME&A region which he oversees for Schenker, Djaf is bullish.
"It has tremendous potential in terms of business development and also sustainability," he says, "We have the sun to thank for the region's access to renewable energy. The governments of the UAE, Saudi Arabia and Egypt are just a few of those who are investing heavily in projects to create solar cities,which will be run on solar power."
Djaf believes this will give them an economic edge, because they will have access to competitively priced energy, which he says is crucial for businesses like DB Schenker.
"This one of the reason that the region is proving attractive for foreign investors, who comprise the majority Schenker's customers," Djaf says.
"Many multinational companies are locating more and more in the region. They see it as a platform for distribution from a geographical point of view. It is very attractively positioned, connecting Africa with Europe and the Asia Pacific region.
"This is why I see the region growing very strongly in the coming years, even in the face of all the disruption we are seeing at the moment."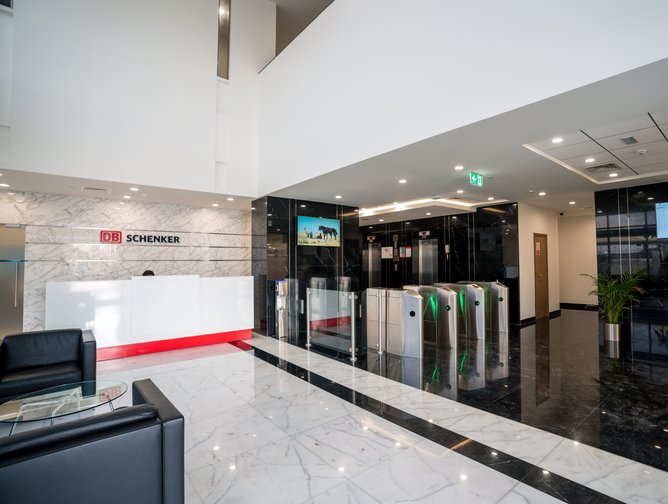 DB Schenker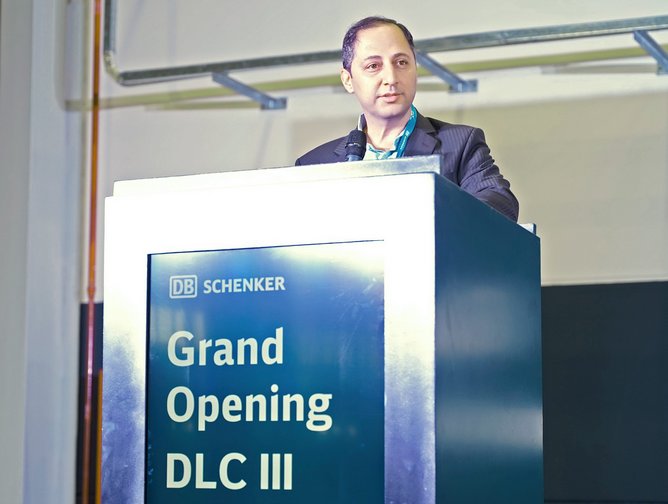 DB Schenker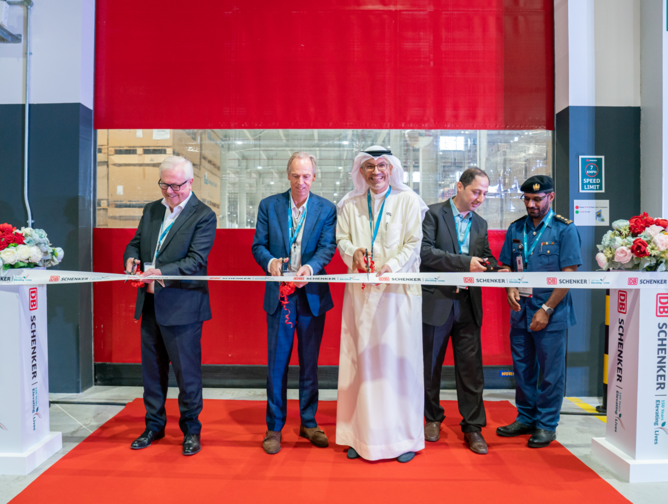 DB Schenker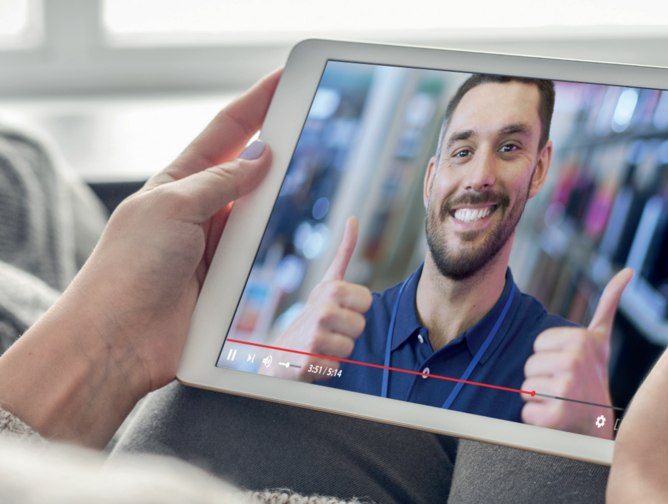 DB Schenker