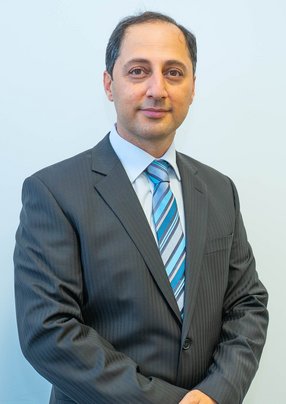 Ako Djaf
VP Contract Logistics ME&A, DB Schenker

Ako Djaf of DB Schenker has worked across Europe, including Russia, but sees the Middle East & Africa as boom regions of the future
Ako Djaf is Vice President of Contract Logistics SCM & Distribution for the Middle East and Africa regions for DB Schenker.
Djaf – who studied industrial engineering with business administration in logistics and production – has been working in the logistics industry for 20 years, and has held leadership roles in central and east Europe, as well as in the Middle East and Africa.
Currently he is responsible for the development and results of all DB Schenker's contract logistics and distribution activities in the ME&A region.
One of his first leadership roles with DB Schenker was in Russia, where he spent seven years and had responsibility for country development.
"It was an exciting time in Russia back then, and we were able to achieve many milestones in terms of development," he says.
But nothing could prepare him or his team for the COVID-19 pandemic. Although thankfully the world is now largely in post-pandemic mode, the shadow of COVID does still linger over Schenker's Dubai operations, as managing the threat of further outbreaks is an ongoing issue.
"Logistics is by its very nature a people-intense business," says Djaf. "This presents operational challenges across warehousing and contract logistics, particularly with regard to preventing Covid infections."
He says Schenker has established strict regulations regarding Covid environments within its Dubai facilities. "We avoid infections by breaking teams down into groups that never mix," he says. "So if there is an outbreak, it will not compromise the business. There are enough disruptions happening in the supply chain as it is, without that."
Even after such a long time in logistics, Djaf prefers to look forwards, rather than back, and he sees huge potential for DB Schenker in the ME&A region.
"It has tremendous potential in terms of business development and also sustainability," he says, "We have the sun to thank for the region's access to renewable energy. The governments of the UAE, Saudi Arabia and Egypt are just a few of those who are investing heavily in projects to create solar cities,which will be run on solar power.
"This will give them an economic edge, as they will have access to competitively priced energy, which is crucial for businesses like DB Schenker."
Djaf says this is one of the reasons that the region is proving attractive for foreign investors – who comprise the majority Schnker's customers.
"Mmultinational companies are increasingly locating in the region," he says. "They see it as a platform for distribution from a geographical point of view. It is very attractively positioned, connecting Africa with Europe and the Asia Pacific region.
"This is why I see the region growing very strongly in the coming years, even in the face of all the disruption we are seeing at the moment."
Read the full story HERE.
By opening a new fulfilment centre in the city, our customers in Perth will be able to access an even greater selection of items that can be shipped quickly This will be a huge win for the region.