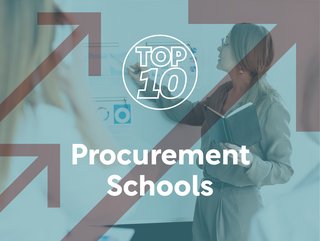 Top 10 Procurement Schools
With the rapid advancement of technology and practice, Procurement Magazine picks out ten of the best international procurement schools
10 - ETH Zurich
Location: Switzerland
ETH Zurich is well known in Europe for a wide range of procurement and supply chain specialisms. They have offered courses in subjects from Purchasing and Supply Management, to Strategic Supply Chain Management.
Well regarded for its technical expertise and range of courses, ETH Zurich offers a unique perspective on procurement and supply chain management. Students benefit from a strong foundation in engineering and analytics, positioning them to tackle complex supply chain challenges from a data-driven perspective.
9 - Kuehne Logistics University (KLU)
Location: Germany
The state recognised business school and university is based in Hamburg and offers a wide variety of programmes for procurement, supply chain and logistics management. KLU is the flagship project of the Kühne Foundation, set up by the Kühne family in 1976, in the logistics field.
KLU provides a specialised procurement programme with a strong industry focus. Its emphasis on research and practical experience equips students to become experts in procurement strategy and execution.
8 - INSEAD
Location: France
INSEAD is a contraction of "Institut Européen d'Administration des Affaires" which translates to the  'European Institute of Business Administration'. It is a non-profit graduate-only business school that runs campuses in Fontainebleau, France, Singapore, the Middle East Abu Dhabi), and in San Francisco.
As a leading international business school founded in 1957, it offers a diverse and globally focused procurement program. Students gain exposure to a wide range of industries, languages and cultures, preparing them to navigate global supply chains.
Location: USA
As one of the most prestigious and recognised universities world wide, the business school offers a wide range of programmes. With a focus on strategic procurement and global supply chain management, Harvardt combines academic excellence with a broad perspective on business. Students benefit from a network of accomplished faculty and peers, positioning them for success in a variety of industries.
6 - Rutgers, The State University of New Jersey
Location: USA
Students are able to learn to manage all activities linked to procurement, supply and sourcing. The Rutgers Stackable Business Innovation Programme is part of a wider portfolio of courses that not only provide academic foundations but real-life applications.
Rutgers offers a programme that prepares their students for leadership roles in procurement, logistics, and supply chain management. They place a firm emphasis on practical skills and real-world challenges, to equip graduates to excel in a competitive business environment.
5 - Pennsylvania State University (Smeal)
Location: USA
The Smeal College of Business was founded in 1953 and has grown to offer a range of business education for more than 6,000 students. Penn State's Smeal College of Business boasts a procurement programme that blends both academic foundation with experienced industry relevance. The Penn State Smeal College of Business Supply Chain & Information Systems Department covers a wide field of study through highly-ranked degree programs, world-renowned faculty expertise and research, and corporate connections with top companies and supply chain practitioners.
Location: UK
Cranfield began life in 1946 as the College of Aeronautics before diversifying into management and technology. Since then they have developed a strong reputation for courses like procurement and supply chain management, and short courses in fields such as strategic procurement and logistics.
As a pioneer in supply chain education, Cranfield University offers a globally recognized procurement program that emphasises research and collaboration. Its strong ties with industry ensure that students receive practical insights.
Location: USA
ASU is one of the largest public universities in the USA by enrollment, and has a history dating back to 1885. Known for its forward-thinking approach, the W. P. Carey School of Business at ASU offers a dynamic procurement program that focuses on sustainability, innovation, and real-world challenges. They offer courses under the banner of the Master of Science in Global Logistics, and specialise in areas such as strategic procurement, and operations and supply management. Students engage with industry partners and gain hands-on experience, preparing them to tackle the evolving demands of the industry.
Location: USA
The Broad College of Business is recognised as a global leader in the field of supply chain management. The department educates students to thrive in careers such as procurement, manufacturing, inventory management, warehousing, transportation, and customer service. With a strong emphasis on both theory and practical application, Michigan State University's procurement program equips students with the skills needed to navigate complex global supply chains. Its strong industry connections and experiential learning opportunities give graduates a competitive edge in the job market.
1 - Massachusetts Institute of Technology (MIT)
Location: USA
Ranked as number one for masters in supply chain management in 2022 and 2023, graduates complete a rigorous program, gaining expertise in supply chain strategy, data analytics, risk management, and sustainability. Renowned for its cutting-edge research and innovation, MIT offers a comprehensive procurement program that combines technical excellence with strategic thinking. Its faculty and research centres provide students with insights into the latest advancements in supply chain technology and management. MIT is continually ranked among the top logistics and supply chain management educational programs in the US and internationally.
*************************************************
For more insights into Procurement & Supply Chain - check out the latest edition of Procurement Magazine and be sure to follow us on LinkedIn & Twitter
Other magazines that may be of interest - Supply Chain Magazine | Sustainability Magazine
Please also check out our upcoming event - Procurement & Supply Chain LIVE in London at the BDC on Sept 26/27th 2023
*********************************************
BizClik is a global provider of B2B digital media platforms that cover 'Executive Communities' for CEOs, CFOs, CMOs, Sustainability Leaders, Procurement & Supply Chain Leaders, Technology & AI Leaders, Cyber Leaders, FinTech & InsurTech Leaders as well as covering industries such as Manufacturing, Mining, Energy, EV, Construction, Healthcare + Food & Drink.
BizClik, based in London, Dubai & New York offers services such as Content Creation, Advertising & Sponsorship Solutions, Webinars & Events.