The LASER Framework: Designing for the circular economy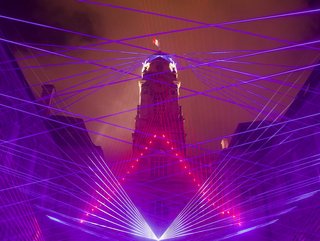 The LASER Framework: Designing for the circular economy
The World Economic Forum presents the LASER Framework to help organisations streamline innovation design for the circular economy in a new article
A new article released from the World Economic Forum (WEF) establishes a framework for designing innovations for the circular economy.
It points out that innovations are being created to tackle some of the world's most pressing issues, like photovoltaic modules that use solar energy to help achieve net zero and reduce carbon emissions.

However, all products have a limited lifespan and will eventually become waste if they don't participate in the circular economy. Unfortunately, the current global circularity rate is only 7.2%, which means that most products end up being discarded as waste.
If we continue with the status quo, future product innovations will struggle to participate in the circular economy and will contribute to pollution and further depletion of the Earth's resources. This will negatively impact the environment and human health, and diminish the innovation's contribution to society.
On the other hand, if we recover and recycle materials, we can reduce these negative impacts and generate economic returns. To achieve this, we need to design innovations with the circular economy in mind.

This however, requires interdisciplinary knowledge and expertise that many businesses lack. That's why we developed the LASER framework in collaboration with domain experts and leaders, to help innovators design products for the circular economy with ease.
The LASER Framework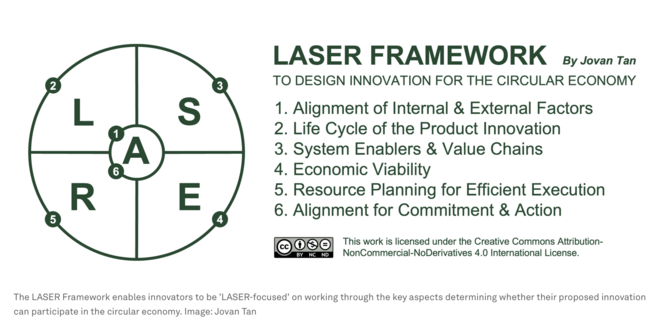 The LASER Framework
This framework for assessing circular economy participation, is an acronym, which stands for:
Life Cycle of the Product Innovation
Alignment of Internal & External Factor
System Enablers & Value Chain
Economic Viability
Resource Planning for Efficient Execution
Alignment for Commitment & Action
Systematically, it is structured like so:
Alignment of factors
Lifecycle
Systems enablers and value chains
Economic viability
Resource planning
Alignment for commitment
1: Alignment of internal and external factors
The LASER framework's first step is to achieve alignment, both internally and externally. Internal alignment involves obtaining acceptance, willingness, and commitment from key stakeholders within the organization to explore ways to design product innovations for participation in the circular economy. External alignment refers to policies, regulations, and megatrends that support and complement the proposed innovations in the environments where they will be adopted.
Alignment is critical to the success of the LASER framework. Without it, innovation efforts are likely to fail or remain incomplete. To increase the likelihood of achieving alignment, innovators should align their intentions with the company's vision and key business objectives.
2. Life cycle of the product innovation
The second step of the LASER framework involves evaluating the material lifecycle of the product. Innovators must assess the feasibility of the product's end-to-end lifecycle, including its materials and technology, to participate in the circular economy. Ideally, the product should be collected, treated, and returned to its original state for safe reintroduction into the ecosystem. However, achieving a perfect closed-loop system may not be currently feasible.

Therefore, innovators must demonstrate their innovation's circularity pathway through waste valorisation and industrial symbiosis, employing cradle-to-cradle design principles such as mono-materialising techniques to achieve this. Whenever possible, innovators should also comprehensively assess and consider the carbon footprint of their innovation in their decision-making process.
3. System enablers and value chains
For materials to circulate within the ecosystem, the entire value chain must be intricately involved. Unless the innovator has the resources to establish and maintain a closed-loop ecosystem for its innovation, it must collaborate with strategic partners to enable the critical components of the value chain, such as suppliers, waste collectors, treatment facilities, and off-takers.

In the third step of the LASER framework, the innovator must identify its critical enablers to achieve success and consider all aspects of the strategic partnership to devise a mutually beneficial plan to secure participation.
4. Economic viability
The result from steps 2 and 3 of the LASER framework is a draft blueprint of how the proposed innovation will participate in the circular economy. The next step is to evaluate this blueprint's unit economics and viability. This crucial step grants the innovator and key stakeholders visibility on the associated revenues and costs per unit.

Innovators and critical stakeholders should optimise steps two and three to achieve their desired unit economics. For situations where an optimal combination could not be reached, the innovator can consider introducing additional layers of innovations – such as business models or process innovations – to create and extract untapped value to improve the unit's economics and viability.
5. Resource planning for efficient execution
Once an optimised blueprint has been achieved, the next step is to create an execution plan that outlines how to introduce the proposed innovation to the market. This plan should detail the critical resources required, such as workforce and investment, as well as schedules, milestones, risks, and impacts.

Furthermore, keeping in mind the overarching goal of reducing the resource burden on society and promoting circularity, the plan must prioritize the responsible and efficient use of resources.
6. Alignment for commitment and action
After developing a well-defined blueprint and execution plan, innovators must circle back to their critical internal stakeholders from step one and obtain their agreement to proceed with introducing the proposed innovation to the market.
In conclusion, business leaders are driven to enhance society's well-being and actively seek ways to improve their product offerings and organizations' sustainability performance. However, lack of specialized knowledge often hinders their progress. Therefore, we collaborated with domain experts and leaders to create a straightforward and user-friendly framework for innovators to quickly evaluate and improve the circularity of their proposed innovations.

Introducing this framework will encourage more innovators to design purposeful innovations for the circular economy.