How AI can ease procurement price pressure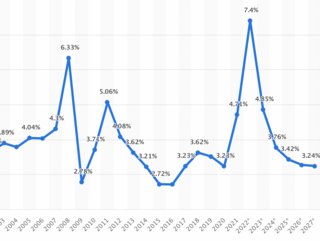 Global inflation rate
Companies not factoring in rising costs during procurement processes can be an expensive mistake but can AI help?
One of the biggest known mistakes companies can make during contract negotiations and procurement operations is not factoring in rising costs, which can cost millions and KPMG research suggesting up to 40% of value being lost in a single contract because of ineffective administration clauses.
What can procurement professionals do to manage price inflation?
Guidance published by Deecon Consulting suggests four key approaches to protect a business from changing prices, and varying tactics to navigate the uncertain landscape.
Digital and Data
Build technology architecture to support advanced price analytics
Governance
Select indices that accurately report costs for contracts
Processes
Launch teams to prioritise risk control and implement changes to price alterations.
Organisation
Explore new ways to drive cost savings and efficiency throughout the business.
How AI can ease pressure from rising prices
It comes as Icertis launches their new Icertis Contract Intelligence (ICI) Copilots, the first generative AI applications for enterprise contract management. They are built on Icertis ExploreAI™ Service, ICI Interactive Insights Copilot and ICI Risk Assessment Copilot enable executives, legal teams, and business users alike to responsibly use generative AI to turn their commercial agreements into interactive assets that achieve improvements in contract efficiency and insights.
A range of selected customers were used as early adopters of Icertis ExploreAI Service, beginning the launch of both ICI Copilots and a development roadmap of generative AI capabilities designed to address contracting challenges for the world's largest enterprises.
"Contracts are a massive untapped opportunity for the application of large language models because they are universal across industries, geographies, and businesses of all sizes, and imperative to any and all commerce as we know it," said Samir Bodas, Co-founder and CEO of Icertis. "Icertis has delivered the first generative AI Copilots in the market to lead the next era of transformation in enterprise contracting, balancing innovation with the trust and responsibility that comes with recognizing that regardless of industry – contracts are one of the most confidential and valuable assets in an enterprise."
"I am delighted for the BCG Legal Team to test Icertis ExploreAI Service and ICI Copilots as part of the Early Adopter program," said Dr Ulrike Schwarz-Runer, Global General Counsel at Boston Consulting Group. "We aim to unlock deep data-driven insights in our contracts through an agile approach. It's exciting to see the early results and we're eagerly looking forward to continuing the journey to unlock value for our clients, firm, and lawyers."
*************************************************
For more insights into Procurement & Supply Chain - check out the latest edition of Procurement Magazine and be sure to follow us on LinkedIn & Twitter
Other magazines that may be of interest - Supply Chain Magazine | Sustainability Magazine
Please also check out our upcoming event - Procurement & Supply Chain LIVE in London at the BDC on Sept 26/27th 2023
*********************************************
BizClik is a global provider of B2B digital media platforms that cover 'Executive Communities' for CEOs, CFOs, CMOs, Sustainability Leaders, Procurement & Supply Chain Leaders, Technology & AI Leaders, Cyber Leaders, FinTech & InsurTech Leaders as well as covering industries such as Manufacturing, Mining, Energy, EV, Construction, Healthcare + Food & Drink.
BizClik, based in London, Dubai & New York offers services such as Content Creation, Advertising & Sponsorship Solutions, Webinars & Events.