Top 10: Company partners for procurement risk management
By Charlie Steer-Stephenson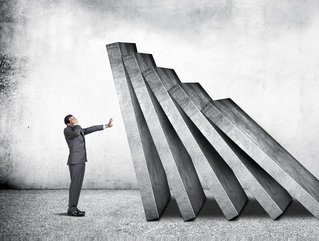 With the supply chain still facing disruptions and shortages, we explore the top 10 companies supporting clients with risk management in procurement
Risk in procurement is unpredictable and can have a devastating effect on a company's success. With the current uncertainties caused by rising prices, geopolitical conflict and climate change, procurement professionals have a lot of risks to manage. To do that effectively, highly skilled and experienced teams must be on board to help businesses continue to flourish amidst uncertain circumstances.
After generations of procurement officers focusing on the most cost-effective procurement strategies, Chief Procurement Officers (CPOs) are now having to focus more on risk management and sustainability. From environmental, social and governance (ESG) initiatives to financial and data security, many business management companies are now offering specialist advice and services to help their clients mitigate risk early on in the supply chain, with the procurement of Direct and Indirect goods.
10. Foundation for Future Supply Chain
Foundation for Future Supply Chain is a not-for-profit organisation that provides information and advice to governments and businesses. Focused primarily on sustainability, innovation, public policy, and risk management, the organisation uses its online platform to share expert knowledge about developments in the supply chain.
This includes information and advice on procurement policies and strategies that teams and individuals can easily access to better understand the challenges they face, and the possible solutions to overcome them.
9. Quandary
Consulting group Quandary understands the importance of effective risk management along the supply chain. In procurement, that means analysing and mapping potential risks, and judging how they can be avoided or overcome.
Quandary creates customised applications to help businesses deal with risks in the supply chain, as well as increase customer satisfaction and improve employee productivity. One example is the End-to-End Procurement Optimisation strategy, which streamlines invoicing from multiple vendors into a single platform, thereby using automation to enhance the procurement process.
8. Netwrix
Making supply chain and procurement data available to clients is Netwrix's simply but effective risk management technique. As IT environments become more complex and potentially hostile, Netwrix offers simple solutions for helping businesses protect their critical information.
By advising businesses on data, identity and infrastructure security, Netwrix ensures that procurement strategies and supplier relationships face minimal security risks. The Netwrix Auditor, for example, increases IT efficiency and ensures that procurement professionals are safe to access and provide information from and to suppliers.
7. Inverto
BCG company Inverto is an international procurement consulting company. Over 20 years experience has won Inverto its reputation as one of Europe's leading supply chain management partners.
Responding to current challenges disrupting the supply chain, Inverto's 2022 study explored the top risks facing procurement right now. From supply bottlenecks to rising energy prices, the company promises to support clients in managing the transformation in procurement – for instance, by advising how businesses can align their risk management and sourcing strategies more carefully.
6. Proxima
Now part of Bain & Company, Proxima is a world-leading procurement and supply chain consultancy company. Primarily offering advice on cost management and supply chain sustainability, the company recognises the importance of managing risk in procurement as supplier expenditure increases and innovates.
By first determining whether a business needs to focus on improving stakeholder relationships, or aligning its procurement strategy with company values, Proxima's risk management service responds to clients' individual business needs in a bespoke manner.
5. Beroe
Beroe is a global procurement intelligence partner. Using expertise and data, Beroe enables clients to make more effective, and less risky, sourcing decisions. With 10,000 clients worldwide, Beroe's procurement advice platform functions across multiple industries, from healthcare and financial services to materials and technology.
Beroe LiVE.Ai is an integrated Market Intelligence platform driven by artificial intelligence (AI) that provides procurement professionals with information on supplier risk. The software ultimately helps clients to identify, prioritise, monitor, and mitigate risks in procurement.
4. MetricStream
Offering clients AI-powered governance, risk and compliance (GRC) solutions, MetricStream claims to help businesses 'thrive on risk'. From third party risk to cybersecurity, MetricStream promises to help businesses reduce losses, improve resilience, and ultimately enhance supply chain visibility.
In 2021 MetricStream was named leader in Gartner's Magic Quadrant for IT Vendor Risk Management Tools, due to the company's success in helping clients (including Shell and Barclays Bank) improve their procurement and sourcing strategies.
3. Avetta
Business partner Avetta aims to make the supply chain a safe and sustainable place for all workers and stakeholders. The company advises clients and suppliers on the top hidden risks along the supply chain, including health and safety issues and ESG as well as cybersecurity and financial viability.
Risk management in procurement comes into each of these, as Avetta urges all clients to take care in vetting their suppliers, and vice versa, before committing to any business partnerships.
2. IHS Markit
Now part of S&P Global, IHS Markit is a leading source of information on global trade that supports businesses across multiple industries.
The company's KY3P for Procurement is an integrated solution platform that helps businesses predict supply chain weaknesses, identify risks, and respond with effective risk management strategies. These strategies are predominantly focused on managing and mitigating third party risk, which typically affects 80% of businesses.
Using a combination of expertise and technology, IHS Markit provides procurement leaders with standardised data to improve visibility and vigilance along the supply chain. Where there's a high risk of unpredictable, external circumstances affecting business proceedings, IHS Markit believes it's crucial to make sure that measures are in place to preserve businesses' reputation, ensure regulatory compliance, and ultimately secure long-term success.
1. Gartner
Gartner has been a leading technological research and consulting company for over 40 years. With 16,000 associates in over 100 countries, providing expert guidance on all areas of business operations is central to Gartner's purpose: to enable positive social change and help create a more sustainable world.
By conducting its own research, Gartner is able to provide actionable and timely guidance on the best risk management strategies to overcome supply chain disruptions. The company says that improved procurement strategies must be recognised as critical aspect of supply chain management, and that procurement professionals are to be seen as key players in overall business strategies.
Gartner recommends an integrated procurement risk model that implements flexible and diverse sourcing policies, focuses on building strong stakeholder relationships, and forms a sourcing risk appetite statement - all in order to create a more resilient and sustainable supply chain from the beginning.