Sievo: Understanding data and analytics in procurement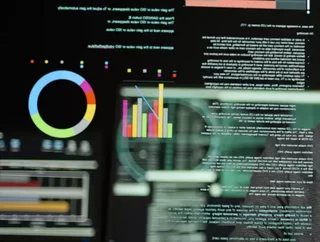 Sievo's latest ebook 'Procurement Loves Data', discusses the challenges and opportunities of data in procurement
It will come as no surprise that digitalisation has been a significant driver for many organisations of the last two decades. What may come as a surprise is procurement's limited investment, but things are changing…
"A new generation of procurement leaders have learned to love data," said Sievo in its ebook 'Procurement Loves Data'. By learning how to use data across a variety of systems, leaders in the procurement function are understanding the data, and how they can influence spend across their organisation.
"Modern day procurement heroes don't wear capes—they use data as a superpower. They use it to understand and optimise their supplier networks, forecast market trends, and defend profitability through efficient and strategic sourcing. The field of procurement analytics has emerged from the need to understand past procurement performance and guide future decision making," added Sievo.
Despite this, data management in procurement is difficult to master due to the vast amounts of data produced from disparate systems and sources.
"Procurement data is a greenfield for procurement and IT to collaborate and provide strategic insights. Together, the two functions can make the most out of the data at hand and create sustainable business value," said Sievo. 
So what is procurement data? 
When it comes to procurement, data can include many things including vendor data, master data, contract data, bills of material, performance data, sustainability scorecards, transaction data, purchase order detail and much more. 
Sievo explains that there are two dimensions to procurement data, 'internal' vs 'external' and 'structured' vs 'unstructured'. When combined together four types of data are formed: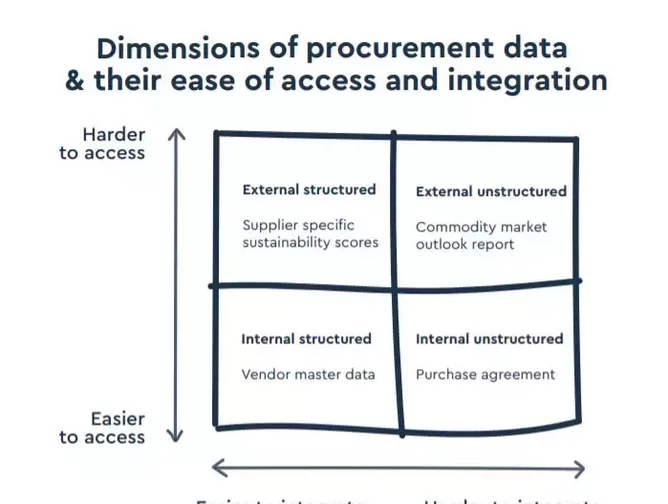 These data types range in ease of accessibility and ability to integrate. "For instance, internal vendor master data is easiest to access because it is usually stored locally and built into the existing systems. External data is harder to access because by its very nature requires collection from external sources," said Sievo.
"Structured and unstructured data vary in their ease of integration. Structured data is easiest to integrate because it is clean and is organised in a way that can be easily matched to internal data sources. Unstructured data, on the other hand, poses a challenge to integrate."
Data leveraged in procurement continues to become more and more complex. Traditional procurement largely focused on internal structured data, however, modern more agile procurement includes this variation of 'internal' vs 'external' and 'structured' vs 'unstructured'.
"As the technological capabilities for procurement data and analytics increase, modern procurement organisations can make use of these four types of data. The abilities to both access and integrate data from many different sources is leading to a new level of data-based decision making for procurement," added Sievo. 
Why does procurement need data and analytics?
"As the world becomes more data-driven, organisations rely on hard numbers to justify a decision or drive a strategy. Everyone is doing it. At the heart of the data transformation in procurement is analytics," said Sievo.
Harnessing analytics has allowed procurement to transition its focus from cost approvals and reporting to forward-looking forecasts and influencing spend. "Procurement analytics is so much more than just a new toolset for cost management. Unleashing the value within procurement data can provide strategic insights for the organisation and enable procurement contribution to direction setting," added Sievo.
Analytics covers all activities in procurement from strategic sourcing to category management, such analytics can fall into four categories: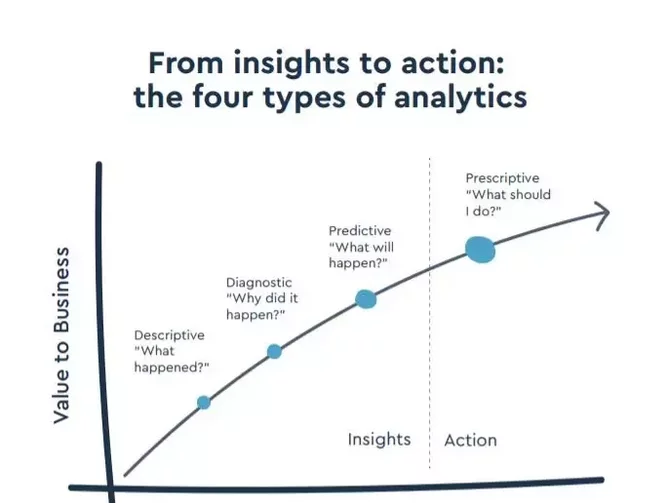 Traditional analytics in procurement focused on understanding the past, however, increasingly procurement is shifting its focus towards AI-driven prescriptive decision making. Over time, spend analysis has evolved to meet the needs of procurement functions, and when effectively used can enable data-driven decision making. 
The benefits of data and analytics in procurement
Category management:

Analytics allows the function to identify saving opportunities, segment and priorities suppliers, address risks, and facilitate innovation. 

Strategic sourcing:

Analytics helps identify the best times and areas to run sourcing events and request for proposals. It can also identify suppliers to include and provide rich information into supplier quality and risk positions. 

Contract management:

Analytics provides alerts when contracts need to be renegotiated or provide data for supplier negotiations. It can also identify maverick spend, ensure compliance, improve coverage and harness the benefits of scale and scope.

Procure to pay:

Analytics can help to measure purchase order cycles and improve payment terms. It can also evaluate payment accuracy, discover rebate opportunities, provide insights into currency fluctuations, identify mistaken payments, reduce fraud, and test run scenarios. 

Sustainability and CSR:

Analytics can aid procurement in its sustainability and CSR. It can uncover the impact of procurement decisions and identify opportunities. 

Risk management:

Analytics can identify and mitigate risk in supply chain and procurement, unravel complex relationships and identify opportunities. 

Performance measurement:

a classic use for procurement, analytics can help to identify savings. 
"Analytics in procurement touches all steps of the source-to-pay process, and over the decades has transformed from descriptive reporting cycles to insightful strategic opportunities. But procurement has a lot of data to sort and make sense out of before they can reap the full benefits of actionable analytics," said Sievo.
'Procurement Loves Data' authors: Sammeli Sammalkorpi (CEO and Co-founder), Heta Ruikka (VP of Product Management), and Olli Saksa (Head of Channel Sales and Partnerships).
To read more, click here.