Procurement and Supply Chain Live: Vikram Singla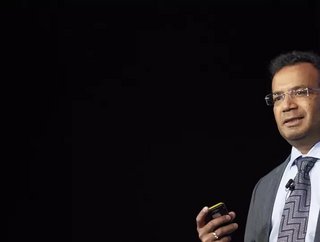 Vikram Singla, Senior Strategy Director at Oracle, explored performance drivers expected of supply chain practitioners
Like many attendees, Vikram Singla, Senior Strategy Director at Oracle, was stunned to be facing a live audience from a stage, rather than on a video call. 
"It's great to be here physically", said Singla. "Let's have a look at how the supply chains have been evolving..."
Customer experience in supply chain and procurement
Singa began with a customer experience story regarding a UK distributor to make developers everywhere shudder. 
"The idea was, let's not spend too much money on making the front end nice and pretty. Let's really make sure that from a supply chain perspective, we can have the right availability of stock and that we can deliver", Singa suggested. 
Post-pandemic, data challenges remain as relatable as ever. In many cases, there is almost an overload of it.
"How can you assemble the data", Singa asked. "You don't just have the IT data, you also have data coming in from the trucks and the machines. It's quite difficult to package data in a meaningful way."
The future is AI 
Applying AI is another issue Singa sees in the supply chain.
"Where AI is being applied, it's more on the reporting area, really. So you try to extract the data and you try to apply AI on that, rather than AI being a key part of your business process, whether it is a procurement process or so on", Singa concluded.
For the future of supply chains, Singa has a strong idea of what that will look like.
"The key is rather than thinking of the supply chain as five or six different functional areas, what we are seeing is more and more people thinking of supply chains, end to end."