Marine Corps Increases Procurement Budget to US$3bn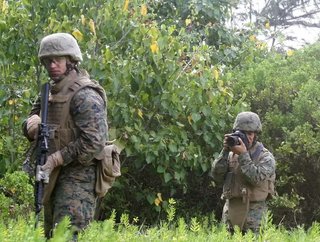 Post-pandemic, the Pentagon invests more in supplier relationships and advanced technologies—hinting at what's in store for military procurement
Even as the Marine Corps continues to downsize its troops on active duty, the organisation will increase its procurement budget from US$2.7bn in 2021 to US$3bn in 2022. Its latest budget request, released on Friday, 'puts people first, maintains force readiness, and continues the irreversible modernisation momentum to develop next-generation capabilities', said Christopher Lowman, a senior official tasked with the duties of the Undersecretary of the Army. 
The Corps will also increase its procurement budget for amphibious combat vehicles by US$95mn, raising its count from 72 to 97 vehicles in 2022. This investment is part of an overall effort to downsize legacy programs and shift funding to 'advanced capability enablers' such as microelectronics, artificial intelligence, 5G networking, and hypersonics—in other words, cutting-edge tech. 
Supporting Subcontractors Post-Pandemic 
After a year in which defence organisations suffered just as heavily as other companies from the COVID-19 pandemic, the U.S. government wants to ensure that its procurement remains agile. 'It is no great matter to change tactical plans in a hurry', the Army noted on one of its training sites. 'But adjusting supply plans to the altered tactical scheme is far more difficult'. 
At a recent press briefing, the Pentagon acknowledged the current delays in the global supply chain. 'We anticipate about a three-month slowdown...in terms of execution than we saw before', said Ellen Lord, Undersecretary for Acquisitions and Sustainment. 'We're just now looking at key milestones that might be impacted'. 
To resurrect its acquisitions operations, the Defense Contract Management Agency and the Defense Logistics Agency are tracking the Pentagon's key contractors and sub-tier suppliers. Lord's remarks summed up a desperate situation: 'Out of 10,509 major prime companies, 106 are closed with 68 companies having closed and reopened', she said. 'Out of 11,413 vendor companies, 427 are closed with 147 having closed and reopened'. 
In April, Chief of Staff General David Goldfein emphasised the importance of helping procurement companies recover. 'To make sure that we keep that industry base alive', he said, '[these initiatives] are about our tier-two and tier-three suppliers'. He plans to hold meetings with subcontractors to determine how the Pentagon can best help them recover from the pandemic. 
Cutting Legacy Capabilities, Looking to the Future 
One must also remember that it's not just the amount of money the Pentagon devotes to procurement—it's the type of products the Pentagon seeks to procure. Several top officials, such as Marine Corps Commandant General David Berger, intend to cut entire legacy capabilities in order to devote billions to improved technology. Tanks and tube artillery are on the way out; artificial intelligence is in. 
Heidi Shyu, tapped for Undersecretary of Defense for Research and Engineering, said that one of her primary goals would be to reorient defence spending toward the future. 'Today, sustainment makes up 70% of total weapon cost', she wrote, 'with development and procurement making up 30%. The [Department of Defence] should strive to flip this ratio and invest more in the development of new technologies'. 
According to the Corps' budget, the military will invest US$3.8bn in hypersonics, US$2.3bn in microelectronics, $US398mn in 5G networking, and US$US874mn in artificial intelligence. This comes just as lead Republicans advocate for an additional 3-5% budget increase over inflation, and the Pentagon examines inefficiencies and acquisition delays throughout its supply chain. But one outcome seems certain: as the Marine Corps increases its budget—especially for higher-end technologies—its senior officials will continue to invest in resilient, reliable supply chains.