How AI technology can boost sustainable procurement
By Charlie Steer-Stephenson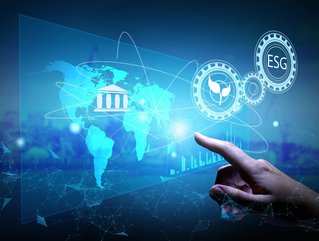 The use of AI in procurement has a significant role to play as businesses strive to create a more efficient, diverse and sustainable global supply chain
As businesses across the world shift towards a digital supply chain, procurement professionals are being urged to recognise the value of adopting AI technology for increased visibility and efficiency. Not only does AI procurement drive productivity through improved automation and communication, but it helps companies achieve their environmental, social and governance (ESG) goals.
Cloud-based procurement platform DeepStream is dedicated to helping clients improve their procurement strategies with the help of AI. By providing a single digital workspace, DeepStream enables smarter decision-making around suppliers and spending.
AI procurement is the way forward for a more efficient and diverse supply chain
Jack Macfarlane, founder and CEO of DeepStream, explains that he became invested in procurement AI when he realised that legacy IT was hindering procurement productivity and value creation – for instance, he says that emails and attachments are a completely inefficient and opaque way of communication with suppliers.
"When I started in the procurement space, I was shocked to find that the criticality of how information was exchanged in Request-For processes was seen as almost a technicality, rather than a necessity. This motivated me to create a user-friendly medium of information exchange to help the procurement sector reap the rewards that a transparent market brings" says Macfarlane.
At the same time, businesses are recognising the value of diversifying the supply chain within such a competitive market.
Macfarlane adds: "Being able to easily communicate with suppliers decreases the operational cost of this communication and so allows buyers to tap more suppliers, rather than transact with a static supplier base. This is the 'demand' side of the equation of factors driving our growth.
"On the 'supply' side, our product is a highly user-friendly plug-and-play system that allows customers to adopt DeepStream across their businesses in a matter of days. This is key to the growth of agile tech in the market - easy adoption and access to a much wider breadth of the commercial market through digital technology."
Boosting sustainability goals and achievements in procurement with the help of AI
AI can also help businesses make sure that they themselves and suppliers are meeting ESG standards. In a world where ethics and sustainability are a primary aspect of companies' reputations, it's vital that procurement professionals have full visibility of suppliers' sustainability goals and contributions, so they can make the best fact-informed decisions about their sourcing partners.
"We are already seeing some of our major partners, such as Britishvolt, Xos Trucks, and Maersk, adapting to more innovative and sustainable ways of working by using DeepStream, thereby recognising that the focus needs to shift to digitally enabled transparency of the supplier selection process," says Macfarlane.
"The path has never been clearer for organisations looking to embrace digital solutions to streamline their activities and meet ESG standards. Procurement technology makes this future possible, by providing access to previously unobtainable data sets, shaping them into something more digestible, as well as driving more complex analysis and better supplier strategies."
In the next five years, Macfarlane predicts that procurement will be a network-based process enabled by new agile software, rather than an inefficient, in-house method running on legacy IT.
Macfarlane adds: "Strategic sourcing is becoming more predictive, transactional procurement is becoming more automated, and supplier relationship management is becoming more network-based. Procurement professionals are able to reduce the amount of time spent on operational admin whilst increasing the amount of time spent on strategic decision-making and negotiating.
"The increasing digital enablement of supplier visibility within the Request-For process will let businesses ensure that they abide by green criteria, and be able to insist their suppliers do the same.
"We know that for older businesses, legacy software has poured cement on their ability to switch, due to long-term contracts and high operational exit costs, but I strongly believe we are on the cusp of a business software paradigm shift, enabled by new agile point solutions."