Unilever Invests in Pulpex to Develop Sustainable Bottles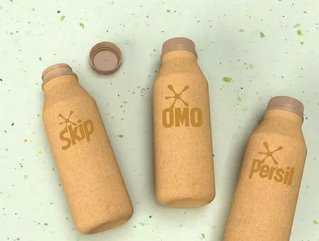 Unilever is one of many to invest in Pulpex to develop sustainable packaging, which will be launched across its laundry detergent brands
Consumer goods company, Unilever, is taking big steps in its sustainability strategy with its newly developed paper-based bottle. The laundry detergent brand OMO is one of Unilever's products, which will be the first to receive the packaging change in Brazil next year - expanding to Europe shortly after. 
The bottle was developed by Pulpex, a collaborative effort between Unilever, Diageo - a beverage company - Pilot Lite - an investment company - and other industry organisations. 
The Pulpex Sustainability Mission
Pulpex was founded by its various counterparts to create a breakthrough sustainable bottle for packaging liquid-based products. According to its website, the company's "patented technology enables brands to rethink their packaging proposition and achieve their sustainability goals." The group is also partnered with Stora Enso and believes it provides the ability to convert end-user products at an industrial scale. 
Committed To Waste Management
The question still stands, "How can paper hold liquid?". It's against all logic.
Unilever has given some details into how the new sustainable packaging will work. While the bottles are predominantly made from paper-based material, they are sprayed with a coating on the inside that repels water. Ultimately allowing them to hold liquids without concerns of leaking. The company believes the bottle can be used to hold solutions like washing detergent and personal cleaning products, such as shampoo and conditioner - those containing surfactants, fragrances, and other active ingredients.
Richard Slater, Chief Research and Development Officer at Unilever says, "To tackle plastic waste, we need to completely rethink how we design and package products. This requires a drastic change that can only be achieved through industry-wide collaboration. Pulpex paper-based bottle technology is an exciting step in the right direction, and we are delighted to be working together to trial this innovation for our products." He continues "Innovating with alternative materials is a key part of our sustainable packaging strategy and will play an important role in our commitment to halve our use of virgin plastic materials by 2025."
The company has also commented that the new packaging development will be recyclable and act as an important step towards the company's commitments to a "waste-free world."