Starbucks commits to meeting environmental goals by 2030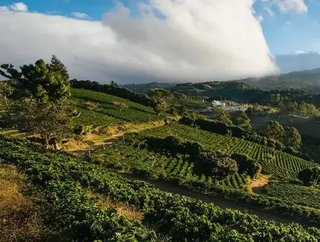 On top of commitments made by Starbucks in 2020, it has set new goals to further help the environment...
Starbucks has announced that it is committing to carbon neutral green coffee and to conserve water usage in green coffee processing by 50 per cent, both by 2030. This is in addition to goals that it announced previously in 2020 which included a resource-positive future, formalising environmental goals to cut its carbon, water, and waste footprints by half.
The company purchases coffee from more than 400,000 farmers in 30 countries around the world and is committed to a sustainable future for coffee, and these goals will help protect the supply chain and the planet, it says. 
"As we celebrate 50 years of Starbucks, we are looking ahead at ways we can reimagine the future and continue to inspire and nurture the human spirit," Michelle Burns, SVP of Global Coffee, Tea and Cocoa at Starbucks. 
"For farmers and their communities, we know it is critical we work together to address the challenges they face associated with climate change which are making it increasingly difficult to grow high-quality coffee. By reducing carbon emissions and conserving water, we can help farmers be more productive while we are also contributing to a better planet and bringing coffee to customers in a sustainable way."
Starbucks' three main strategies to help meet its target of carbon neutral green coffee: 
Decreasing carbon emissions in Starbucks supply chain by further equipping farmers.
Promoting and distributing climate-resistant tree varieties.
Protecting and restoring at-risk forests in key coffee landscapes.
Starbucks will achieve 50% conservation in water usage by 2030 by: 
Conserving water by directly investing in new ecological wet mills (eco-mills) for C.A.F.E. Practice farms. 
Investing to make current water processing technology and machinery even more efficient.
Developing water replenishment projects in coffee communities.
With 200,000 wet mills in Starbucks C.A.F.E. Practice supply chain, Starbucks has an opportunity to conserve water by ensuring farmers have access to more environmentally friendly machines, which also standardises quality and increases processing efficiency for farmers.
Starbucks continues to measure its overall carbon and water footprint and share progress annually in its Global Environmental Social Impact Report. The company is also working with the Science Based Targets initiative (SBTi) to validate the 2030 corporate sustainability goals, inclusive of green coffee. 
(Image: Starbucks)