Procurement and Supply Chain Live: Robert Copeland, CPO, G4S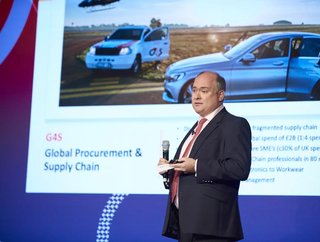 Robert Copeland, CPO, G4S explores procurement's role in commercially viable ESG and the future challenges for sustainable business
Environmental, social and corporate governance (ESG) is fast topping corporate agendas. But how do organisations align these pressing issues with their wider objectives, goals and obligations to stakeholders? 
Robert Copeland, Chief Procurement Officer of G4S, discussed the matter at Procurement and Supply Chain Live in a session titled Supply Chain ESG in Tight Margin Industries. 
 
In the session, Copeland shared exclusive insight into how G4S is grappling with this question. G4S has revenues of around £7.7bn (2019), with a margin of just 6.5%. The organisation has a complex supply chain that encompasses 40,000 suppliers, £2bn in annual global spend, and dozens of services it provides to clients in 90 countries, from electronic manufacturing in the UK, workwear manufacturing in India, to a fleet of 15,000 vehicles deployed to collect cash, provide security and other services around the world.
"Is ESG commercially viable in this environment?" Copeland asked. "How do we strike the right balance of surviving in a business while meeting the social obligations that our customers are starting to demand?" 
"Global Procurement and Supply Chain has to play a critical part in ESG in the supply chain," he added. "In fact, we're probably one of the best placed functions to influence and play our part."
Copeland's 6 Key Pillars for Effective ESG

Copeland envisions ESG as the new, true value-add function for procurement, in an era of growing automation and rapid digitialisation. "If you don't evolve as a procurement function, you become obsolete," he said. "We only need to look at automation, AI, where a lot of the basic tasks that were procurement can be automated. So what are we doing to add value in the eye of our customers and stakeholders?"
He outlined his six key pillars of ESG for the procurement function:
6 key pillars for ESG
Procurement compliance and governance 
Supply chain transparency 
Net zero
Modern slavery
Suppler diversity
Social value
Adhering to these pillars will be central to the organisation's ESG agenda in the coming years, but they pose challenges. "How do we keep the business aligned to what we're doing?" Copeland says, sharing a variety of cost-effective tools and techniques to measures and report results. 
"Much of the ESG work we're seeing is in the UK, or the US," he concluded. "But in coming months and years these clients are going to say, 'Well, that's all good and well - what's your global net zero?' And that is a real challenge, but we need to make sure that we have the infrastructure in place that we can then be ready to, if only be one step ahead, be ahead of the curve."