Nestlé NZ sources 100% renewable energy 4 years early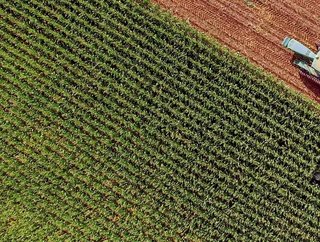 Nestlé New Zealand sources 100% renewable energy four years ahead of its global targets of 2025
Four years ahead of schedule, Nestlé New Zealand has achieved its goal of sourcing 100% renewable energy, a significant milestone in the company's commitment to achieving its goals of 50% reduction in emissions by 50% by 2030, and achieving net zero by 2050. 
"This is a significant demonstration of how we can act locally on global commitments to deliver impact that is relevant for New Zealanders. We're proud to now source 100% renewable electricity for all of our sites - our Maggi factory in Wiri, our TUX factory in Marton, our Auckland head office and our five Nespresso boutiques across the country," said Jennifer Chappell, CEO, Nestlé New Zealand. 
So what is Nestlé's sustainable strategy for its suppliers?
Committed to Net Zero by 2050, Nestlé's Net Zero Roadmap outlines the company's strategy to tackle climate change. 
"Climate change is one of society's greatest challenges. It is also one of the greatest risks to the future of our business. Solving it requires all of us to act with great urgency. As the world's biggest food and beverage company, we have the size, scale and reach to influence others and to inspire collective action," said Nestlé. 
Exploring every aspect of its business to identify ways to achieve net zero, the food and beverage company explains that: "the work behind all of this is detailed, rigorous and intense. It requires us to examine not only our operations but also each of our products to see how we can make them better for the planet. And as most of our emissions occur outside of our own four walls, we must go on the ground to collaborate with our suppliers and help them improve their production processes."
With 95% of its greenhouse gas (GHG) emissions coming from its activities in the supply chain, this is a core focal point for Nestlé.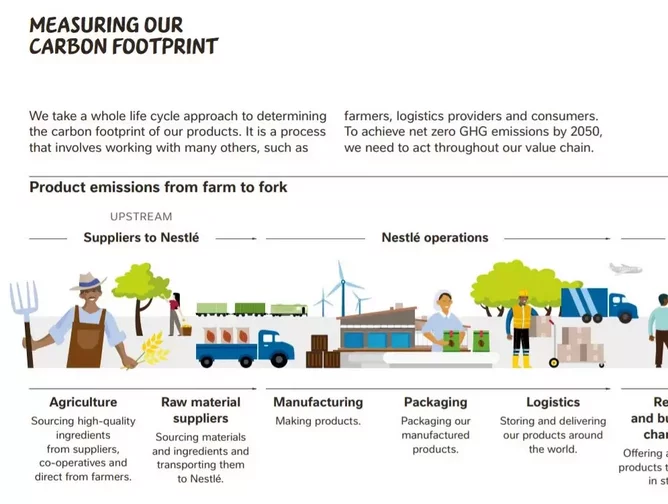 Sourcing ingredients sustainably
For Nestlé, its dairy and livestock supply chain is the food and beverage company's largest single source of emissions (34.2 million tonnes of CO2e in 2018). "Driving a major shift in the way we source and produce these nutritious ingredients, investing in innovations and new business models," said Nestlé.
Nestlé outlines several key actions to tackle this challenge such as cutting the methane produced by animals, feeding livestock with more sustainable feed, making farms more productive through better herd management, and Grassland management and increasing carbon storage in the soil.
One particular key action for Nestlé includes helping suppliers become more innovative. The company will support research and development (R&D) into new technology, increasing the efficiency of dairy farms to maximise output and minimise energy, as well as improve animal welfare and help suppliers become more energy efficient.
"Working with our suppliers, we will focus on collecting and validating emissions data, helping improve accuracy and enabling us to work more effectively together in different countries," said Nestlé.
Nestlé's efforts will reduce its emissions in dairy and livestock by 21 million tonnes by 2030. "For milk derivatives, some of our suppliers are already developing ingredients with a lower carbon footprint and we will continue working closely with them in this complex area," said Nestlé.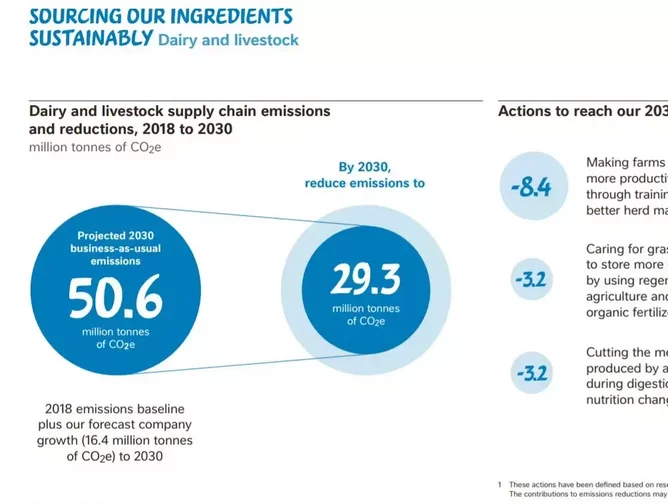 With a large number of Nestlé's ingredients coming from natural ecosystems "protecting the ecosystems where they grow is vital to our long-term success," commented Nestlé. 
To restore these areas, Nestlé will work with its suppliers and farmers to improve transparency, enhance biodiversity and limit GHG emissions; in 2018 Nestlé produced 25 million tonnes of CO2e emissions through its sourcing of agricultural ingredients. 
"In the coming years, we aim to transform our relationship with suppliers and move to a collective level of engagement, investing in collaborative actions that impact wider regions," said Nestlé.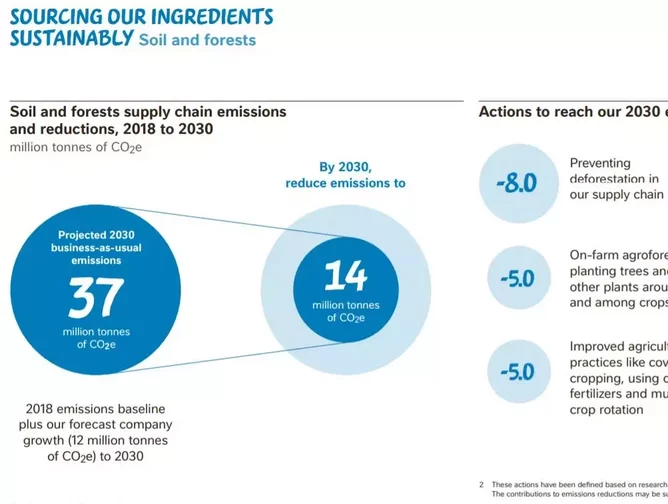 Sustainable packaging
Nestlé highlights that while packaging reduces food waste and associated emissions, "packaging itself can be a significant source of GHG emissions. It accounts for around 12% of our in-scope 2018 carbon footprint," said Nestlé. "The issue of plastic waste ending up in the environment is also one of the most pressing global challenges the world faces."
With this in mind, Nestlé is committed to working with its partners to create a 'lasting and impactful change', by expanding the market for food-grade recycled plastics, scaling up reusable and refillable options for consumers, and improving waste management infrastructure.
"While we implement these activities, we will continue to support the respect and promotion of human rights in the downstream recycling waste supply chain of Post-Consumer Resin (PCR) material through accountability and engagement of the most relevant actors – the key waste stream suppliers," said Nestlé.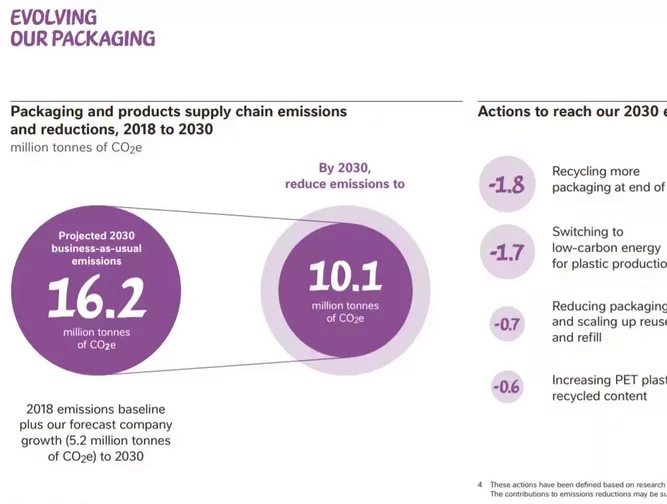 Renewable energy 
In 2018, Nestlé's product production accounted for 7 million tonnes of our CO2e emissions, the company has set its ambitions to reduce this, using 100% renewable energy by 2025.
As part of its efforts to improve efficiency to lower emissions, phase out refrigerants, and power its manufacturing renewably Nestlé will work with its suppliers to "increase the availability of renewable thermal energy generated from sources, such as biogas and biomass, by 2030."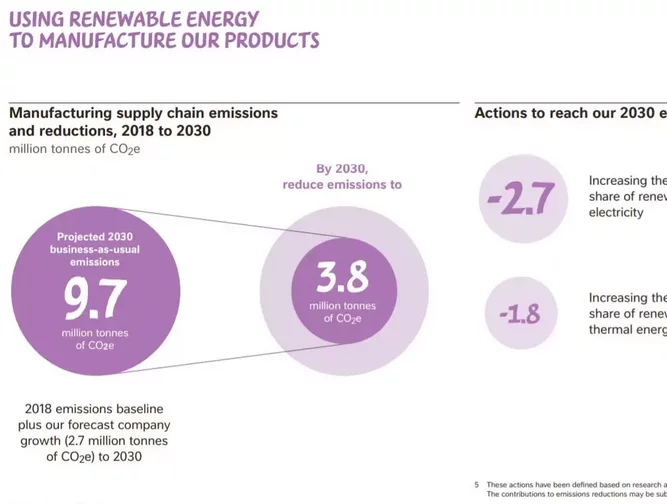 Logistics
In order to meet the 1.5 degrees global warming target, Nestlé explains that significant changes to logistics will need to be made. "Our 2050 ambition will be realised through a cleaner, leaner logistics network that delivers ingredients from the farm to our factories, and our products to distribution centres around the world," commented Nestlé. 
Alongside its logistics suppliers, Nestlé will shift from fossil fuel-powered transport to lower or zero tailpipe emissions, including hydrogen, electricity and biofuel-powered vehicles.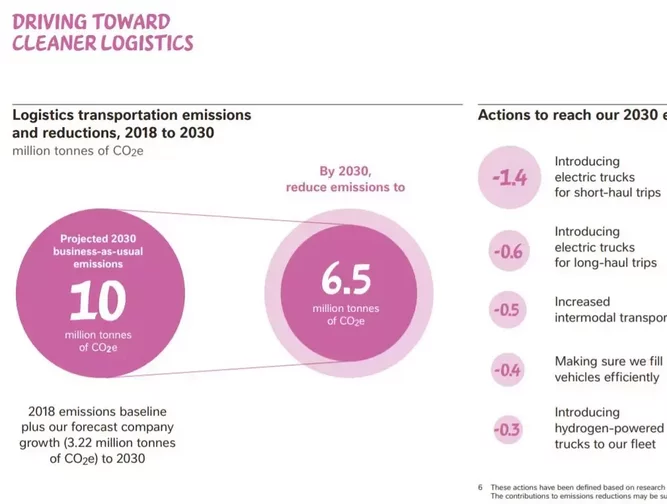 "In the coming year, we are planning to start transitioning our fleet to hybrid vehicles to reduce emissions, extend the work we are doing to improve cocoa sustainability and further reduce the amount of virgin plastic we are using.
"Beyond our roadmap, we are also investing in local sustainability initiatives that are important to Kiwis. To help motivate a new generation of young Kiwis into conservation action, in partnership with Sea Cleaners, we developed the Nestlé for Healthier Kids Sea Cleaners programme," said Chappell.