Meat suppliers failing to prevent future zoonotic diseases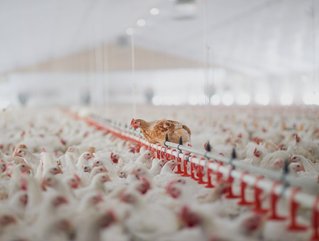 According to investor network Fairr Initiative, 63% of meat, fish and dairy suppliers are failing to prevent future zoonotic pandemics such as COVID-19
Two years on from the outbreak of COVID-19, new research from Fairr Initiative warns that failure to improve crowded and high-stress animal agriculture conditions can cause the ideal breeding ground for new diseases.
According to Fairr Initiative - a global network of investors raising awareness of the environmental, social and governance (ESG) risks and opportunities - 38 meat, fish and dairy suppliers have been criticised for failing to tackle or disclosing information on conditions and practices that could breed new diseases.
"From avian and swine flu to COVID-19, it's time for meat companies and policymakers to learn from COVID-19 and to invest in preventing the next pandemic. Intensive farming environments, housing most of the 70 billion farm animals reared every year, are a known breeding ground for disease. Aggravating factors like low genetic diversity, cramped enclosures and poor working conditions that do not offer adequate sick pay amplify this risk many times over," said Jeremy Coller, Chair and Founder of the FAIRR Initiative, and Chief Investment Officer of Coller Capital.
Three out of four new diseases are zoonotic
Within Fairr Initiative's report, the network emphasised that three out of four new diseases today are zoonotic ones, such as COVID-19, where they cross from animals to humans.
Since the outbreak of COVID-19, the meat industry has faced increased pressures to tackle conditions in intensive facilities and meatpacking plants, which Fairr Initiative states: "tend to oversee highly stressed, crowded animals with lower genetic diversity and indoor confinement, increasing the risk of zoonotic disease emergence and transmission."
Research from the United Nations shows: "four of the seven human-mediated factors most likely to drive the emergence of a new zoonotic pandemic are directly linked to agricultural intensification and increasing meat consumption."
63% of meat, fish, and dairy suppliers rank 'high-risk'
Fairr Initiative's latest research identifies 63% of large listed meat, fish, and dairy producers as 'high risk' on its Emerging Disease Risk Ranking. Those 38 out of 60 scored poorly across a set of seven criteria vital to preventing future zoonotic diseases.


"This is a slight improvement from the 73% score in June 2020," said Fairr Initiative. "But still shows that the vast majority are performing poorly. Eight of the 10 worst performing companies in the ranking are based in Asia."
Response versus prevention
Fairr Initiative also revealed that six of the seven largest meat suppliers temporarily enhanced sick leave during the COVID-19 pandemic to prevent unfit employees attending work, but none have adopted such policies permanently yet.
"This risks perpetuating a culture where sick workers, who may be exposed to new strains or new diseases, feel financial pressure to come to work," commented Fairr Initiative.
Since the outbreak of COVID-19 high-level intergovernmental panels have been looking at zoonotic disease risks, however, the primary focus has been on pandemic response rather than prevention.
"Policies have recently been enacted in some countries on deforestation, the illegal wildlife trade, and to respond to the risk of mutation of COVID-19 in fur farms," said Fairr Initiative. "Improved transparency and disclosure of key climate, labour and nature-related risks could provide the necessary incentives for companies to improve their practices."
David Nabarro, Special Envoy on COVID-19 for the World Health Organization (WHO), said: "The emergence of diseases that move between animals and humans has increased markedly in the past decade. Hence the importance of concerted action by governments, sectors, institutions, civil society, indigenous peoples, youth and more, convened by the World Health Organization, to adapt systems for preventing pandemics and countering the inequity of infectious disease."
Dr Maria Neira, Director of the Department of Public Health and Environment at the World Health Organization (WHO), also said: "The impact of COVID-19 on our collective health and economic wellbeing is unfathomable. We must do everything in our power to reduce the risk of a new pandemic emerging, and in this, the importance of sustainable food systems cannot be understated."