HelloFresh denies monkey cruelty coconut claims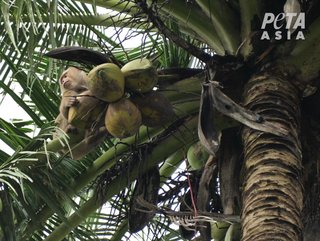 The latest investigation by animal rights charity PETA into the Thai coconut milk industry found that chained monkeys are forced to spend long hours in trees picking heavy coconuts, and that they are often beaten and suffer fatal falls. This covert image is among hundreds taken by PETA.
Meal-kits giant HelloFresh counters accusation from animals rights charity PETA that it sources coconut milk harvested using slave monkey labour
An animal rights charity has exposed the ongoing ill-treatment of monkeys in the Thai coconut products industry.
People for the Ethical Treatment of Animals (PETA) is a UK-based charity that highlights animal cruelty in laboratories, the food industry, the clothing trade and the entertainment industry.
It is PETA's third investigation into Thailand's cruel coconut harvesting practices using monkey labour, and the charity is now calling upon consumers to boycott companies who source coconut products from Thailand.
The latest investigation was undertaken by PETA Asia, and ran from December 2021 to July 2022. It found that chained monkeys are forced to spend long hours in trees picking heavy coconuts, and that they are often beaten and suffer fatal falls.
PETA says that one coconut farm worker told their investigators monkeys are forced to pick coconuts for more than a decade and then spend the rest of their lives chained.
PETA's work turns an uncomfortable spotlight on the multinational meal-kits delivery service, HelloFresh, which – PETA alleges – sources coconut milk from suppliers who mistreat monkeys.
PETA urges consumers to boycott Thai coconut milk
PETA Director of Vegan Corporate Projects, Dawn Carr, said: "PETA is calling on everyone, including HelloFresh, to stop buying Thai coconut products until monkeys are no longer used and abused for profit."
Speaking to Supply Management – the news service of CIPS – a HelloFresh spokesperson said: "HelloFresh believes in the humane treatment of animals and expects those who we partner with to do the same.
"Our suppliers have given us written confirmation that they do not utilise monkey labour and that they regularly conduct audits.
"Nonetheless, we take the recent allegations made against them very seriously. We take a hard position of not procuring from suppliers or selling coconut products which have been found to use monkey labour.
"We already source coconut milk from alternative regions outside of Thailand in over 80% of our markets. Out of an abundance of caution, we are working to shift the remaining volume to alternative regions by mid next year. In the US all of our coconut milk will be sourced from alternative regions starting early next year."
The recent PETA investigation follows two earlier Thai coconut milk investigations.
In 2019, PETA Asia investigators visited eight farms where monkeys were forced to pick coconuts, including those for one of Thailand's major coconut milk producers, Chaokoh, whose brand is sold in major stores across the US, including Walmart.

In 2020, a further PETA Asia investigation found monkeys were still being used at many farms and that the Thai coconut industry – including Chaokoh and the Thai Food Processors Association – was allegedly misleading global retailers and consumers over concerns about monkey labour.
Pressure from PETA and a growing public backlash prompted Walmart to announce in June this year that it would no longer stock Chaokoh products.

PETA has released a list of non-Thai coconut milk brands that consumers can buy.