Healthtrust Europe: sustainable procurement & social value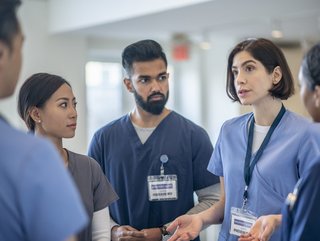 Healthtrust Europe explains why procurement's future is sustainable, and how organisations can achieve their social value and net zero targets
Sustainable Procurement is 'a process whereby organisations meet their needs for goods, services, works, and utilities in a way that achieves value for money on a whole-life basis in terms of generating benefits not only to the organisation, but also to society and the economy, whilst minimising damage to the environment'.
In 2021, the green agenda and push toward Net Zero intensified – particularly around the UK hosting COP26 – and global leaders gathered alongside climate change experts to discuss an international approach to cutting greenhouse emissions. As a result of this increased awareness of climate change issues, organisations are becoming more conscious of their own impact on the environment; meanwhile, global progressions in human rights have also encouraged more organisations to evaluate the ethics of their practices.
In tandem, we are seeing consumers becoming more eco and socially aware, to the extent that consumers are making decisions based on the social values of organisations and even holding organisations to account for their failure to meet particular standards.
As such, it is increasingly becoming the industry standard to have environmental and ethics policies in place and to ensure that all aspects of a business, including the supply chain, abide by them. Moreover, by proactively introducing sustainable procurement, businesses have been able to reduce their risk of exposure to any emerging standards whilst simultaneously improving their environmental record.
Sustainable procurement is the future of the industry and e-Procurement platforms, such as Catalog360, as well as value-based procurement strategies, are supporting this sustainable agenda. It is imperative that organisations are able to have open and honest conversations about this, to hold one another to account where their practices lack sustainable and social value, and ultimately drive-up standards as the procurement industry enters a new epoch.
Social Value
Whilst it is easy to say that businesses should implement sustainable and socially conscious procurement practices, this is can be challenging, particularly when an organisation has vast and intricate supply chains. Indeed, in an increasingly globalised world, this is becoming all the more complex.
Nevertheless, organisations such as HealthTrust Europe have been able to successfully manage and overcome this challenge through the effective use of their global network.
HealthTrust Europe achieved this by understanding the supremacy of due diligence and the importance of maintaining positive, transparent, and trustworthy relationships with their suppliers. Nurturing such relationships enables businesses to ensure the security of their supply and helps to align their suppliers with the company's wider social values.
At the outset of the pandemic, for example, as the race for personal protective equipment (PPE) began, it became critical for organisations to ensure that they were not compromising their standards to deliver this equipment at pace. This added a new, yet similarly complex, dimension to the due diligence process.
For HealthTrust Europe (HTE), their offices in Shanghai played a vital role in protecting the integrity of the supply chain during this process. With a large degree of PPE equipment being imported from the global East, HTE staff in Shanghai were able to rapidly perform quality assurance checks on the manufactured goods. By taking such measures, companies like HTE have been able to localise their global manufacturing networks and protect the social and ethical value of their supply chains.
Acting swiftly and boldly on this deployment of PPE not only ensured that the quality of the equipment was sound, but it added an additional layer of security to the supply chain, offering HTE's clients greater confidence in the most unprecedented times. Indeed, having a thorough understanding of each element of the chain also contributed to the efficiency with which such evaluations could occur.
Sustainability and Net Zero
The precise planning and monitoring of supply chains across worldwide networks allows organisations to consider the 'whole-life costs' of a good, service, or utility; by taking the time to develop a thorough understanding of a supply chain, businesses are better positioned to make value-judgements about their practices. In prioritising long-term benefits over short-term savings, businesses are able to make sustainable and ethical decisions whilst being long-term financially efficient.
As we move on the path to net zero, this is becoming even more important.
For instance, by understanding which features of a chain are more carbon-intensive, businesses are able to accurately assess their environmental impact. Having such an understanding of one's supply chain is part of the solution and better positions organisations to consider appropriate alternatives.
This works to embed sustainability within the core of an organisation's operations and enables them to make long-term cost savings whilst reducing one's risk of exposure to social criticism and from any emerging standards.
E-Procurement
Ensuring that traditional procurement practices are not left behind amongst the sustainability agenda, e-Procurement platforms, such as Catalog360, and eAuction platforms such as EasiBuy, offer a modern pathway that further entrenches sustainability within an organisation's supply chain.
An entirely paperless system, e-Procurement allows organisations to centralise all contracts and associated documents in a single, secure space, removing the carbon-consuming task of storing paper copies and thereby reducing one's environmental impact. Users are also empowered to make considered choices about where their products are sourced from, for example, by opting to use a supplier located closer to a Head Office location to minimise travel during the delivery process.
Beyond this, e-Procurement enables businesses to make accurate assessments and forecasts of their needs. This can result in bulk ordering – reducing the number of journeys, and thus carbon, made within a single supply route – and helps to reduce over-consumption and waste. e-Procurement, therefore, works to align an organisation's procurement strategy with its wider sustainability objectives.
Click the link to hear HealthTrust Europe's Chief Operating Officer, Dale Robinson, discuss how social value, sustainability, and net zero are impacting procurement, amongst a range of other topics, on the Talent Talks Podcast.