Five Ways to Increase Supplier Diversity and Compliance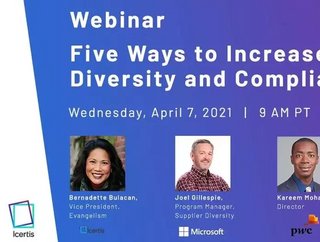 Join me for an upcoming supplier diversity webinar, April 7th, with speakers from Icertis, PWC, SAP, and Microsoft, and author Maya Sharma - register to...
In 2021 and beyond, supplier diversity should be a top priority for organisations looking to meet the high demands of today's consumers. Inclusive procurement practices ensure your supply chain equitably supports underrepresented minorities, LGBTQ, disabled, veterans and women-owned businesses. 
Supplier diversity not only demonstrates corporate values, something customers are looking for, but promotes innovation and can aid in cost savings and foster competitive advantage.
I'll be hosting an upcoming webinar, Five Ways to Increase Supplier Diversity and Compliance, taking place on Wednesday April 7th, at 5pm GMT, 1pm ET. Supply Chain Digital welcomes a panel of expert speakers to discuss and help guide us on best practices.
Bernadette Bulacan, Vice President, Evangelism at Icertis; Joel Gillespie, Program Manager, Supplier Diversity at Microsoft; Kareem Mohamednur, Director at PWC; and Jenn VandeZande, Editor in Chief at SAP, will be joined by special guest Maya Sharma, the author of Paving: Conversations with Incredible Women Who are Shaping Our World, to discuss a variety of topics to help companies can best approach supplier diversity and compliance. 
By joining this webinar, you will learn:
· How to clearly define your DEI supplier policies and tracking mechanisms
· Best practices for sourcing and onboarding diverse suppliers
· Methods to structure and manage contracts to support supplier-diversity initiatives
· Ways to utilise data and analytics to track and showcase supplier diversity success
· How to coach suppliers and partners to amplify and extend an organisation's diversity efforts
The first 150 registrants will get a copy of Maya Sharma's new book: Paving: Conversations with Incredible Women Who Are Shaping Our World. !