Ferrero Group Reveals Palm Oil Sustainable Sourcing Charter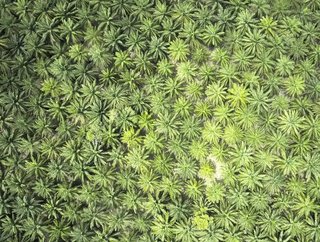 Procurement magazine takes a look at the Ferrero Group's latest initiatives for the sustainable sourcing of palm oil
The Ferrero Group has recently revealed its latest Palm Oil Charter leading up to World Environment Day. The company has announced its collaboration with Earthworm, a non-profit organisation, to source the ingredient in line with the company's sustainability values. Ferrero took to the public in 2013 to announce its initiatives for more responsible sourcing of ingredients, including an updated palm oil charter, which will provide a key framework to maintain the company's sourcing strategy this year.
In 2015, Ferrero became one of the first global companies to successfully begin sourcing 100% traceable palm oil. It has standardised the Roundtable on Sustainable Palm Oil (RSPO) certification across all of its products, allowing Ferrero to trace the ingredient to the plantation that it was originally sourced from. To improve this further, Ferrero has also gained active membership in the Palm Oil Innovation Group (POIG) and the High Carbon Stock Approach (HCSA), which are two of the highest standards for the industry. Alongside this, the company is putting actions in place to combat the environmental and social issues within the industry. 
Francesco Tramontin, Vice-President, Ferrero Group Public Policy Centre and EU Institutional Affairs, explains, "our new Palm Oil Charter is an example of Ferrero's commitment and actions towards responsible palm oil sourcing. But sector-wide change is needed. In this spirit, we believe that proper EU rules applicable to all relevant companies – coupled with the right cooperation framework with producing countries – can be a game-changer in driving palm oil supply chain systemic transformation, as well as preventing negative environmental and human rights impacts."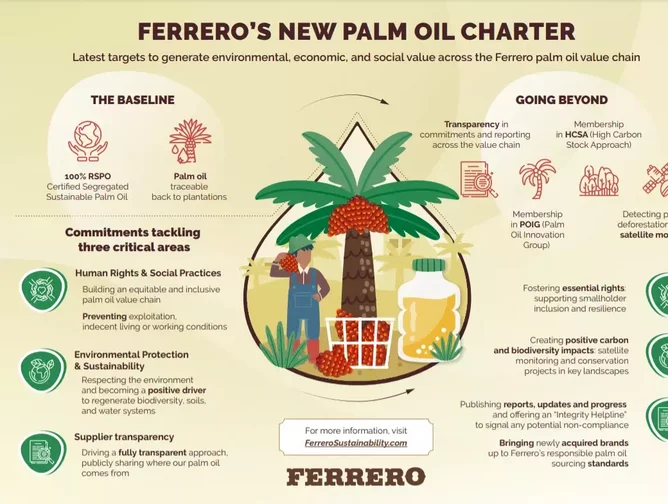 Human Rights Practices
By working with non-government organisations (NGOs), Ferrero aims to put measures in place to prevent the exploitation of workers within its supply chain. Ferrero will ensure the company's activities will benefit the indigenous communities in which palm oil is sourced.
Protecting the Environment 
The company has implemented a Satellite Monitoring System to ensure that deforestation is eradicated across almost one million hectares of land. As part of Ferrero's ongoing sustainability initiative, it plans to tackle deforestation and carry out regenerative work to encourage biodiversity and improve soil and water systems. 
Supplier Transparency 
As previously mentioned, Ferrero aims to operate with a fully transparent approach to its palm oil supply. The company openly shares its suppliers in a list of the six mills it obtains the ingredient from. To add to this, Ferrero is committed to making sure that its suppliers meet the company's supplier transparency standards. 
Ferrero's Chief Procurement & Hazelnut Company Officer said, "At Ferrero, we take a continuous improvement approach to our value chain and understand the environmental and societal challenges tied to the palm oil industry; this is why we proudly reaffirm our commitments to responsible palm oil sourcing through our new charter. We look forward to [continuing] our learning journey and go beyond high certification standards with concrete actions that contribute to a more sustainable industry."