Efficio: Measurable steps towards sustainable procurement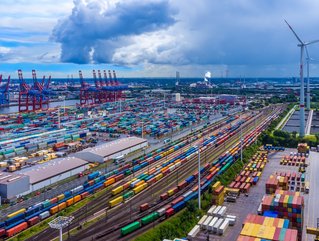 Edward Cox, Principal at Efficio, a leading global procurement consultant, discusses defining KPIs and the measurable steps towards sustainable procurement
Propelled by a global pandemic and the imminent threat of climate change, sustainability has become a major focus for governments, businesses, individuals, and procurement and is set to continue to increase its prominence on boardroom agendas.
Following the United Nations' 26th annual climate change conference (COP26), it was proposed that by 2023, most large companies will be required to layout detailed public plans for how they intend to move towards a low-carbon future, in line with the UK's 2050 net-zero target.
Nested amongst all aspects of business, procurement is fast gaining recognition as one of the most impactful functions. Organisations are, for the most part, a product of what they buy: a collection of goods and services supply chain decisions. As such, procurement teams are uniquely positioned – and have the skill-sets – to help redefine and improve organisations' sustainability through their procurement decisions and processes.
Enterprise leaders are acknowledging that by helping to decarbonise supply chains and encourage sustainable sourcing, procurement – when utilised effectively – is essential to achieve real environmental change.
However, there is a classic adage about performance improvement that goes, "If you can't measure it, you can't improve it." Although sustainability is front-of-mind for businesses, many are struggling to define how to turn an aspiration of more sustainable procurement into practical, tangible, action plans and results.
Establishing the right KPIs is crucial for sustainable procurement, not only allowing organisations to identify baselines and priority improvement areas but to communicating the impacts and trade-offs of critical sourcing decisions.
Defining sustainability KPIs: The principles
When making conscious decisions about which aspects of sustainability are a priority for your business – either to build transparency or to drive tangible improvements over time – it is important to remember the key principles of effective KPI design and deployment. Sustainability KPIs should be:
Specific and measurable – KPI values should be clearly measured and specific to a supplier or category. Where there is a performance ambition but no data, new processes and data flags must be implemented to establish a baseline.
Outcome-based –They should measure a change in results, not just activities being completed from a task list.
Aligned to top-down business objectives – KPIs should be easily translated between category-specific performance and overall business target.
With these principles in mind and a prioritised focus on the sustainability areas that matter to your business, a suite of KPIs can be developed to effectively drive improvements.

What does sustainability mean for your organisation?
The first step to establishing sustainability KPIs is to define what sustainability means, as this can vary greatly in scope and focus across industries and organisations. Even businesses with world-class procurement functions and a focus on sustainability look almost exclusively to supplier labour practices and natural resources supply. While these are two important areas, there are other factors underpinning a sustainable supply chain.
It can help to leverage a Triple Bottom Line of three dimensions – people, planet, and profit – to prioritise key focus areas for your industry or specific categories.
PEOPLE (social sustainability) – ensuring that labour practices are ethical, safe, and fair.
Businesses often look to mitigate reputational risks by avoiding suppliers who utilise unethical business practices, such as forced or child labour, modern slavery, and unsafe production environments. By demanding transparency in the procurement process, they can ensure their social sustainability. There is typically a request for visibility of outsourced labour, offshore production, and complex supplier tiering and distribution.
KPIs for social sustainability focus on driving transparency of fair treatment and equality for all labour throughout your supply chain. These can include diversity reporting on gender and racial parity, compliance with labour management or health and safety policies and may be limited to tier-one suppliers or mandated through multiple tiers of a complex provision.
What might social sustainability KPIs look like in practice?
Evaluation of social sustainability is often conducted through independent third-party audit firms, supporting either supplier self-evaluations or full facility onsite audits. While KPIs can be implemented for ongoing monitoring and management, practices are most frequently evaluated through the assessment of suppliers' adherence to codes of conduct and wider government or professional body regulations.
When looking at fair and ethical labour, for instance, it is important to engage trade unions recognised by the supplier, or the number of industrial disputes within the last 12 months. For diversity and equality, you can also look at category diverse spend – how much money your company is spending with diverse suppliers – and supplier diversity reporting on gender and racial parity.
PLANET (environmental sustainability) – focussing on supply, distribution, consumption, production, and disposal of physical goods to mitigate the negative impact on the environment.
KPIs for environmental sustainability must be designed to ensure responsible supply, distribution, consumption, production and disposal of key materials and energy resources. For example, in the case of supply – does a product come from a renewable, no-conflict, sustainable source? Distribution – what is the carbon footprint associated with shipping products to you, or from you to your customers? Production – are sustainable sources of energy and water being used? Are you limiting the use and eliminating waste of energy and water? Disposal – how much are you sending to the landfill? Recycle/reclaim? Aftermarket sales?
What might environmental sustainability KPIs look like in practice?
These KPIs must be tailored to specific categories, suppliers, and products to be effective. While frequently focussed on direct materials, these can apply to indirect categories such as fleet, waste management, travel, IT, and office supplies.
Examples within distribution include measuring the CO2 footprint of your fleet, suppliers' logistics and delivery to your customers. When examining consumption, you can look at the percentage of products purchased with virgin plastic content or recycled content. Likewise, you can measure the percentage of products purchased from aftermarket sales.
PROFIT (financial sustainability) – often interchanged with supply chain resilience, this involves ensuring a business' profitability remains well-protected even in the event of disruption or market change.
In the wake of major global events, such as the COVID-19 pandemic or natural disasters, priorities around supply security and price stability are at the forefront of decision making. Additional to this are more holistic category management reviews around the business' competitive differentiators and ability to serve ever-changing customer requirements, as consumers increasingly seek sustainable options. Your KPIs for financial sustainability should include supply and distribution risks, aimed at increasing transparency through your supply chain and lower tier suppliers by identifying unstable or high-risk suppliers and regions.
What might financial sustainability KPIs look like in practice?
Supply risk must be evaluated at the supplier level and focussed on the segmentation of suppliers that represent high commercial value and high potential risk.
You can look at the number of approved suppliers by location of the source, level and locations of dedicated inventory, lead times per product, and the financial history of the supplier. To establish price stability, both commodity index and currency tracking can provide clarity, and, for profitability, percentage revenue from sustainable products sold is a good metric to measure against.
There's no right or wrong set of sustainability KPIs for procurement and supply chain, as needs and priorities will vary across industries and businesses. If the principles of effective KPI design are adhered to, and are developed to drive transparency and action across each step of the value chain, a variety of performance metrics can be suitable to drive improvements.
Sustainability, in all its forms, is a growing priority for organisations. Establishing awareness is the first step to full-scale deployment of improvement programmes and performance targets. No matter where a business is on its journey to a more sustainable procurement and supply chain function, there are substantial benefits to be had from making conscious, deliberate choices. Having the right KPIs allows your organisation to deliver measurable, tangible sustainability results – where they matter.
For more information on establishing KPIs and sustainability as a value proposition: