Amp Energy India appoints new Senior Director of Procurement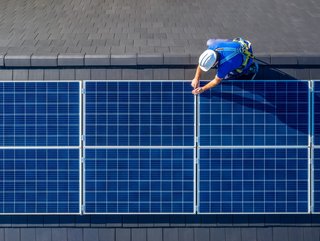 Amp Energy India's appoints a new Senior Director of Procurement and Supply Chain Management (SCM), Ritesh Singhi as it strengthens its leadership team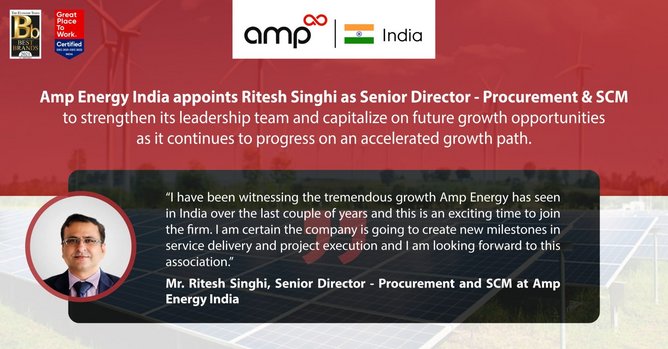 In Brief
Name: Ritesh Singhi
Position: Senior Director of Procurement and Supply Chain Management (SCM)
Industry experience: 25+ years
Company: Amp Energy India
With more than 25 years of extensive experience in project management, operations management, and global sourcing and supply chain management, Ritesh Singhi has joined Amp Energy India.
As a leading renewable energy company, Amp Energy India has appointed Singhi as its new Senior Director of Procurement and Supply Chain Management (SCM).
The appointment comes as the energy company makes efforts to strengthen its management capabilities to capitalise on future growth opportunities.
Commenting on the appointment Pinaki Bhattacharyya, Amp Energy India–Co-Founder, Managing Director and CEO said: "Singhi joins us as we are strengthening our leadership team in India in line with our business strategy and his experience in sourcing, manufacturing and supply management would ensure Amp Energy India's offerings always remain competitive. I am happy to have him on board to further build on the strong momentum of our continuous sustainable growth path in the renewable energy sector."
Singhi has held several leadership positions in procurement during his career including Head of Procurement at Mahindra Susten, and Chief Procurement Officer (CPO) at CleanMax.
Singhi also commented: "I have been witnessing the tremendous growth Amp Energy has seen in India over the last couple of years and this is an exciting time to join the firm. I am certain the company is going to create new milestones in service delivery and project execution and I am looking forward to this association."
Who is Amp Energy India?
Founded in 2016, Amp Energy India is a leading renewable energy company. Amp Energy India is the country's first truly balanced renewable energy IPP and has rapidly scaled its portfolio and presence in 15 states.
Amp Energy India is also one of India's only triple play renewable developers with a balanced portfolio of commercial, industrial and utility customers.
Currently, Amp Energy India provides its solutions to sectors such as pharmaceutical, automotive, data centres, IT, fast-moving consumer goods (FMCG), cement, infrastructure, education, and heavy industries.
"Amp Energy India believes in building long-term relationships with its customers & acting as a one-stop-shop for energy, providing sustainable solutions across different geographies and technologies such as solar, wind, hybrids, storage and energy management. This helps customers in reducing their overall energy costs and mitigating their carbon footprint," states the company.