Supply shortages cause 9 in 10 businesses to delay projects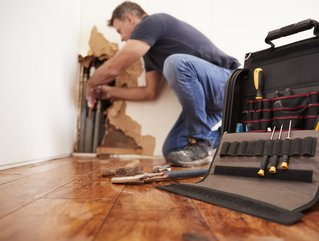 Latest research from Simply Business, finds that nine in 10 tradespeople have been forced to delay projects due to ongoing supply shortages
In the wake of a damaging combination of unprecedented demand, tight restrictions, BREXIT, and rising costs tradespeople are facing staggering losses. In the UK alone Simply Business reports a loss of £3.5bn.
Simply Business found that 87% (nine in 10) tradespeople are being forced to delay their projects due to the ongoing supply shortages, with 27% stating that they have had no choice but to delay their projects by at least four to eight weeks.
16% reported that they had to delay projects by eight to 12 weeks, and 13% have had to delay projects by three months or more.
"The main challenge is the rising cost of materials. We quoted for a patio job based on a material cost of around £400 per pack of sandstone paving. On commencing the job a couple of months later costs had surged to a staggering £640 per pack. It is very difficult, if not impossible, to factor in such large increases in material costs," commented Michael Radford, Liever Landscapes.
Loss of work and earnings
The report also highlighted that tradespeople have lost an average £5,598 each in the UK as a result of rising material costs, as well as one in five losing over £10,000 each as a result of a drop in earnings from turning down work.
"The supply shortage has forced me to effectively shelve my business and I'm looking at turning to freelancing as a result. I don't expect the economy to recover anytime soon from this shortage so it's time for a career change," said Gavin McClafferty, a joiner from Stroud Gloucestershire.
What has been the cause of material shortages?
As the world recovers from COVID-19, 34% of tradespeople report that the post-pandemic surge in demand has been a significant factor driving the materials shortage.
Another third reported that the impact of BREXIT on imports (border checks, tightened restrictions, and trade barriers) are adding to the issue. 12% also reported that COVID-19 travel restrictions are contributing.
"The ongoing supplies shortage is having a significant impact on tradespeople in the UK at a crucial time in their recovery from the effects of the pandemic. With 79% forced to turn down work in the last three months alone due to shortages, the total loss to self-employed tradespeople is expected to exceed over £3.5 billion," commented Alan Thomas, UK CEO at Simply Business.
"Thankfully, we've seen remarkable resilience among the trades community throughout the pandemic, and it's encouraging to see almost half of tradespeople remain optimistic about the future despite current challenges. Tradespeople will play a key role in the rebuilding of our economy and communities, and their resilience in the face of such challenges should give us all confidence that we're on the right tracks to recovery," adds Thomas.
To find out more, read the full report here.