Accenture: Reinventing supply chain and procurement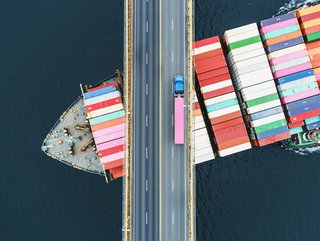 In 'an era of perpetual uncertainty', discover how European supply chains and procurement can reinvent their operations for a competitive advantage
Already struggling with the disruptive impact of COVID-19, organisations are facing exacerbated pressures, including geopolitical unrest, energy price inflation, raw materials shortages, logistics breakdowns, and talent shortages.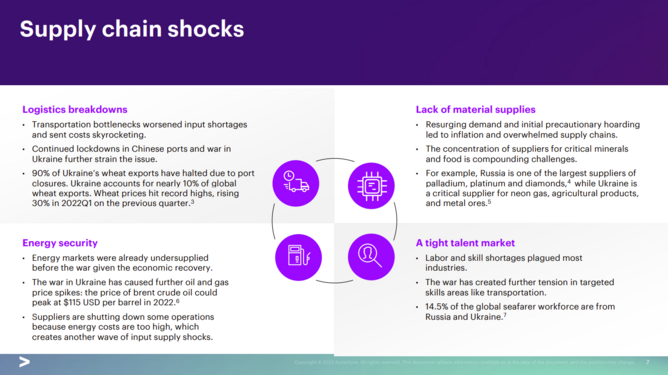 The current procurement and supply chain landscape
According to Accenture, Europe's economic loss equated to €112.7bn as a result of the pandemic, depending on the length and severity of ongoing geopolitical unrest, the cost of disruption between 2022 and 2023 could total €242bn in an ongoing war scenario, or €920bn in a protracted war scenario.
With procurement and supply chains at the centre of the European economy, 30% of total value-added relies on the successful functions of cross border supply chains as a source for input or a destination for production.
Accenture expects to see particular exposure to supply chain shocks in the manufacturing sectors, with sectors such as high-tech, automotive and aerospace seeing the most impact.
This disruption could take up anywhere between 12 and 24 months to ease depending on how the geopolitical unrest continues to play out.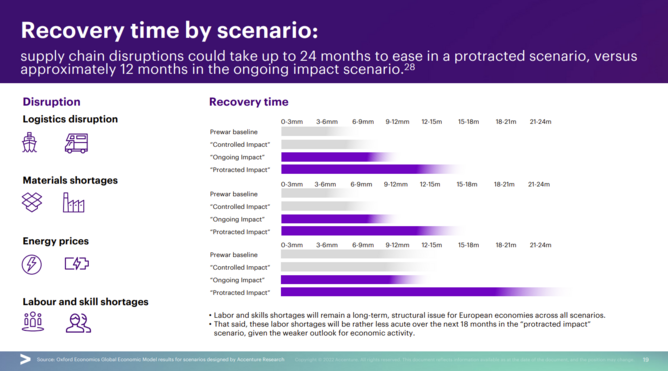 The time is now to reinvent supply chains and procurement
"Europe is at the dawn of a new era," said Accenture. "A new energy system, new economic cycles and a new geopolitical order. The decade ahead heralds a fundamental rethinking of supply chains for competitiveness."
From optimising for cost to optimising value for resilience, the industry is experiencing a significant shift in the way that it operates.
"To contend with an uncertain future and build long-term value, European businesses need to redesign their supply chains around three key ideas: resilience, relevance and sustainability," commented Accenture.
It will be paramount for supply chain and procurement professionals to minimise the day-to-day risks, while navigating and adapting to future widescale disruptions.
1. Resilience
"Organisations can proactively manage risk and boost resilience by building intelligent and resilient supply chains that are risk-aware, secure, transparent, adaptive, fast-moving and optimised," said Accenture.
According to the company's report 'From disruption to reinvention: The future of supply chains in Europe', 86%of European C-level executives plan to fundamentally change their operations as a result of the ongoing crises.
Organisations can enhance their resilience with visibility, agility, and a robust network of suppliers and partners.
Key steps to achieve resilience:
Respond to sudden supply chain changes with improved dynamic visibility, risk identification and mitigation solutions.
Adapt to evolving supply and demand with scenario planning and risk/opportunity analysis as part of sales and operations planning.
Manage uncertainty by boosting flexibility and capacity through network modelling and simulation, stress tests, strategic buffer sizing and multi-sourcing options.
2. Relevance
As customer needs accelerate and change, organisations are required to be there for customers in the 'moments that matter', prioritising the customer experience.
According to Accenture, 71% of executives report that technology is providing the opportunity to reimagine the fundamentals.
"[A] relevant supply chain is intelligent and agile, able to anticipate and adapt to shifting business conditions and remain applicable to customer expectations, stakeholder demands and ecosystem potential with data, analytics and automation at its core," commented Accenture.
Key steps to achieve relevance:
Capture new data sets that come directly from customer interaction, including real-time data, from inside and outside your organisation and across the value chain.
Process data using automation and artificial intelligence (AI) to identify new data patterns rapidly and inform decision making. Reinvent the organisation.
Move to a flatter, faster organisational structure where the corporate centre and C-suite focus on making cross-cutting decisions together.
Jointly define an organisational purpose, set strategy and allocate capital for key initiatives.
Work backwards from the customer – embed capabilities into business processes that directly benefit the customer experience.
Transition to intelligent processes, products and platforms.
Apply a cloud-first approach as the key tenet of your supply chain transformation.
Use tools like zero-based cost management to overcome the ongoing effects of inflation.
3. Sustainability
"Every business must now be a sustainable business. Companies must pursue improved environmental, social, and governance performance by transforming their operations to be circular, net zero and trusted," commented Accenture.
According to the company's report, 63% of European executives see activities to become a truly responsible and sustainable business as a top priority for the next three years.
Key steps to achieve sustainability:
Find ways to get your value chain to zero environmental and social impact. From there, look for ways to become net positive.
Shift from linear processes to closed-loop, circular processes that minimise waste.
Find creative ways to nurture talent. Redesigning for sustainability calls for a rethink of workforce skills.
Use multiparty systems like blockchain to add transparency to your value chain and improve trust among stakeholders.
To read the full Accenture report, click here.