When is the right time to bring in a procurement consultant?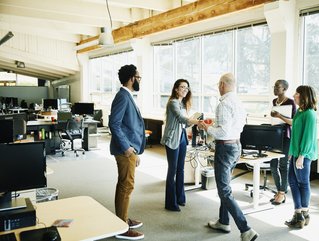 Procurement Magazine speaks to Hackett Group's Nicholas Walden & Bob Derocher; EY's Vijay Yalamanchili; & Gartner's Michael Dominy to answer this question
Now more than ever, procurement and supply chains are under the microscope and gaining considerable air time ‒ both in the media and round the boardroom table.
Following the trend set by the last two years, disruptions in the industry will continue to come from multiple directions, including not just the traditionally expected and prepared-for challenges ‒ such as cost savings, commercial excellence and overall spend management ‒ but also inflation, talent gaps, sustainability, and materials shortages, too.
It's times like these that an organisation may turn to a consultant to help them navigate such murky waters. At a macro level, procurement consultants can fall into one of two categories: 'broad procurement transformation' or 'deep subject matter experts'.
Vijay Yalamanchili, Global Procurement Transformation Solution Leader at EY, explains: "Similar to the role of primary care physicians in medicine, broad procurement transformation consultants have the responsibility and acumen to effectively diagnose all challenges in procurement. These consultants understand both the end-to-end process and technology landscape, as well as having the ability to support clients through the prioritisation and implementation of improvements.
"In comparison, deep subject matter specialists are called upon based on the specific procurement challenges and activities required. Continuing with the medicine analogy, this would be the equivalent of specialists such as cardiologists or surgeons, who are called upon to treat precise patient symptoms."
But what makes a good procurement consultant?
A good procurement expert is one that truly understands the industry: "One of the great things about being a consultant is the capacity to work with a wide variety of companies," says Bob Derocher Principal, Practice Leader for Strategy and Operations Practice (North America) at The Hackett Group.
He adds: "By working with a variety of organisations, we can capture the best practices and identify benchmarks."
Yet, while it is important to understand an organisation's operating market, what makes a good procurement consultant is the ability to understand and navigate the challenges in the function. "Ultimately, our customers are looking for solutions, so it's important to be able to provide a tailored solution to the procurement challenges they are experiencing," says Derocher.
"We need to become a trusted business advisor for each company that we work with," adds Nicolas Walden, Senior Director of Procurement Executive Advisory, Membership Programmes.
Agreeing with Walden, Michael Dominy, VP Research Analyst in Gartner's supply chain practice, comments: "A good procurement consultant not only helps an organisation to understand what they should do from a strategic roadmap perspective but also help procurement teams to do their jobs by offloading some of the burdens of the role, as well as be a guiding figure in the implementation of new technologies and processes."
Whilst the reasons for bringing on board a consultant vary from company to company, Yalamanchili details three core reasons:
Speed to Outcome – "Organisations often look to procurement consultants to expedite outcomes, whether that includes savings and value generation, risk mitigation, or implementation of new technology," he says.
Capability Gap – "Procurement consultants can frequently fill in critical skill set gaps which exist in an ongoing client transformation in addition to business-as-usual activities," adds Yalamanchili.
Access to Innovation – "Strong procurement consulting firms are continuously innovating, providing an avenue for organisations to gain access to pre-developed solutions, experience, and assets that fit into a client's landscape," comments Yalamanchili.
What makes good procurement practice?
Seeing through the eyes of a procurement and sourcing professional, Walden explains that good procurement practices are ultimately the ones that are proven to improve outcomes in regards to effectiveness and efficiency. "There are lots of ways to solve problems," explains Walden.
Derocher echoes these thoughts: "Clients will come to us and ask for us to 'come in and implement the best practices' ‒ they simply want all the best practices. However, the challenge with that is there are multiple best practices for each element of the procurement function; you need to choose the right one for the function, the scenario, and the organisation's in-house skill set."
Agreeing, Yalamanchili says: "Simply put, good procurement practices should be intuitive, consistent, and timely. Procurement end-users and stakeholders today are asking for a stronger end-user experience (intuitive), reliable process outcomes (consistent), and have expectations around service levels and performance (timely)."
Navigating today's procurement challenges, driving transparency, visibility and intelligence
When it comes to transparency, visibility, and intelligence, Walden comments that organisations often state that they want to be 'world-class', "but they are not sure how to get there".
He adds: "This is where a consultant can add value to an organisation, to identify strategic priorities and implement a roadmap to adopt best practices."
When it comes to visibility, in particular, a common finding among procurement functions is poor data quality, especially in relation to understanding spend. "There is still a lot of procurement activity that occurs outside of the function," says Derocher.
He adds: "You have the marketing department or HR, for example buying their own goods and services so procurement doesn't have direct visibility into the spend data of the entire organisation."
But it doesn't stop there. Derocher explains that "this process is a continuum of collating data, turning that into good data that can then be analysed and provide meaningful insights that an organisation can take action on".
Agreeing with Derocher, Dominy is seeing a rise in the use of procurement technologies: "Spend analytics technology for sourcing and procurement is commonly incorporated into strategic procurement transformations for consultants to help drive visibility. The use of technology today has broadened into the entire source-to-pay (S2P) process, tackling areas where there are any kind of bottlenecks to streamline operations."