Vanessa Veit, Procurement Director, Lactalis American Group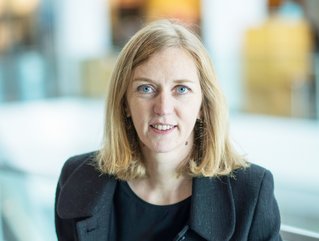 Innovative, inventive, and resourceful, Vanessa Veit – senior director at Lactalis American Group – has more than 20 years of experience in procurement
Please could you start by introducing yourself and your role?
I'm an innovative, inventive, and resourceful Senior Procurement Director, with over 20 years of experience in procurement, supplier management, digital transformation, and sustainability in the food industry.
I'm never afraid to take my chance, and, because my mind allows me to venture beyond the obvious, I always entertain ideas about the best ways to reach a goal, increase productivity, or solve a problem.
As a strategic thinker, I easily pinpoint trends and identify problems or opportunities that many people overlook.
In the last few years, I have actively worked on Packaging Transformation Plans to minimise the environmental impacts of packaging – including recyclability, greenhouse gas emissions and even the reduction of food waste. One of my greatest professional accomplishments was to win the 2021 Sustainable Packaging Coalition Innovator Award in Recovery, helping to raise consumer awareness about the Stop Drop-off stream in the US.
How did you find yourself to be in the procurement industry?
I started my career in research and development (R&D), but I realised very quickly that I wouldn't be able to fully capitalise on my strengths in this function. It took me a few years to understand how I could leverage my creative mindset in my day-to-day work.
The product development process was too rigid for me, with engineering and R&D making design decisions in functional silos. The focus was often on embedding advanced technology without enough input from sales and marketing about what customers and consumers actually want or from procurement about what the supply market and supply chain have to offer.
Many companies focus on creating innovative products but struggle with escalating costs and inflexible supply chains.
With my dual background, I strongly believe in the power of procurement in shaping the next generation of products. Improving cross-functional engagement is a common issue in the organisation, but procurement could play a major role by focusing on joint innovation with suppliers.
I had the chance to work for leading food industries and worked for direct and indirect categories in Europe and in North America.
You have been in the industry for more than 20 years; what is the best piece of advice you have received and would pass on to others?
The best advice I have received in my career is to stay compassionate, driven and motivated, and focus on achieving my own goals.
Don't be afraid to make mistakes, just go for it.
Looking back, what advice would you give your younger self starting out?
Be clear about your purpose and be driven by values. A leader's role is to live by your personal values, explicitly promote them and make sure they are part of your day-to-day and never make any compromises.
What current trends are you seeing in the industry?
Forward-thinking companies are working on:
Full transparency – sourcing and procurement are well-positioned to provide centralised visibility into purchase requests, project pipeline, and traceability of origin while building a data-driven roadmap for measuring and improving results in real-time and creating strategic impact for the enterprise. The pandemic has highlighted the need for greater purchasing data in all areas. Now there are tools and systems that can help provide a level of visibility never imagined before, but these tools need to be well-coordinated in order to be used with relevant information. Unfortunately, most companies lack a centralised management system, with information on suppliers still siloed between business functions.
Risk mitigation – with COVID-19, geopolitical changes, supply interruptions, new regulations and the increasing number of climate events, procurement is empowered to effectively manage risk and support compliance across the business. Enterprises are now recognising sourcing as a strategic partner, as well as the need to become much more agile in terms of making processes and systems accessible and usable for all employees. Executives now see what many procurement professionals knew already – the business impact of strategic sourcing.
Supplier Relationship Management – the procurement function will need to build supplier evaluations and feedback mechanisms to allow for greater collaboration and alignment between the business and its supply base. Procurement needs stronger and more innovative partnerships with suppliers.
What does the next 12-18 months hold for you?
With consumers increasingly aware of and more vocal about their sustainability concerns, and with growing regulatory pressure, leading FMCG companies and retailers have made strong commitments to sustainability.
While this is moving us in the right direction, and technology is rapidly improving, it will require a real focus from the procurement processes, capabilities, and resources. Developing a systematic way to understand suppliers (risk, compliance and performance) will become crucial and those companies that invest in digital technology will have more visibility and more time to react in case of issues.
We will have in the next 12-18 months an opportunity to leverage automation to build a more resilient supply chain.
What qualities make a greater leader?
A leader's key role is to create energy and momentum; my role is to help others see possibilities and potential, creating energy, inspiration, and vision for my team.
My role as a leader is to create the right environment for others to flourish in their jobs.
I have always tried to create a culture of compassion and empowerment that is accepting of diverse perspectives, backgrounds, and cultures. This unlocks people's creativity, productivity, and happiness.
My role is also to stretch my team members to do better and realise more of their true potential.
I'm a big fan of helping women succeed through learning and development that builds on their strengths, helps them create the important networks that they need to succeed and gives them exposure to the right people.
How has your leadership style changed over the years?
My leadership style has evolved over time and has been influenced by my global experiences in Europe and the United States. I have learned to choose the leadership style that suits the situation, and I had some great role models during my career journey.
I try to have a very open, inclusive and affiliative style. I want to make it clear to people that, while I have views and opinions, I don't know everything and want to hear their ideas.
As a leader, it's important to role model behaviour but also to show that I'm adapting and continually learning about myself. I choose people in the organisation whom I trust to give me feedback on how I'm impacting the team, because if what I'm doing is not working, I need to know and will modify where needed.