The Ultimate Procurement & Supply Chain Event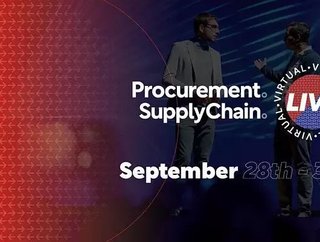 Where innovation meets implementation, coming to you live from London
From September 28th-30th, network with C-level executives, gain insight from industry pioneers and walk away with actionable insights that accelerate your career. By the end of the week, we promise you'll have the skills to solve the world's most pressing supply chain and procurement challenges. 
Whether you attend virtually or in-person, you'll strategise how to cope with global disruption, learn from industry pioneers—Charlotte de Brabandt, Technology and Negotiation Speaker at Amazon; Stephen Day, Global Chief Procurement Officer at Kantar; and Amanda Nazareno, Senior Product Manager at Apex Logistics—and walk away with tips, tactics, and tangible connections. 
How to Attend
In a COVID-disrupted era, we know that the majority of people would rather avoid travelling for events─why take the risk, right? In response to the continued disruption, BizClik Media Group has decided that Procurement & Supply Chain LIVE will offer the best of both worlds through hybrid accessibility. 
That means you and your peers can attend the event in person or virtually ─ with no disadvantages for people who choose not to make the trip to the Tobacco Dock venue. 
In-Person
Procurement & Supply Chain LIVE will be held at the Tobacco Dock in London, an industry-leading venue that is renowned for delivering world-class events. For attendees' peace of mind, the venue is working to the government-endorsed AEV All Secure Framework, alongside mia's AIM Secure and 'Good to Go' accreditation, they will ensure that we achieve a COVID-secure environment to facilitate all of your networking needs. 
Virtually
Our physical venue is both historic and stunning, but it has no bearing on the information that you and your peers can gain from the event. You can still absorb it all, interact with other attendees, and enjoy the conference experience on your alternative, virtual platform. 
The platform will feature live feeds from all of the stages, as well as virtual networking areas. So, if you want to avoid travel, it's not a problem! You can still get involved and enjoy the entire experience from the comfort of your own home. 
Charlotte de Brabandt
Technology and Negotiation Keynote Speaker and Host at Amazon
Charlotte de Brabandt is an expert in supply chain, procurement, and the future of work and leadership. From technology to consumer goods, automotive, and medical devices, she's addressed complex challenges throughout her career. Unsure how we can thrive in a tech-advanced world? Come hear Charlotte speak about consciousness, clarity, and community in the 21st century. 
Stephen Day
Global Chief Procurement Officer at Kantar
Stephen Day leads new business model development, accelerating enterprise-wide evolution. In supply chain, purchasing, and global operations, he's helped businesses shift from products to services and software. Now, he's working at Bain Capital's portfolio company, Kantar, to create new growth opportunities with the power of supply chain. 
Amanda Nazareno
Senior Product Manager, IT at Apex Logistics 
Amanda Nazareno specialises in order management, supply chain, and agile operations. In addition to her experience in both business and technical roles, she focuses on providing superior service to her clients. Previously at FourKites, she handled ocean, intermodal, rail, and heavyweight air supply chains. Get insight into how to deal with urgent setbacks and supply chain disruption!

Join our influential global community. To buy tickets, click here. Take advantage of our limited-time Early Bird offer and book your spot now!