Travel expense management 'is profits and ESG must' - SAP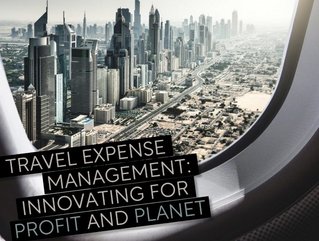 Charlie Sultan, President of Concur Travel at SAP Concur, believes that "the corporate travel industry has undergone massive change over the past two and a half years" as a result of the pandemic.
Business travel needs successful management, innovation and systems integration, says Charlie Sultan, President of Concur Travel at SAP Concur
As business culture shifts towards sustainability considerations, the realisation of data-as-value, the changing face of workforces, and the importance of travel expense management are becoming increasingly apparent.
Though rarely considered by the wider public, the significance of travel expense management cannot be overstated. Any organisation whose employees number in the hundreds or thousands is inevitably going to have considerable costs associated with their travel, not to mention a potentially huge carbon footprint.
Any organisation that is to be efficient and effective in its operations must, therefore, also have an efficient and effective travel expense management system in place to structure and enhance that travel.
Charlie Sultan, President of Concur Travel at SAP Concur, believes that "the corporate travel industry has undergone massive change over the past two and a half years" as a result of the pandemic. In his role, he is responsible for market strategy, solution management and product marketing at Concur Travel.
According to Sultan, traditionally, a large percentage of employee-initiated discretionary spend is related to travel – spending on flights, hotels, and ground transportation is necessary to visit customers, attend industry events in-person, or gather for internal company purposes.
Travel expense management aims to help companies manage that employee-initiated spend, reducing risk, saving money, and ensuring compliance without sacrificing employee productivity and satisfaction.
Sultan remarks that "there are 4 main elements that demand consideration for an organisation to be successful in their travel expense management".
But what exactly are these elements?
Organisational silos - This issue rests on the integration of data and transparency. Many companies keep track of travel bookings and spend data separately, which prevents a comprehensive overview – and complete control – of company spend.
Fully-integrated travel and expense solutions are instrumental in tracking employee spending as it happens. With a more accurate, streamlined process, administrators can improve financial reporting and forecasting.
The impacts of the pandemic - The events of the past two and a half years have forced companies to adjust their travel and expense policies overnight. As travel continues to track back up towards 2019 levels and the world settles into the 'new normal', companies are now considering how to further adjust policies to attract and retain talent, and meet organisational goals.
Sustainability - From stakeholders to employees, businesses are seeing increased demand to set and execute on sustainability objectives, with reducing emissions a key component of that objective. Historically, travel has been a difficult area for organisations to manage. SAP Concur solutions help organisations influence, measure and manage their end-to-end impact from their travel and expense programme.
The Great Resignation - SAP Concur surveyed nearly 4000 business travellers across the globe and found that nearly a quarter will look for a new position if their travel schedule doesn't improve. Such a mass resignation is something which, on some level, has already had – and, if not averted, will continue to have – a massive impact on both travel expense management and many industries across the globe.
Tech optimises & enhances travel expense management
Technology plays a vital role in travel expense management, first by guiding employees to spend the company's money wisely, and then by providing the company with the ability to manage and influence that spend, regardless of where it occurs.
For example, Concur Travel's 'Concur TripLink solution' captures bookings made outside of approved channels. It connects trips, travellers and itineraries across multiple channels, providing travel managers with the visibility they need to control spending.
Concur Travel & Expense (T&E) are the world's most widely adopted corporate Travel & Expense solution, with over 50% of the market share according to IDC.
SAP Concur solutions – which are currently translated into 30 languages – allow companies the flexibility to choose their own Travel Management Company, their own Global Distribution System, and their own industry-leading partners, while using the same tools across many countries.
What is effective travel expense management?
"Travel and expense management solutions are most effective when they are fully integrated with one another," says Sultan. "Integrated T&E solutions simplify things for travellers, making it easier to book travel from a desktop or mobile device, from an online booking tool or directly on a supplier's website."
Such solutions ensure that travellers utilise any negotiated corporate rates and increase compliance by automatically enforcing corporate travel policies – including more sustainable itinerary options.
They automate the expense report process to make things simple for travellers, and give companies better data and visibility to improve budgeting, forecasting, and policy compliance. Also, they integrate with industry-leading partners to extend the value of a company's travel and expense data into areas like financial services, audit, or tax compliance.
How to enhance travel expense management
As Sultan mentioned, the corporate travel industry has undergone immense change over the past two and a half years. Of this period, he says: "100% of travel managers we surveyed expect their jobs to become more challenging in the next 12 months."
Implementing integrated travel and expense technologies that are flexible, supporting multiple content sources and booking channels, and scalable as you grow will set up a corporate travel programme for success, now and in the future.
He says: "Look for technology vendors that can help you achieve your sustainability goals and partner with other industry leaders to bring more innovation to extend the value of your investments."