Barkers Commercial Consultancy marries ethics & procurement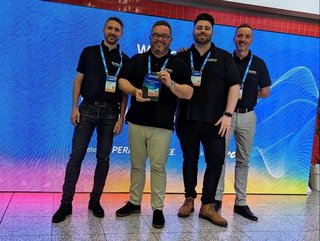 Barkers' employees pictured at the Coupa Inspire event, where they won a Best New Partner award.
We profile Barkers Commercial Consultancy, and explore how it has hardwired ESG into its procurement and supply chain services
Yesterday, we reported how Coupa Software has grown its EMEA customer base for its business spend management platform by 25% in the past year.
Like all multinational businesses, Coupa relies on a strong ecosystem of partners to bring its solutions to market in a way that optimises their potential for customers. One such partner is Barkers Commercial Consultancy – which opens an occasional series of company profiles.
Barkers is an award-winning procurement consultancy offering specialist procurement and supply services across a variety of industries and sectors. Its procurement services range from cost transformation projects to complex procurement transformations and contract lifecycle management.
It is the official partner to Coupa for the SME and mid-tier market, providing "cost-effective, time efficient digital procurement solutions for clients to harness", it says.
First established in April 2014 in Manchester, in northern England, Barkers has "a strong code of ethics at the heart of our business proposition," says Warren Kozera, its MD.
Kozera adds: "Our single biggest differentiator is the fact we are an ethical procurement organisation, which means every time we do the right thing by our clients we also take the responsible approach to doing the right thing for society."
Among the series of awards it's scooped include recognition for its social offerings. It has also been highlighted at Coupa Inspire 2023 for best new partner.
Pro-bono procurement advisory services
Barkers' strong ESG offering includes its aim to deliver £2mn in social value every year alongside its social enterprise, called Lifescape. On top of this, it also offers free professional advice to the charities it partners with.

The company estimates it has been created £2mn ($US2.5) in savings for social enterprises and charities via its pro-bono procurement advisory services. Employees are also regularly asked to attend industry events, to sharing their expertise and enable other organisations to integrate social value into their overall business models.
"We're a multi award-winning procurement consulting practice, and this has been recognised by both Chartered Institute of Procurement & Supply and Business in the Community, who've acknowledged our ethical approach, both in terms of delivering client value and social value," says MD Warren Ward.

He adds: "Social value is core to the ethos of our company and we've invested heavily both in terms of time and money in helping the charity sector become more commercially sustainable and in setting up our own social enterprise.

"Lifescape, which provides grounds maintenance services to a number of our clients. We funded this out of profits from our consulting business, and it provides excluded groups with employment opportunities in the north west of England."