Procurement 2023. What's next? The Proxima Report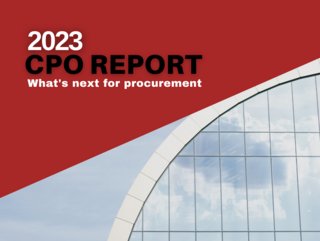 The Proxima 2023 Chief Procurement Officer (CPO) Report offers valuable insights into the procurement of next year and beyond...
The recently released Proxima 2023 CPO Report offers valuable insights into the present state of procurement as well as on the much-coveted 'state of things to come' for industry professionals the world over.
WIth a turbulent year for procurement as a whole, from mercurial supply chains to sudden outbreaks of war through to skyrocketing inflationary pressures, this report offers golden nuggets of wisdom for those with their eyes fixed on the horizon trying to discern the approaching procurement environment.
What's Next for Procurement in 2023?
Focused on the question, "what's next for procurement?", the report brings together the visions of several important executive procurement professionals from across diverse industries to offer their insights into the vacillating procurement situation.
Tackling the issues of sustainability, resilience and cost optimisation, the report opens with an executive summary by Michael Garstka, Chairman of Proxima, expressing that with the trials of 2022 almost in our procurement rear-view mirrors, "the role of the CPO in 2023 will be even more critical. They must navigate their companies through this turbulence effectively whilst delivering the need for active near-term cost discipline.
"This combined," he says, "makes it crucial for CPOs to take on a more strategic role in addressing the multiyear, more secular trends shaping the decade-plus ahead."
Here are the procurement lessons that need to be taken on board to tackle the challenges of 2023...
Insights and Lessons of CPOs for the procurement of 2023 and beyond
Sopan Shah, Chief Procurement Officer, IHG Hotels & Resorts, says: "As we move into 2023, CPOs must assume and expect volatility, ambiguity, and complexity. Adapting to this challenging environment will be down to having the right people focusing on an innovative, more sustainable future."
Shah offers 3 areas of focus for procurement in 2023:
1. Next generation transformative talent
Shah says that the CPO of today must recognise that the majority of their role is about building and developing talent, which in and of itself is becoming more complex.
"The world of a CPO is no longer narrowly focused on traditional cost optimisation and management,'' he says. "We've seen the growth of digital procurement, and you now need a team with strong digital expertise to adapt to that change."
According to Shah "the next generation of procurement talent are experiencing a working environment that has dramatically changed from when we started our careers. As such, it's about creating a space which is adapted to these new ways of working while ensuring that your team is consistently learning new skills."
2. Turning data into intelligence
Shah recognises the swift changes that are happening in the world, with direct bearings on the procurement world as a whole.
He says: "We're lucky to be going through a renaissance of technology in the procurement industry, and we should all be excited about the potential that brings."
The thin line between challenges and opportunities is about the way in which they are approached.
"To deliver on this potential CPOs must ensure that their digitalisation strategy is aligned completely with their company's business objectives," he says.
"A digitalisation strategy rooted in a business' objectives will be a central element to the successful CPO in 2023."
3. Recognising your ESG responsibility
According to Shah, (and he is by no means alone in this), "ESG will dominate conversations in 2023."
He says: "For CPOs this means taking on the role of being a good steward for the planet, people, and resources. In the coming year it is vital that we bring clarity to the role of procurement in ESG."
Shah observes that in the realm of the ongoing energy crisis, we're starting to see renewables at a lower cost than traditional fuel options.
He says: "A good CPO will seek to understand these dynamics in order to identify opportunities to leverage which will undoubtedly come and go throughout the year."
Offering his insights on the state of procurement in 2023, Rob Turner, (Former) Head of Procurement, Amazon Fresh says: "Recent years have seen procurement teams having to adapt to a seemingly never-ending sequence of supply chain shocks. The lesson for 2023 is to expect the unexpected and think through how leaders can mitigate risks, engage suppliers and develop great talent."
He breaks down 2023's insights into 3 categories: Rethinking risk in today's environment, Relationship management, and Developing business critical problem solvers.
1. Rethinking risk in today's environment
As (former) Head of Procurement, Amazon Fresh, Turner says that the macroeconomic climate of 2023 will be particularly challenging for the retail sector "as it is a small-margin, high-volume sector," and therefore will require a proportionately robust response in mitigating the adverse effects on the sector.
He says: "Businesses will be looking at the risks and weighing up profitability vs growth. We're going to see maintaining a profitable position move further up the risk register. This means that this will be the focus at a board level and will ultimately shape procurement leaders' approach."
Turner believes that 2023 will see the need to dial up cost management and containment. "This challenges us to think differently about our organisation to deliver the most value."
2. Relationship management
Turner thinks that it's crucial that we "take a close look at the procurement organisational structure," in the coming year. He says: "This includes how we use external partners to dial up specific expertise as needed, but most importantly, it's about our third-party supplier relationships," calling for closer collaboration with
"We need to know who our critical suppliers are and our Boards should know how they are performing," he says. "We should also be monitoring risks to these relationships, developing effective mitigations and ensuring that these are well socialised with key stakeholders."
According to Turner, building these relationships gives "the broader context needed to shape plans effectively.
"On the supplier side," he says, "it's about getting out and meeting with suppliers as much as possible. The insights from those meetings enable us to challenge our perceptions and improve our approach."
3. Developing business critical problem solvers
"Procurement professionals must act as business problem solvers," in 2023, according to Turner. He says that this means, "as leaders, we need to identify and develop those skills in our teams. The challenge is that we're seeing demand for high-calibre talent and a lack of supply. Building a procurement team in the coming year means looking beyond years in the industry and identifying people who can foster strong internal relationships, look beyond a category plan, and build strong commercial relationships.
"From ideation to delivery, it's about how people can work across the business to identify business problems and effect change."
Turner sees that business partnering is crucial and has to improve. He says: "Procurement leaders need to focus on creating a culture that enables people to buy into your vision and what you want to achieve.
"If this is done effectively, you'll have a team with the trust and freedom to go and deliver for the business."
Stewart recognises that we are at an inflection point in the procurement sector. He says: "Departments have transformed from having a narrow focus to being mission-critical across the entirety of the business. It is up to us to take on that challenge in the coming year."
He offers 3 tips for the coming procurement environment:
1. Don't stay in your lane
"The mandate for procurement leaders in 2023 is to be transformational across the enterprise beyond spend," he says. "It is the teams that step up as business partners to deliver competitive advantage who will be embraced by the leadership of the business."
Stewart says that we're experiencing a VUCA (Volatile, Uncertain, Complex, and Ambiguous) environment globally, with geopolitical tensions and other risk factors set to dominate the coming year.
He says: "Bold business leaders who are willing to take risks will ultimately unlock the most significant value for their organisation in 2023."
2. Changing the dynamics of the supplier relationship
"The business-critical nature of procurement in today's world means that leaders must rethink their approach to supplier relationships," says Stuart. "Success lies in resetting supplier expectations and aligning them to deliver at the moment of truth when your customer is making that buying decision."
He says: "Leaders must recognise the potential of the army of suppliers they have at their disposal and, through true partnership, leverage that group. This will create winners and losers in the supplier base but will deliver in the long term for your business."
3. A strategic approach to digitalisation
According to Stuart, every senior leader in procurement in 2023 needs to have a digitalisation roadmap that leverages an open-source approach. "The procurement sector is a land rush for technology, and there are opportunities aplenty within those solutions," he says.
By way of method, he says: "First, you have to focus on the core of your ERP and source-to-pay processes. Then it's vital to have a multi-year digitalisation roadmap that acts as your north star for what you want to achieve and how you want to get there."
In conclusion, Stuart says" "In 2023, procurement leaders can come together to create the architecture and industry standard that can then be serviced by technology providers and benefit the entire industry.
"The availability of this technology will benefit all procurement leaders, and it's then up to them to implement it effectively to deliver competitive advantage."
Offering her insights into 2023, Salo says: "2022 has been a fascinating year that has brought many challenges for the procurement sector. As I look ahead to 2023, I see there being three critical issues ahead for CPOs – the importance of relationships, the need to develop a procurement culture and the necessity to be constantly curious."
1. The importance of relationships
Salo says relationships are really going to matter in 2023. "When I talk about relationships for procurement I'm thinking about how we work with our stakeholders, our suppliers, and each other to optimise the value that we can deliver. If we treat any of those groups as a 'transaction', we will fall short of what could be achieved," she says.
"Many CPOs will face similar challenges, and ensuring relationships are progressive, productive, and grounded in a common purpose will be essential for success."
2. Creating a Procurement Culture connected to the broader company's purpose
Bringing team members together as part of a procurement culture is another ingredient for success that Salo thinks will be crucial for CPOs in 2023.
"This is something that will be a focus for me. As Walgreens Boots Alliance's CEO has said, there is a need for us to 'care for our team members as whole people—mind, body, and spirit. This, in turn, best equips them to meet the needs of our customers and patients'.
"This isn't just a soundbite," she says. "If we are to achieve our ambitions for the future of care, then it will be because we did it as one team.
"Facing into 2023 we will face more challenging times, and culture will be one of the keys to high performance, and delivering what the business needs."
3. The necessity to be constantly curious
Salo says that she has always believed that the best procurement professionals, and indeed the best leaders, are curious. "To do our best work we need to understand the 'why' and get to the bottom of motivators and value drivers," she says.
"As procurement evolves, that becomes even more true. With procurement increasingly integral to areas like technology and sustainability, there is a need to help teams move out of their comfort zone and foster a culture of curiosity so they can learn and grow.
"This should be a top priority for CPOs as they look ahead to 2023."
Last but not least, and wrapping up we have EVP of Proxima, Simon Geale. Geale holds: "As we look ahead to 2023, I think somebody will rename our space the 'value ecosystem', and if we can get over the name, we will use it to tackle challenges in purpose & resilience, and elevate our impact."
1. Collaborating in 'value ecosystems'
Geale thinks that both 'value' and 'ecosystems' "will be dominant themes of 2023, and if they haven't already, businesses will understand how they go hand in hand to allow them to reach their full potential. Hence the 'value ecosystem,'" he says.
Geale believes that this development "is inevitable because," he says, "many of the big challenges that businesses face, like climate and risk, are bigger than they are, and this time, growth won't bail them out.
"Neither will a siloed mentality. They need collaboration within the ecosystem to get to the value they desire. It's faster, cheaper, and has a greater probability of success than going solo (and suppliers can invest more into innovation where there is meaningful demand)."
He says: "Having worked closely with clients and the Scope 3 Peer Group in the decarbonization space this year, it has become fascinating to see ecosystems at work. Scope 3, like resilience, forces us to think beyond our four walls and immediate supplier relationships. It forces us to think beyond supply chains.
"We must understand our relationship with customers, suppliers, stakeholders, competitors, shareholders, employees, regulators, etc. – our 'value ecosystem'."
2. As value architects we get to grips with purpose and resilience
Geale says: "A well-known Partner in an Executive Search Firm commented at one of our recent events that "CFOs were prepared to pay a premium if it meant that their challenges around sustainability and resilience were solved" – he went on to say that paying more didn't necessarily mean 10% on the bottom line."
"Three things stood out for me in that quote," he says. "Firstly the implication that there was equal if not higher value placed on resilience and purpose than on the price paid, secondly the indirect implication that Procurement would be praised for architecting these new forms of value; and thirdly the need to have bigger and bolder ideas to fund the 10%.
This does seem to be playing out right now. Bigger and bolder things are being done to transform organisations, outcomes, and cost profiles. We have the licence or even the imperative to assume the role of "Value Architects." And much of the transformative value will come from the ecosystem."
3. And so, the evolution of procurement continues
Concluding, Geale says: "A few years ago, we produced a paper and a perspective that framed procurement's future destination as 'network partners'. This meant that at the pinnacle of our profession, we would be integrated into collaborative networks, very probably aligned to products, programs, or R&D. Our role in this space could extend into being the value architect, facilitating collaboration between partners to create shared value, and collaborative advantage (not every concept is as new as we think)," going on to say, "perhaps we should rename this 'ecosystem partner'! Regardless, I think the concept is increasingly becoming the reality, driven by points one and two above."
Geale closes with: "A customer-centric view, following the value, will evolve procurement on multiple fronts. And this must be the destination if procurement teams are going to enter the value ecosystem (it could have been worse, I could have called it the 'valueverse')."
As we enter 2023, it is critical that procurement professionals are collaborating on both process and understanding. The Proxima 2023 CPO Report is a valuable guide to the coming environment, and procurement professionals will do well to heed its advice.