Gartner: Procurement's role in supply chain resilience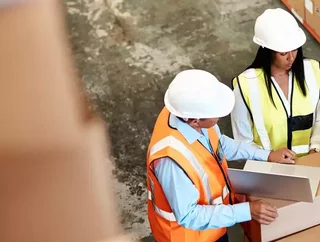 Discover how chief procurement officers and their organisations can help to manage risk exposure and ensure supply continuity
With it being likely that the waves of disruption will continue to impact supply chains in the future, it will be vital for organisations going forward to invest in the resilience of their supply chains if they hope to stay competitive and operational. 
In Gartner's annual 'Future of Supply Chain' study, the consultant reported that 87% of sourcing and procurement leaders believe their supply chains need to be more resilient in the next two years. 
"Supply chain resilience is the ability of an organisation to avoid, absorb and recover from the business impact of major disruptions through a risk-balanced approach to product, supply chain strategy and network design," explained Gartner. 
"Resilience is a deliberate strategy aimed at strengthening supply chains' ability to manage risk and disruptive events. It's complementary to agility, which is defined as 'the ability to sense and respond to unanticipated changes in demand or supply quickly and reliably, without sacrificing cost or quality'. When implemented effectively, structural investments in resilience should enable greater operational agility."
While it is nigh impossible to predict and protect against every unexpected and high-impact event, it still remains important for organisations to improve their capability to manage future disruptions when they come. Investment needs to be made into supply chain resilience rather than relying on crisis management. 
Gartner's survey breaks down why supply chain resilience is a task for sourcing and procurement leaders, and what practical steps need to be taken.
The findings from Gartner's 'Future of Supply Chain' study
When it comes to strategies for enhancing supply chain resilience, Gartner's research highlights two popular strategies in which sourcing and procurement will need to play a vital role.
77% collaboration with key customers and suppliers

63% diversify the supply base (multisourcing)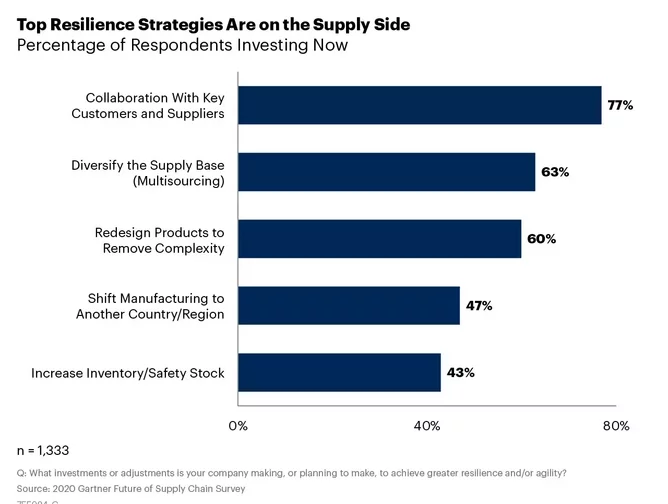 "Sourcing and procurement leaders can also play a key role in working with research and development (R&D), engineering and technology colleagues to ensure that product specifications are not overly customised in a way that narrows down the choice of suppliers and designs. This is crucial to avoid greater uncertainty in the assurance of supply, due to fewer suppliers able to supply and less resilience at the outset," said Gartner.
However, cost is often a significant barrier when it comes to implementing any strategy within a business, 53% of sourcing and procurement executives report the cost to develop greater resilience is a barrier for their organisations, with almost half sayings the same for balancing trade-offs between cost-efficiency, risk mitigation, and resilience. 
"Nevertheless, investments in resilience should not automatically be thought of as anti-cost-efficient. In a business world subjected to frequent disruptions, the cost of not being resilient can easily outweigh the investments required. This is especially the case if production lines have to be shut down for lack of supplies, transportation routes become affected, or legislative changes impact business streams. A "risk-balanced" approach also factors in the many benefits of supply chain resilience, which include protecting revenue, growing market share and keeping customers happy," explained Gartner. 
Therefore procurement functions should be thinking beyond unit cost, instead, focus on total cost of ownership. "Include the cost of disruption and balance that by focusing on resilience and risk management in broader terms with specific investments," said Gartner. 
With this approach, organisations need to change their approach to supplier risk management. In a poll conducted by Gartner, 75% of sourcing and procurement leaders said they needed to significantly change their supplier risk management process following COVID-19.
So what do sourcing and procurement functions need to do?
"Defining the function's risk appetite and posture to support business targets and determine the risk management capabilities needed is a fundamental requirement," said Gartner. Once this is done, Gartner lists five key actions that procurement organisations should take: