FAW signs procurement MoU with Volkswagen at CIIE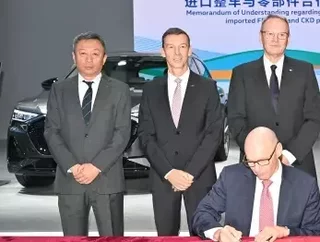 FAW signs procurement MoU with Volkswagen at the third China International Import Exo (CIIE)
In an announcement made by FAW over the weekend, FAW signed a procurement MoU with Volkswagen at the third China International Import Expo (CIIE). 
As part of the MoU, FAW-Volkswagen - a joint venture between FAW Group and Volkswagen Group - plans to purchase complete knock down kits (CKDs), from Volkswagen Group and import complete vehicles from Audi in 2021.
The MoU will help to satisfy manufacturing demands for the product lineups, as well as facilitate the offering of high-quality mobility services for customers in China. 
"It is particularly invaluable to strengthen cooperation between the two sides when the global auto industry is being vexed by the coronavirus pandemic," said FAW.
By signing the MoU, the two companies are not only promoting trade between China and Germany but represent a significant achievement when it comes to boosting connectivity and the collaboration of individual strengths and the Belt and Road initiative. 
"Looking forward, FAW-Volkswagen is ready to constantly advance technical integration and innovative transformation and promote the coordinated development of industrial chains through international exchanges and cooperation," added FAW.
What is the FAW-Volkswagen joint venture?
The FAW-Volkswagen Automotive Co. Ltd. was established in 1991, it is a large-sized passenger automotive manufacturer. The joint venture is managed by First Automotive Group Corporation, Volkswagen AG, Audi AG and Volkswagen (China) Investment Co., Ltd.
Over the last 30 years, FAW-Volkswagen has been operating in Changchun in the Northeast, Chengdu in the Southwest, Foshan in South China, Qingdao in East China and Tianjin in North China, and has eight professional manufacturing factories.
It has also expanded its product portfolio from one brand with one product, to three brands with over 20 products. 
"FAW-Volkswagen regards quality first as its operation policy, users' satisfaction and expectation as the constant quality pursuit, and "Advance together" as its core brand development idea," said FAW-Volkswagen.