Exclusive Video: Margarita Gutierrez post-COVID supply chain
Thomas Reuters, Margarita Gutierrez discusses supply chain sustainability in the post-pandemic world at Procurement & Supply Chain LIVE New York 2023
Highly praised as an exceptionally interactive virtual experience, Procurement & Supply Chain LIVE New York offered those in the industry valuable insights and thought leadership in the form of keynotes, forums, fireside chats, networking and more.
On day one of Procurement & Supply Chain LIVE New York, Thomas Reuters, Procurement & Sustainability Director - Margarita Gutierrez - took to the virtual stage to discuss supply chain sustainability in the post-pandemic world.
Supply Chain Sustainability in the Post-Pandemic World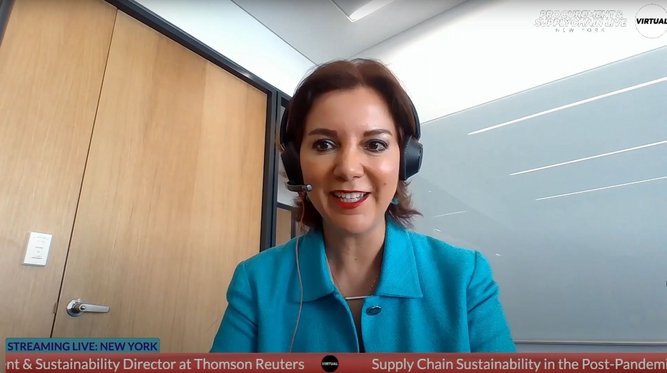 Margarita Gutierrez, Procurement & Sustainability Director, Thomas Reuters
Gutierrez's career in supply chain spans more than 30 years, she has held several management and executive roles at leading global organisations including Proctor & Gamble, Henkel, Reckitt Benckiser, Mars and Amazon.
Today, Gutierrez is the Procurement & Sustainability Director at Thomas Reuters.
During her keynote presentation, Gutierrez focused on the critical issues of supply chain sustainability following the impact of COVID-19. Gutierrez addressed the challenges faced by companies attempting to be both sustainable and resilient in their supply chains, as well as the importance of collaborative action between businesses, governments, and other key stakeholders in order to achieve lasting sustainability.
"It's very important to have training and capacity building. We need to teach everyone what sustainability is about, we also want to make sure that the capacity of the internal teams is there so that we can pull our suppliers, and pull our supply chains to where we want them to be."
To watch any of our other speakers from Procurement & Supply Chain LIVE, click here.
To find out more about Procurement & Supply Chain LIVE, Click here.
To take a look at our previous events, click here.
******
For more insights into the world of procurement read the latest edition of Procurement Magazine and be sure to follow us on LinkedIn & Twitter.
Other magazines that may be of interest: Supply Chain Digital, Manufacturing Digital
******
BizClik is a global provider of B2B digital media platforms, for leaders across: Sustainability; Procurement & Supply Chain; Technology & AI; Cyber; FinTech & InsurTech; Manufacturing; Mining; Energy; EV, Construction; Healthcare; and Food. Based in London, Dubai, and New York, Bizclik offers services including content creation, advertising & sponsorship solutions, webinars & events.