DeepStream: Business must diversify to stay resilient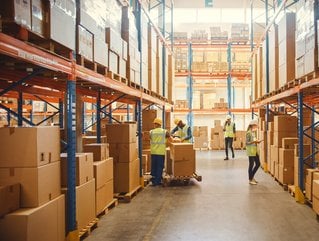 Jack Macfarlane, Founder & CEO of cloud-based procurement technology, DeepStream discusses the importance of diversifying to stay resilient and competitive
Diversification of the breadth of suppliers that buyers engage with is critical to a competitively functioning capitalist system of commerce. We have been inundated with talk around how the diversity of everything else is a paramount - but in amongst these calls there seems to be little if no attention being paid to the diversity (i.e. variance, with differences, not the same again and again) of businesses that are available as part of a business to business engagement. Always sticking with existing suppliers in RFx processes or having procurement processes that are so convoluted to run (restricting the diversity of businesses which buyers can engage with) will be a path by which some large corporations are (rightly) put out of business and become extinct.
Choosing suppliers from a varied range of businesses, with the criteria for selection simply who will most efficiently solve a problem, or meet the request, regardless of background, connections and location lead to flexibility and the ability to pivot and adapt to market demands. Going out to more suppliers, not fewer, allows for a more competitive environment to be established - choosing the right supplier in an open framework rather than relying solely on existing relationships.
When disaster hits (and I think the last couple of years have shown us that it will), having a framework where buyers are genuinely go-to-market (not just go-to-existing-suppliers) for all of their commercial contracts with suppliers allows them to be more agile in dealing with new suppliers, reducing the concentration of risk they have with a limited pool of supplier relationships.
Whilst the aforementioned holds when there is a pretty static level of technological progression amongst suppliers, it becomes even more powerful when (as is the case!) there is real-time evolution of what different suppliers can deliver to buyers. The status quo can be relied on at buyers' peril, and the prudent approach to take is a constant reassessment of what different suppliers can deliver, through iterative RFx processes to as wide a number of supplier businesses as possible.
There are three steps that I think businesses who go out to procure goods & services should take on board:
1. Reduce operational (process) costs, do not allow them to raise their ugly heads
Humans are humans. They will, understandably, take costs into account when making choices. And by costs, I do not necessarily mean the $ cost of things purchased. I mean taking into account how painful (e.g. frustrating) it is, and how much time it costs me to do this. We hear over and over again about how unbelievably painful it is reaching out to many suppliers as part of the RFx process when done manually through emails and attachments. Thousands of emails flying around, no idea where suppliers are at, overdose by attachment overload.
This is a cost. And the result of this cost is that businesses who use manual RFx processes engage with fewer suppliers on average. Naturally. It costs more to engage with more. So they won't.
This equals bad times for a competitive and diverse supply chain.
2. Get a handle on real-time process visibility
Running procurement processes with suppliers, businesses will often be dealing with a very large number of people with different roles. Think about it: one buyer may have 10 stakeholders (e.g. procurement officer, legal officer, technical engineer, business development) involved in any particular RFx; this is going out to 25 supplier businesses each with a number of people involved in each supplier business. All of these people communicate with each other, exchanging information (e.g. interest, technical info, sustainability info, price bids, etc.) in the endeavour to get to a commercial transaction.
The more visibility and information aggregation there is of all the communication flows, the easier it is to get a handle on transactions being run by a firm. And the easier it is to digest information received on an iterative basis.
Competition and engaging with a diverse set of businesses rely on this real-time informational visibility. Otherwise, it's all just a bit of a black box.
3. Template and automate evaluation processes
How businesses rank supplier businesses should have a high degree of visibility and collaboration between buyer users. Having a highly user-friendly way of evaluating supplier information submitted, which can be accessed by all buyer user participants, is key to being able to do this properly.
Move that super complex excel sheet hidden away in your computer's hide drive to the bin. Create collaborative cloud evaluation templates, which can be reused (and tweaked if necessary) as well as used by all of your colleagues together, online.
In this way, a diverse set of suppliers can be engaged and evaluated, taking into account different information sets submitted as part of the process and fitting them into different buyer evaluation matrices.
This is all pretty simple - in fact, overcomplicating the process nearly always backfires.
In order for these steps to be taken successfully, a business needs the tools to engage with a large number of suppliers who could fulfil their requirements, and the ability to look back and interrogate the data on how their teams have made their choices. And that's where many businesses falter: relying on obscure information lurking in email chains and clogged individual inboxes, creating information silos and tribal knowledge that is practically impossible to disentangle.
To combat this, and create the kind of diverse supply chain that will give them an advantage, procurement professionals must engage with the growing number of agile digital business solutions out there. By this, I do not mean engaging in "multi-year digital transformation projects" that destroy more value than they create. I mean the fast-moving, agile, value-creating digital tools that are now available to businesses and can be deployed in days, not months (or years).
The RFx process and all informational flows can be consolidated into one single digital cloud-based workspace, which is delightful to use and requires no training, making the spaghetti-web of emails and attachments between users a thing of the past. In this way, the cost of engaging with more suppliers can be minimised, businesses can have real-time visibility of what is happening amongst all participants, and selection processes can be semi-automated and standardised. This simplicity leads to higher levels of competition, higher diversity in the supplier base and the ability for buyers to have more resilient processes for when there are choppy waters out at sea.