Procurement Success Awards 2022 Winners Announced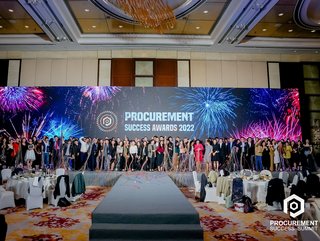 The winners of the Procurement Success Awards 2022 have been announced
At the Procurement Success Awards ceremony and gala dinner held in Shanghai on November 17, the winners of Procurement Success Awards 2022 were revealed.
Following the close of entries, the Procurement Success Awards 2022 received 172 submissions from 18 countries and regions, including Mainland China, Hong Kong, Macao, Taiwan, Singapore, United States, Netherlands, Germany, France, Japan, Korea, Philippines, Thailand, Indonesia, Malaysia, India, Saudi Arabia, Turkey etc.
Judges on the 2022 panel included 15 world-class procurement leaders (VP Procurement and CPO level) and senior experts with 30+ years of procurement
experience. Fulfilling their role with enthusiasm, professionalism and fairness, the jury took one month to score and evaluate the cases. Every winner represents the very best of procurement industry.

Congratulations to all winners and thanks to everyone who took the time to enter.
The full list of Procurement Success Awards 2022 Winners:

Best Procurement Team Award - For Foreign-capital Enterprise
Schneider Electric

Best Procurement Team Award - For Chinese Local Company
BEWG

Digital Transformation Award
AIA Life Insurance
Aragen Life Sciences

Diversity amp; Inclusion Award
L'Oréal North Asia Indirect Sourcing Team

Sustainability for the Future Award
Samsonite Brands Private Limited

Supplier Innovation Award
UPM China
Walmart

Business Partnership Award-Deep Collaboration in Business
L'Oréal North Asia Direct Sourcing Team
Linde Gas

Process Innovation Award
JALA GROUP

Cost Saving Innovation Award
Trina Solar

Talent Development Programme Award
Schneider Electric
Procurement Leader Award
Bilal Hasan
Wang Zhupin
To find out more, please visit: https://psa.beverf.net/en/winners-2022