Exclusive Video: Procurement Recruitment Strategies
Scott Dance, UK&I Procurement Engagement Director at Hays talks procurement recruitment strategies at Procurement & Supply Chain LIVE 2023
As the world's fastest-growing procurement and supply chain event, Procurement & Supply Chain LIVE 2023 was a disruptive learning and networking event that showcased some of the industry's top speakers across innovation, thought leadership and strategy.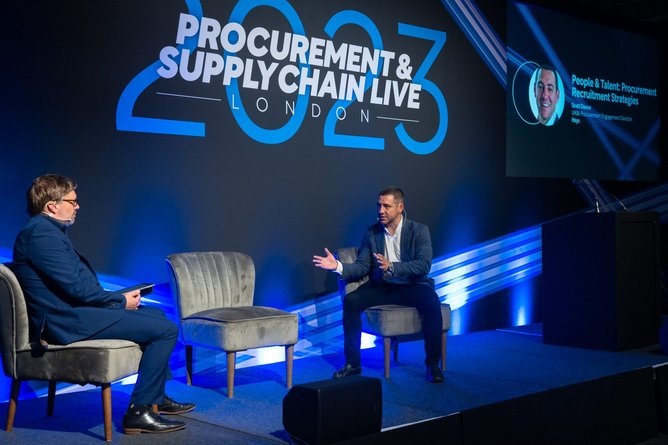 Scott Dance, UK&I Procurement Engagement Director at Hays
People & Talent: Procurement Recruitment Strategies
An expert in the field of recruitment and retaining talent, Scott Dance, UK&I Procurement Engagement Director at Hays in his role supports organisations in this field.
Procurement and the talent gap
It is well known that the procurement industry is facing extreme challenges when it comes to finding the right talent, largely driven by low unemployment levels, the 'great resignation', and the tendency to follow traditional recruitment methods rather than diversifying the talent pool.
Employee retention
In his keynote, Dance highlights that from a retention perspective, there is a gap between what employees want and what companies offer. Career development plans are lacking and employees feel stuck.
Dance emphasises that organisations should rewrite the job description to be more diverse, avoid biased language, and consider factors like hybrid work, company culture, and different projects. He also highlights that while salary is important it shouldn't be the sole focus for organisations wanting to attract talent.
"Money isn't everything. We're seeing people go from the private sector to the public sector and taking pay cuts because they want to give back to the community," says Dance.
Reevaluate the process
Dance concludes his keynote by suggesting that companies should reevaluate their recruitment processes, starting with employee value proposition (EVP) and consider a more diverse and inclusive approach.
He also stresses the importance of articulating what candidates will gain from joining the organisation and focus on internal mobility and career development.
To watch any of our other speakers from Procurement & Supply Chain LIVE 2023, click here.
Don't forget to register for our future events including Manufacturing LIVE 2023, Procurement & Supply Chain LIVE Dubai 2024 & Procurement & Supply Chain LIVE London 2024.
Celebrating exemplary achievements in the fields of procurement and supply chain management, the Supply Chain AWARDS - debuting in 2024 - acknowledges companies, professionals, and projects that demonstrate exceptional performance, innovation, and strategic thinking. Click here, to find out how you can enter.
******
For more insights into the world of procurement read the latest edition of Procurement Magazine and be sure to follow us on LinkedIn & Twitter.
Other magazines that may be of interest: Supply Chain Digital, Manufacturing Digital
******
BizClik is a global provider of B2B digital media platforms, for leaders across: Sustainability; Procurement & Supply Chain; Technology & AI; Cyber; FinTech & InsurTech; Manufacturing; Mining; Energy; EV, Construction; Healthcare; and Food. Based in London, Dubai, and New York, Bizclik offers services including content creation, advertising & sponsorship solutions, webinars & events.