5 minutes with Brian White, LogicSource Healthcare Partner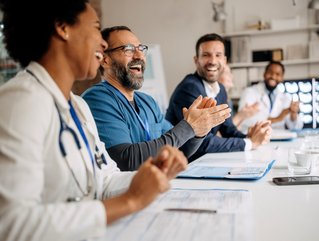 Procurement leader LogicSource is designed to reduce costs across non-clinical expenditures. Brian White, Healthcare Partner at LogicSource, tells us more
LogicSource is a purpose-built procurement service and technology provider, which manages indirect, or not-for-resale, expenditures. Its services and technology solutions aim to increase cost reductions for clients.
Brian White, Healthcare Partner at LogicSource, shares more.
Hi Brian, please introduce yourself and your role.
"I have over twenty years of experience leading health systems. Most recently, I was the President of the East Coast for Bon Secours Mercy Health."
What led you to the healthcare industry and ultimately procurement?
"Honestly, I didn't begin my career in healthcare. I was recruited into healthcare at a very young age and saw the impact it has on the community, from health to employment, and never looked back.
"The future of healthcare is at-risk, and we must be open to new, non-traditional solutions to reduce that risk, hence why I joined LogicSource. It's bringing Retail, Consumer Packaged Goods, and Financial Services experience along with a proven track record and applying that success into healthcare for non-clinical, indirect expense savings."
What is LogicSource?
"LogicSource is a recognised leader in procurement services and technology specifically designed to reduce costs across non-clinical expenditures. We deliver measurable and sustainable results through the balanced application of on-site resources, a robust centre of excellence, >US$65b of spend data and proprietary SaaS software."
Tell us about how LogicSource fits into the healthcare landscape.
"Labour represents most of the expenses in healthcare. That's going up, not down. Today, many health systems are losing money and that limits the ability to invest in care. This concerns me. I want to see healthcare advance and improve patient care outcomes. In my opinion, that means we must be open-minded to new solutions - that's what LogicSource is to me."
How is LogicSource ultimately helping hospitals and healthcare systems provide better access and care for patients?
"We don't address medical/surgical supplies, that's what the GPOs do best. We don't address labour costs, that's what the health systems do best. We address almost every other expense. When you look at the amount of indirect spend LogicSource manages, it delivers hundreds of millions of dollars of savings per year. Money that can be quickly redeployed within healthcare."
During your time so far at LogicSource, what has been your biggest lesson?
"That it works. LogicSource has been able to assess spending for a variety of health systems across the country to save millions. In fact, our most recent healthcare client serves as an endorser of both the savings LogicSource delivers, but also our commitment to being part of its team. LogicSource does not just assess your spending and advise how to get it. Instead, LogicSource deploys its category and indirect spend experts to go get it for you."
What do the next 12 months hold for you and the company?
"To help as many health systems as we can."