Middle East Procuretech Summit
Tue 21 Feb - Wed 22 Feb, 2023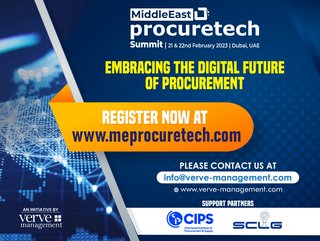 Verve Management proudly presents the Middle East ProcureTech Summit February 21–22, 2023, in Dubai
The growth of the procurement tech industry in the Middle East is on an uphill trajectory combined with the adoption of technology and supply chains. The market growth factors are the increasing need for procurement process automation and the rapid adoption of e-procurement technology. The rapid strides with which digital technology is being adopted by procurement functions are transforming the way businesses operate in the Middle East region.
Verve Management proudly presents the Middle East ProcureTech Summit 2023 supported by the Supply Chain and Logistics Group (SCLG) and the Chartered Institute of Procurement and Supply (CIPS) and scheduled to take place on February 21–22, 2023, in Dubai, the United Arab Emirates.
This forum aims at providing a platform for the regional procurement fraternity to gather and discuss the new era of Digital Procurement with topics such as Cloud procurement, E-Procurement Solutions, Supplier Relationship Management (SRM), and many such industry-specific discussions.
This Summit will focus on the emerging trends in the digital transformation of the procurement function to create short-term benefits and enable long-term value in the supply chain. Delegates will learn from real-life case studies, business insights and lessons learned from leaders to discover the best strategies, tools & methods for tapping into the potential of tech-driven procurement in the enterprise.
The Middle East ProcureTech Excellence Awards 2023 will be held at the summit as part of the Middle East Procuretech Summit.
The Middle East ProcureTech Excellence Awards 2023 will celebrate Procurement, Supply Chain, and Logistics leaders who have worked constantly towards improving disrupted supply chains through innovating and adopting advanced technology.
Nominations are now open, you can nominate at the event website or email at [email protected].
To find out more about the ROI-driven sponsorship and exhibition opportunities: [email protected]
For registration and to participate in the event: [email protected]
For more information, please visit our website: www.meprocuretech.com
Or call: +971 4 243 4677/ 88