The Ultimate Procurement & Supply Chain LIVE Event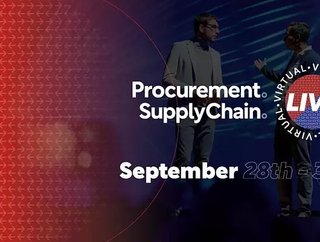 A one-of-a-kind live event featuring experts analysts and senior industry executives in procurement and supply chain, coming September 2021
After hearing from our global audience, BizClik Media thought it time to bring some of our brilliant magazines to life. Over the course of three days, from September 28th-30th, 2021, our virtual Procurement & Supply Chain Live event will be packed with lively roundtables, fireside discussions, and keynote presentations. 
In addition to strategic leadership, Procurement & Supply Chain 2021 is an excellent opportunity to network with international thought leaders. With speakers including Robert Copeland, CPO at G4S, Nick Jenkinson, CPO at Santander, Mark Bromley, Director at Mastercard and Javette Hines, Director and Head of Supply Chain Development, Inclusion, and Sustainability at Citi, you can't help but gain insight into the industry's most pressing issues. 
The event will include:
Keynote addresses from respected industry leaders

Dynamic live roundtables (inc. Q&A)

Fireside discussions

Inspirational speakers & presentations

Extensive networking opportunities
Meet the Speakers
Each week, from now until the event, Supply Chain Digital will be announcing four new names who will be gracing our physical or virtual stage, prepared to share their knowledge and insight with attendees. 
Here's the first batch. 
Robert Copeland
Global Procurement & Supply Chain Director (CPO) at G4S PLC, Robert Copeland, is a cost transformation professional with a track record of solving inefficiencies in procurement. During his time at G4S, he managed procurement across Europe and the Middle East, including £1bn of third-party spend across 20,000 suppliers and 25 countries. Currently, he controls £1.8bn across 40,000 suppliers and 80 countries to deliver outstanding value and operational efficiency. 
Nick Jenkinson
Recognised with CIPS' Excellence in Procurement Awards 2020, Procurement Leaders 2020 World Procurement Awards, and 2019 CIPS' Supply Management Awards, Nick Jenkinson is now the Chief Procurement Officer at Santander UK. A results-driven and highly dynamic leader, Jenkinson has accelerated efficiency, commercial excellence, and innovation at ARYZTA, Astellas Pharma, Verto Solutions, and Santander. Said colleague David Naccarato: "Nick's energy and dedication are boundless". 
Mark Bromley
As the Director for Mastercard Products & Services, [Innovation and R&D] Labs, and Cyber Intelligence, Mark Bromley has led strategic sourcing throughout Europe, the Middle East, Africa, Asia-Pacific, and the US. With more than 15 years of experience in procurement, he recently designed a new process that allowed Mastercard to cut its time on-boarding fintech startups from 2 months to 2 weeks. In addition, he leads the company's Supplier Diversity Agenda in EMEA. From Elvin Tan, Strategic Sourcing: "Mark is truly a best-in-class procurement professional!" 
Javette Hines
Director and Head of Supply Chain Development, Inclusion, and Sustainability at Citi, Javette Hines, has expanded Citi's global supplier selection process to include diverse firms. With 20+ years of experience in supply chain, Hines has led recruiting at Historically Black Colleges and Universities (HBCUs), increased supply chain opportunities for women in developing countries and worked to align Citi's supply chain with the UN's Sustainable Development Goals (SDGs). 
In addition to her impressive corporate leadership accolades, Hines serves on the Women's Leadership Board of Harvard Kennedy School's Public Policy Programme and belongs to the New York City Bar Association. Overall, she remains a master of social and corporate responsibility. 
Join us to hear industry-leading insights from the listed speakers, and many more, as we discuss the future of procurement and supply chain in an increasingly digital world. To buy tickets, head over to our Event Page.