Procurement and Supply Chain Live: Ninian Wilson, Vodafone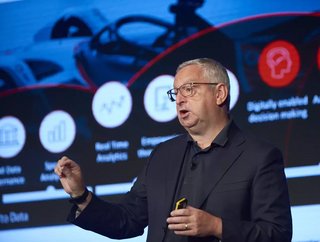 Ninian Wilson, Global SCM Director & CEO, Vodafone Procurement Company explores the potential for automation and the next frontier for procurement
Established in 2008, Vodafone Procurement Company today manages €25bn in annual spend, serves 21 markets and processes 880,000 POs each year. Even with 850 employees, digital tools play a vital role in processing and analysing such volumes of data. But Ninian Wilson, Global SCM Director & CEO, Vodafone Procurement Company is looking towards what he calls "the next frontier" in procurement. 
In the opening keynote at Procurement and Supply Chain Live, Wilson shared an exclusive glimpse behind the scenes of Vodafone Procurement Company, showing its current capabilities, latest innovations, and where it is heading in the coming years.  
 
In such a data-rich environment, making data act has been key to finding new efficiencies, Wilson said. 
"What the systems will do shortly, and I think we're nearly there, is actually say: 'I saw these POs going through yesterday. I've already corrected them through these analytics, if you want to undo it, please press this button'. So we're not doing approval anymore, it's just if you want to undo, what I've decided as a machine, please do this. And of course it learns."
Autonomous Procurement
The next big step will be autonomous procurement, a concept developed by Wilson's team in July 2020. It is a vision of the fully automated procurement process: the computer chooses the vendor, creates the tender document, sends out the tender document, analyses it when it returns, negotiates the contract, signs the contract, uploads the pricing into the ERP system, and produces a final report upon completion. 
Vodafone's minimum viable product went live eight weeks ago, and with varying degrees of success can handle most of those individual processes. 
"For my team in Vodafone, and a lot of individuals in procurement, that's kind of worrying," Wilson said. "But just imagine if you could put those digital tools in to help individuals in the business almost be self sufficient, but still follow the procurement guidelines, still follow the procurement process, still have a competitive approach? There is no doubt in my mind that procurement is rapidly heading in this direction." 
 
Wilson admits there will be naysayers, particularly when it comes to the emphatically human elements of procurement, such as negotiation.
"They will be the same people that were saying e-procurement won't happen back in the 1990s," he added. "But this change is definitely coming, and I'd say to everyone in procurement and supply chain: grasp the opportunity, learn with some of the tooling, and at least increase you understanding of where the world is out there. Because for us, if we don't experiment and learn, we just sit… We've got to keep pushing that frontier forward."
The Holy Grail
One of the most exciting developments at Vodafone Procurement Group is Tomorrow Street, the company's internal start-up incubator. 
"For me that's one of the new frontiers for purchasing and supply chain, and it's also a bit of a holy grail… I don't think you can ever get away from the basics of why [procurement] are there, and why we exist. but I think you can climb a little way up the ladder and bring some extra value to the corporation, and for me that's about brining innovative companies with innovative ideas." Wilson said.
"What I'd just encourage you all to do is to really reach for the next frontier in procurement. It's within our grasp, but to get there as a function we've all got to experiment, try things, see if they work… For us, it's been a fantastic journey."