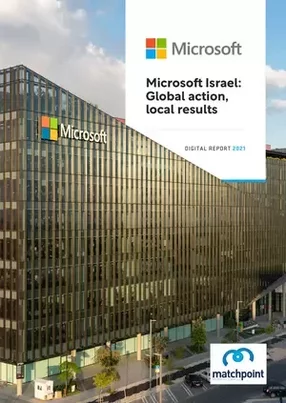 Microsoft Israel: Global action, local results
Moving procurement beyond a bureaucratic function delivers true value, says Eyal Nuhamovici, Procurement Engagement Manager, Microsoft Israel
Harmony may not be the first word that springs to mind when describing the procurement organisation of a company employing 144,000 people and operating in 170 countries. Long before businesses reach such titanic scale and breadth, procurement leaders often face the usual issues of siloed information, global versus local objectives, and variety of other blockades from corporate cultural or outdated digital tools. In short, it can be discordant. 
But Eyal Nuhamovici says Microsoft is different. As the Procurement Engagement Manager at Microsoft Israel, his tasks range from hyper-local to global, and often somewhere in between. 
"Even though our procurement organisation is spread out across the entire globe, we act as a harmonious team," he says. "We complement each other." 
Like many in procurement, Nuhamovici fell somewhat accidentally into his career. Fresh from military service, a mandatory first step into adulthood and independence for Israeli citizens, he took an entry-level buying position at a local SME. But it wasn't long before Nuhamovici says he began to understand exactly what procurement was, and the impact of being able to "connect the dots" between departments to help them further their goals. 
"Procurement is one of those few positions that sees an organisation through a very wide angle, across HR, finance, the legal team, any manufacturing or development departments," he says. "And when you begin to connect the dots between departments, that's when you can think about how to leverage procurement to bring the company to a better position."
This perspective is echoed in the procurement culture at Microsoft. Even in a company of 144,000 employees, Nuhamovici says he is able to make a difference. At the fundamental level, procurement of major categories, such as software, are centralised through Microsoft's Redmond campus and headquarters in Washington, USA. On the other hand, sourcing car fleets, local communication contracts and other supporting services are handled by regional procurement experts on the ground. But even here, Nuhamovici says, there is always opportunity to deliver more. 
"If we are buying something for the company locally, why not benefit from the RFP and the activities we are doing to derive some more value for the wider company and the employees? You should always strive to secure global contracts, and then complement or supplement those with local services. It is a very balanced situation where I can be part of the activities that are taking place in Redmond, and be involved in our headquarters' procurement position, all while they're joining and aiding me in my more focused and localised activities."
To reconcile this hybrid approach to local and global sourcing, Microsoft employs the latest digital tools - unsurprising given the company's leading position in both enterprise and consumer technology.
"There is a huge emphasis on the topic of digital transformation in procurement at Microsoft, because we really understand that not moving ahead is literally moving backward. We live on technology and, especially in a company like Microsoft, it is always at the head of the arrow when we consider how to do things better, how to improve the day-to-day."
The earliest objective of Microsoft's digitalisation journey was to simplify and consolidate buying channels and promote procurement as a seamless experience for stakeholders. Nuhamovici recognises that procurement is often considered as a "bureaucratic position" that people must engage with - often unwillingly - in order to get what they need. He wants to change that.
"So we aimed to minimise the pain points for shareholders, reduce the amount of buying channels and always think about how to do more with less. It's about getting to the core of what is really needed. You also want them to spend less time on technical actions; even simple things like streamlining the process of entering a PO can improve the perspective of procurement in our stakeholders' eyes.
"They just want to get the work done. So by supporting them with the right tools, we're accomplishing a lot. We can empower employees to do more by themselves, optimising the process for them, and fixing areas where they may encounter challenges or make mistakes. That's where engagement is so important." 
Better digitalisation both yields and requires more data. In analysing and leveraging that data, Nuhamovici sees the future of procurement moving from a cost-saving, streamlining function into a position of predictive and anticipatory power: "To understand, according to what they did already, what they will need in the future."
But there are issues with becoming too reliant on the fact and figures directly in front of you. 
"If the information or data exists, it's because something's already been done, and procurement is always looking ahead at what should be done next, because otherwise there is no real impact," Nuhamovici says. "Planning ahead is definitely one of the most important things that I spend a lot of time on, whether that's understanding opportunities, looking for new directions, hearing from other peers within the organisation or externally, I'm looking around, and ahead, all the time. 
"One thing that I think that is underestimated, and not a lot of people are looking at, is trends," he adds. "They tell you a lot about what is, what was, and what the thoughts of people are at each step. It's like personalising the data, because otherwise data is just data. Looking at a trend, you can now understand what happened with a certain supplier, a certain market, a certain category, or certain country. I'm really a believer that trends can bring you important insights about the business.
"To give you an example, when it comes to engaging with a stakeholder, if you come informed by a trend, you understand their previous thoughts and in that way understand what might be interesting for them in the future. If they have $100 and our procurement position can help save them $20, for example, that's extra money that can be spent on additional services. Those sorts of insights lead to more commercial value than simply handing back some money." 
This, Nuhamovici says, will be the biggest challenge for procurement in the years ahead, not just for Microsoft, but in the sector at large. "The innovation comes in technology, by leveraging systems, but it also has to come from ideas," Nuhamovici says, drawing parallels with Microsoft's software development divisions, and how they consider the next feature, the next product, or a rethink of an existing application. 
"That comes from partnerships and pooling those ideas to pull the market ahead," he says. "Once you sign an innovative contract with a supplier, it becomes the common practice for the supplier because they learned how to do it. Now they can copy or adjust this idea with future contracts in the market. And this is how you eventually lead and develop procurement to be better positioned.
"It's a challenge, and that's a good thing, because when you're being challenged, that is how you improve your ideas. If everything goes smoothly, you never improve, and that to me is quite a beautiful thing."